That's not double vision... it's Luna vision
Quarterback Riply Luna (2), and brother/wide receiver Kolby Luna (15) set the Kellogg football world ablaze this past season, setting multiple different state records and leading the Wildcats to another state playoff appearance.
Photos courtesy of STETSON JONES/BISON MEDIA CO.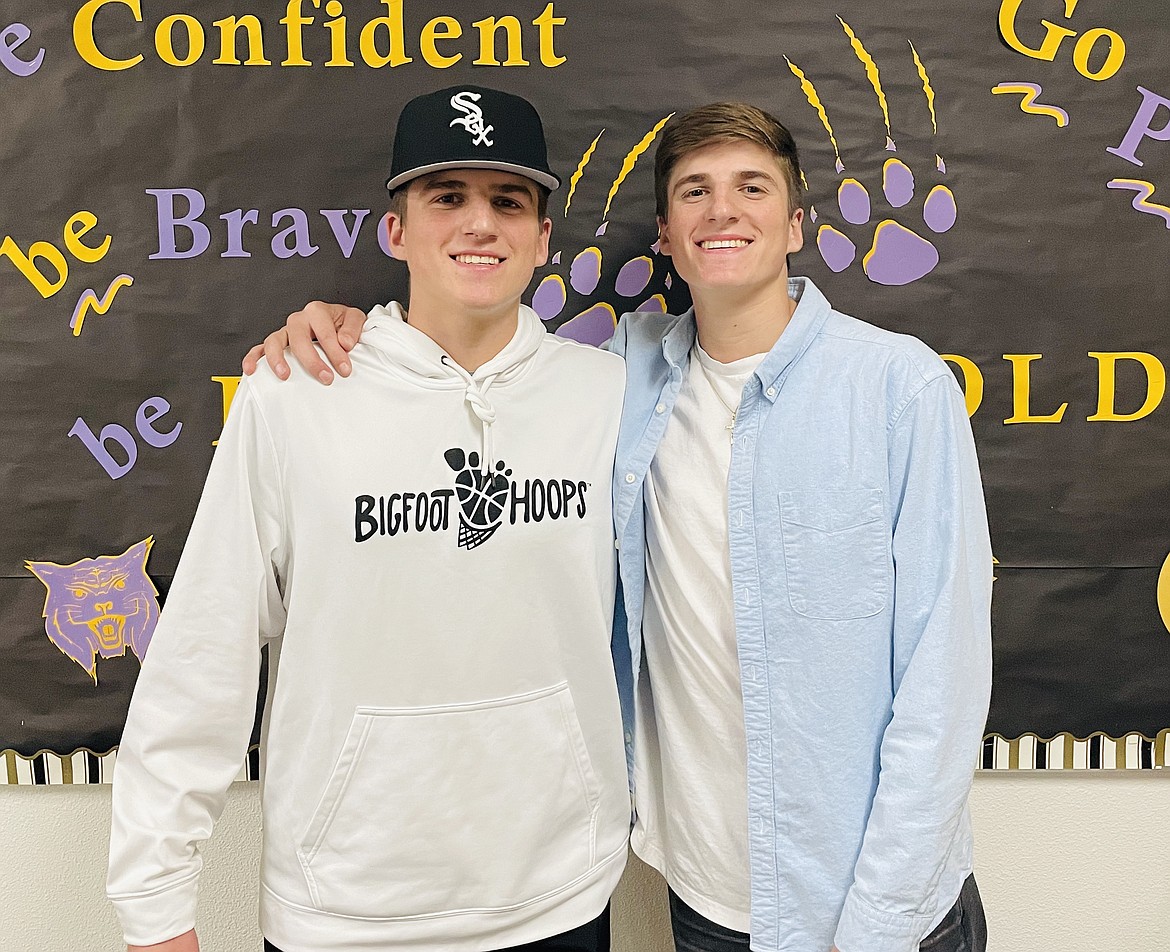 Brothers Riply and Kolby Luna may or may not use some twin magic when they are on the football field together. It just depends on which one you ask.
Previous
Next
by
JOSH McDONALD
Local Editor
|
November 16, 2021 12:19 PM
In sync. That may be the easiest way to describe the connection between brothers Riply and Kolby Luna.
However you describe it or whatever you call it, the one thing that is undeniable is how effective it was.
This year, the junior twin, quarterback/receiver tandem guided the Kellogg High School football team to one of its best seasons in recent memory and they did it in style.
After suffering a 35-30 qualifying round loss to South Fremont, the season ended at 6-3, but for those nine games it was like watching a constant highlight reel.
You have to almost understand that once you get beyond their appearance, Riply and Kolby are two very different athletes.
Riply, the quarterback of the duo, is the consummate professional.
With his steady hand, level headed, he is the picture of composure.
Kolby, the wide receiver, is a lot more fiery and wears his emotions (usually hype) on his sleeve. But that emotion generally results in something spectacular happening.
Riply completed just over 60% of his passes this past season, setting several 3A state records in the process.
2,586 passing yards in nine contests, an average of 287.3 yards per game through the air, shattering the former record of 2,240 yards for a season — Riply only needed eight of the nine games to get there. In a midseason tilt against Grangeville, Riply's 410 passing yards set the 3A single game record as he led the Wildcats to a come-from-behind win over the Bulldogs.
He threw 34 touchdowns this season to only seven interceptions, including setting the 3A single game passing touchdown record when he tossed eight of them against Priest River.
"The fact is, he is a special player," Kellogg Head Coach Dan Davidian said of Riply. "He can do things that other quarterbacks are unable to do. I would argue that he is one of the top quarterbacks in the state and definitely the top 3A quarterback."
Kolby would have set the 3A single season receiving record in eight games as well, but an illegal procedure penalty wiped out some 40 yards that he had to make up the next week, but nonetheless he accomplished his goal — grabbing a total 1,077 receiving yards this season, breaking the former record of 1,031 which came during a 10-game regular season compared to Kolby getting it in nine games.
His averages of more than 19 yards per catch and just under 120 yards per game made him arguably the most lethal receiving deep threat in North Idaho, if not the entire state.
Of his brother's 34 touchdowns, Kolby caught 16 of them — including three different games where he had three scores.
The numbers get better as you break them down, but the moral of the story is simply that these two are not just good, they're flirting with transcendence.
Riply made difficult throw after difficult throw, and as the season progressed they began to look easier and easier — spreading the ball out to several different targets, not just his brother.
When you ask him to explain how he goes through the process of making one of these throws, the response you get comes across as a seasoned veteran, not a junior in high school.
It becomes a matter of repetition when you examine the success the twins have had — during their junior tackle heyday they ran a very similar spread, passing offense that relied heavily on Riply's arm strength and Kolby's ability to go up and get the ball and make a play.
As Riply has developed a keener sense of accuracy, this has allowed Kolby to become almost a bully of a wide receiver — using his size, speed and strength to routinely make opposing defensive backs look like the kids he used to clown at the junior tackle level.
"I think we knew that we could play like this," Riply said. "We knew we had the guys to do it and Coach Kimblering (KHS Offensive Coordinator Tim Kimberling) had seen some of it and wanted to go heavier on the passing. With the development of all of our guys, we knew we had the right group."
"I think coach always wanted to run an air-raid style of offense," Kolby said. "But he didn't have the quarterback or the receivers to pull it off. I think he saw the potential and went after it."
When asked if they have an advantage over their opponents because they're twins, Riply wasn't ready to say that that connection was why they were successful. He attributed it to more of the time that they had spent together working on things that have made them such a dynamic duo.
"I don't know if I'd say it's so much the twin aspect as it is the familiarity of growing up with somebody and throwing it to them constantly," Riply said. "I don't think it's as much being a twin as it is being with him all the time and having a football all the time."
Ask Kolby the same question… "Oh, 100% it helps being twins," he says with a smile.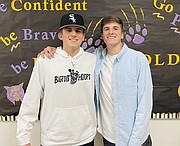 Recent Headlines
---