Real Life Ministries distributes over 100 turkey dinners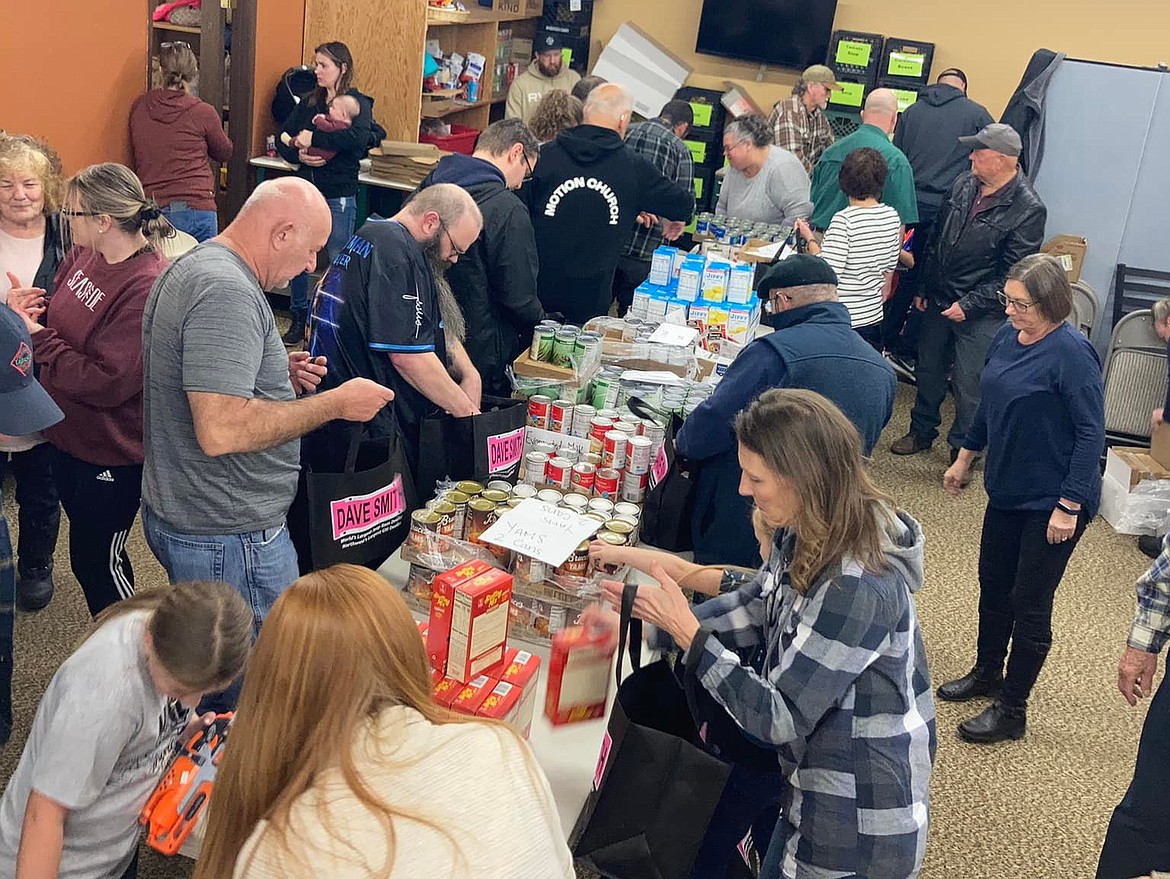 Over 100 "turkey boxes" were pack and distributed at the Real Life Ministries Thrift Store last week. The boxes each contained a large turkey, potatoes, cornbread, stuffing as well as many other traditional Thanksgiving sides and were given to various members of the community through the church's referral program.
Courtesy
by
CHELSEA NEWBY
|
November 22, 2021 3:57 PM
PINEHURST — "We had some pretty excited people."
Jessica Bishop, manager of Real Life Ministries Silver Valley's food room, got to see reactions firsthand of over 100 families last week as they received a free Thanksgiving dinner package courtesy of Real Life's "Turkey Box" program.
Bishop explained how the Turkey Box Program was a church-led initiative and that the church had been collecting donations at each of its three services for several weeks. They then asked members to sign themselves up for the giveaway if needed, or refer a friend who could use help in preparing for the holiday. Bishop said when she made calls to all who received a referral and explained how the program worked, that she was met by an excited recipient on the other end each time.
"The food room offers a place for people to come when they are in need. Not just for food, but where they can come feel loved and supported no matter the circumstances," she said.
Donating alongside members of Real Life, was Dave Smith, which provided 160 turkeys total as well as Turkeys and More, a program out of Real Life Ministries Post Falls which donated an additional 40 turkeys.
Real Life had more than 50 volunteers, assembling and distributing the packages, which contained a large turkey, potatoes, cornbread, stuffing and many other traditional Thanksgiving side dishes. Bishop said families were thrilled with what they received, and she is sure that everyone who received a box will be plenty full come Thursday.
"They were super grateful, and pretty surprised and overwhelmed that we were able to give so much food," Bishop also said.
Bishop said that turkeys will continue to be passed out as long as the need continues and whatever they aren't able to distribute will be saved for Christmas time.
Real Life Ministries Silver Valley is also hosting a free community Thanksgiving meal on Nov. 25 from noon-3 p.m. at 708. N. Division St. in Pinehurst.
Bishop said, "The community dinner is offering families to come that don't want to cook but also it's a place for those (who) don't have family to go to so they don't have to be alone during the holiday."
---