Terry Joe Dunn, 62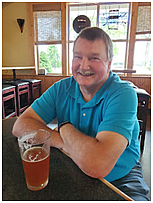 |
November 24, 2021 10:00 AM
Terry Joe Dunn, 62, of Meridian, Idaho, passed away Nov. 16, 2021, after a short illness.
Terry was born in Hawaii on July 31, 1959, to Kenney and Barbara (Lewis) Dunn of Kellogg, Idaho. When Terry was younger, his family moved around a lot with his dad's career in the U.S. Navy, giving him the opportunity to live in exciting places such as Japan and Alaska, until his family settled in Kellogg, after his dad's retirement. Terry graduated from Kellogg High School in 1977, North Idaho College in 1979 and joined the U.S. Navy in 1982.
On May 21, 1983, Terry married his best friend, Susan (White) at the American Lutheran Church in Kellogg. Terry is survived by his wife of 38 years; his three children, Byron (Amanda), Brianna and Cameron Dunn; grandchildren Isaiah, Hailey, Brody and Abigail Dunn; parents Kenney and Barbara Dunn; brother Mark (Barb) Dunn and sister Rhonnie (Tony) Mitchem.
After Terry's service with the U.S. Navy in 1988, the family moved to Boise where Terry was employed with Micron Technology for 25 years as an Electronic Technician. In 2015, he went to work for ON Semiconductor in Nampa, Idaho, where he became a valuable team member and truly enjoyed his job and the people he worked with.
Terry loved everything about the outdoors and was at his happiest when hunting or fishing with his kids and taking adventurous rides in the mountains with his family in their UTV'S. When his kids were younger you could always find him on the sports field coaching or umpiring at his boy's games or cheering on his daughter as she played soccer.
Terry accepted Jesus Christ as his Lord and Savior later in his life and we rejoice in the knowledge of where he is spending eternity. His son, Cameron, summed it up perfectly when he described his dad as a Servant. He was always willing to help others out. He will be deeply missed by all who had the opportunity to know him.
A celebration of Terry's life was held Monday, Nov. 22, 2021, at Legacy Church in Meridian, Idaho.
In lieu of flowers, donations can be made in memory of Terry to Stonehill Church — For the Valley Initiative at www.stonehill.church/give — choose general giving and memo in memory of Terry Dunn or checks can be mailed to the church office: Stonehill Church, 1608 N. Meridian Road, Suite No. 125, Meridian, ID 83642.
Funeral arrangements were under the direction of Alden-Waggoner Funeral Chapel & Crematory.
---