New ski shop opens in uptown Kellogg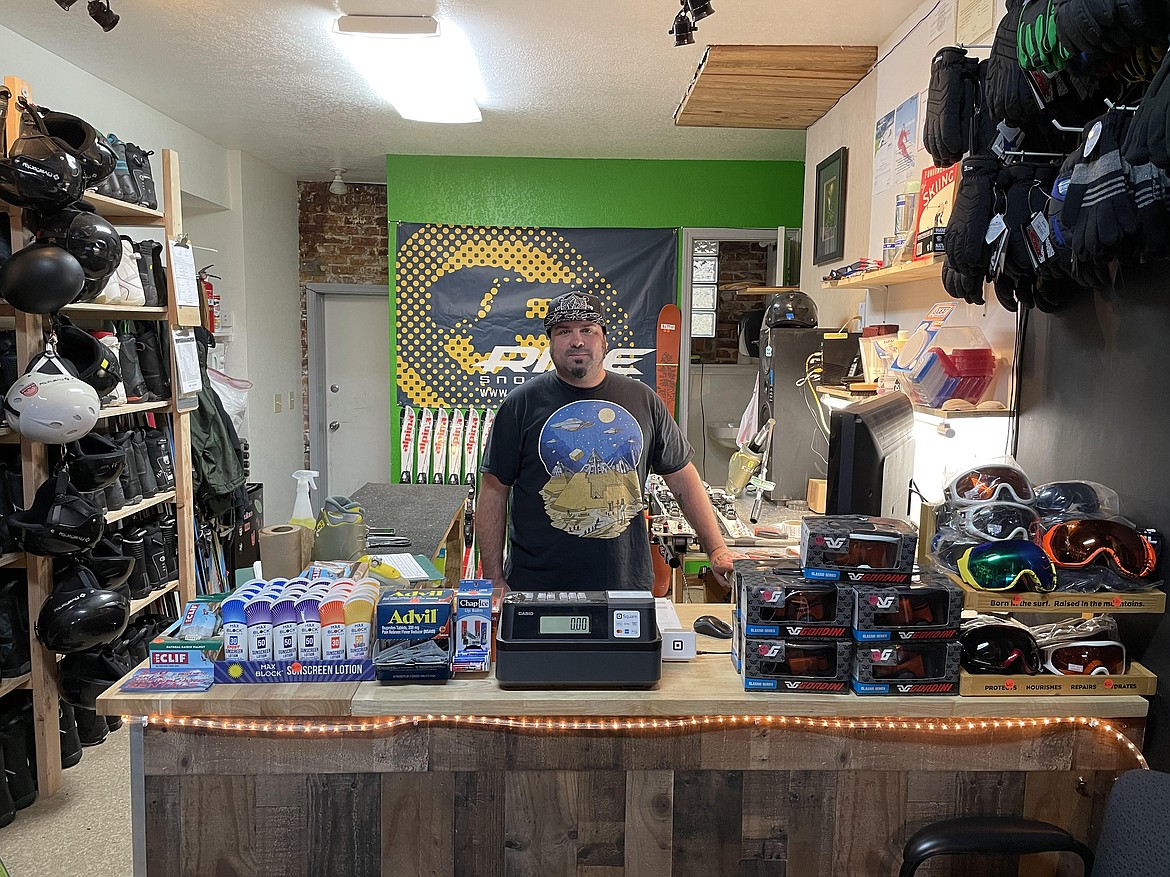 All Movement Sports owner, Tony Coalesce celebrated the grand opening of his new business on Nov. 6. The ski and snowboard rental shops offers full rental packages at just $20 a day.
Photo by JOSH McDONALD
by
CHELSEA NEWBY/Staff Reporter
|
November 26, 2021 1:08 PM
KELLOGG — Uptown Kellogg just got a whole lot brighter. Located in the center of McKinley Avenue's business strip, All Movement Sports — Kellogg's newest ski shop is sure to be noticed and not just for its neon blue and green exterior.
The shop is filled with wall to wall rental equipment for skiers and snowboarders of all ages. With prices of just $20 a day for an entire rental package, owner Tony Coalesce said he plans on being the cheapest spot in town for a reason.
"Skiing and snowboarding is expensive enough," he explained. "So I wanted to try to help people out."
Coalesce said he has spent his whole life "chasing the snow."
After working more than 20 years in California's skiing industry, he made the move to the Silver Valley a year ago looking for an affordable place to set up his own shop.
"I've owned this equipment for many years, and have just kind of been waiting," he said. "I had it all in storage containers ready to rock."
Although he is fairly new to the area, Coalesce was very expressive of his gratitude for the relationships he's created and support he's received from surrounding businesses and said that keeping that sense of community is something that is very important to him.
While looking for a place to land, Coalesce worked in Silver Mountain Ski Resort's tune shop, getting people set up to hit the slopes. Since opening up his own shop, he said that he has been able to maintain great friendships with the Silver Mountain crew, even recently returning to assist in training one of their new employees.
"I've just been able to keep great ties with everybody," he said. "We've just kept it really cool. Everybody's just really stoked about what I'm about to do here."
All Movement Sports is located at 119 McKinley Ave. in Kellogg and is open seven days a week from 7 a.m. to 6 p.m. Riders are welcome to come in the night before to pick up gear to beat the morning lines. In addition to daily rentals, All Movement Sports is offering seasonal ski and snowboard rentals at just $190 for ages 12-plus and $130 for 12 and under.
Recent Headlines
---