News-Press to host Silver Valley Community Christmas Telethon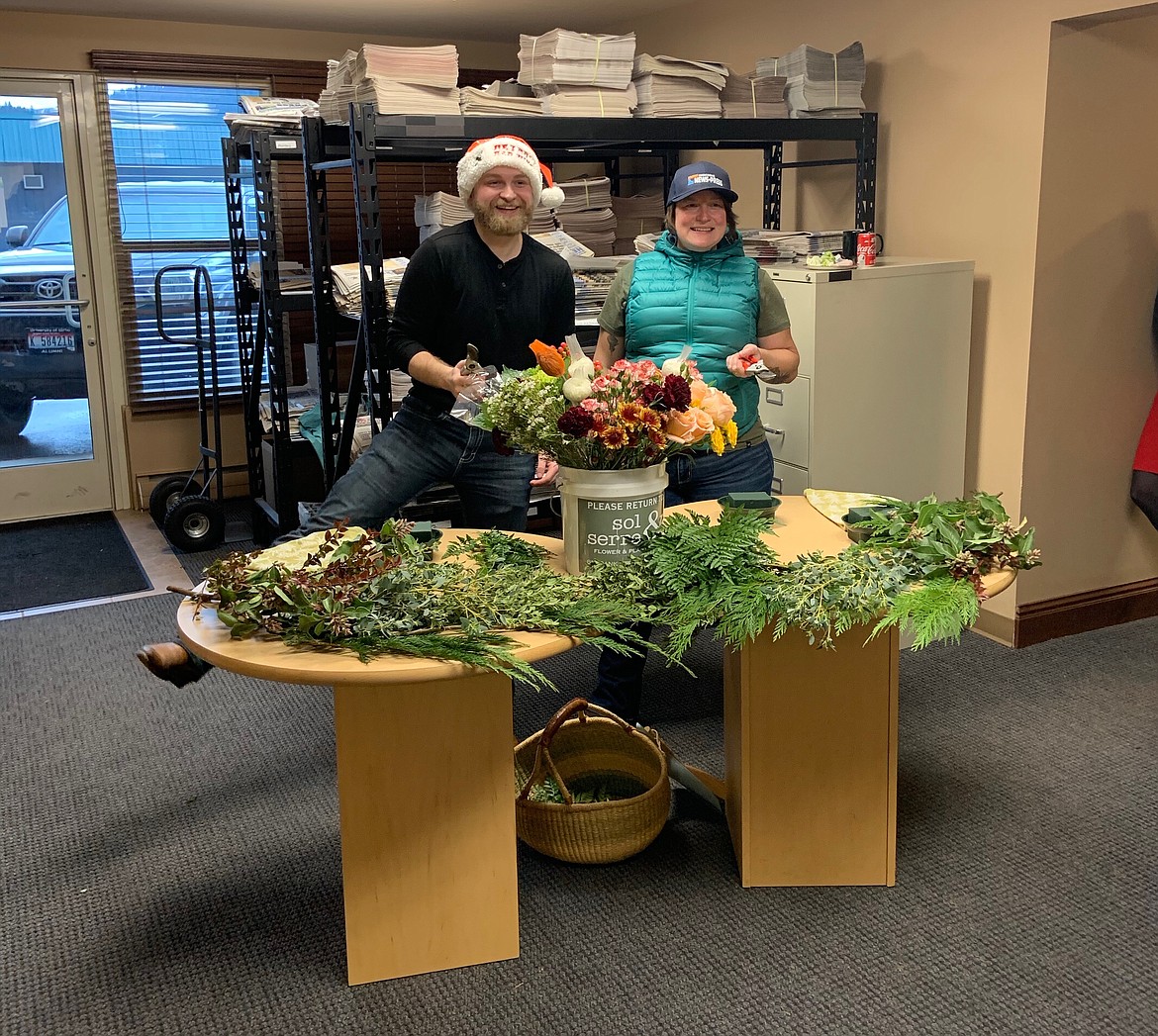 Chanse Watson and Sarah Murphy have a good time building their floral centerpieces during the 2019 Dave Smith Memorial Christmas Fund Telethon.
Photo by ARIANA McDONALD
by
CHANSE WATSON
Managing Editor
|
November 30, 2021 6:00 AM
OSBURN — It may not be being broadcast over the radio anymore, but the Silver Valley Community Christmas Fund is continuing on at its new home.
Readers and listeners far and wide are invited to be a part of the annual Silver Valley event on Wednesday, Dec. 8 by keeping an eye on the Shoshone News-Press Facebook page from 10 a.m. to 2 p.m.
Going on 24 years now (not counting 2020, where it was canceled due to the pandemic), the event has historically raised money to provide for local families that may have trouble putting dinner on the table this holiday season.
Event organizer and Shoshone County Clerk, Tamie Lewis-Eberhard, is excited to be bringing the fun back to the News-Press office.
"I think it's going to be great! We have a lot of new ideas and lots of different ways to donate!"
Throughout the day, phone operators at the News-Press office will be making calls to folks in the community and asking for any sort of donation for the cause.
In lieu of bringing people on the radio, like it was when it was at KWAL, event staff will be conducting interviews that will be posted on the News-Press Facebook page. This year's telethon is set to have a variety of guests that will stop by to entertain and challenge others to donate.
Unlike previous years though, the number of people allowed in the building will be limited to scheduled guests and staff only due to the ongoing pandemic.
The money raised from the event goes toward purchasing food vouchers for local families that may have trouble putting dinner on the table this holiday season. These vouchers can be used at specific local grocery stores that include Yoke's in Kellogg, Barney's Harvest Foods in Pinehurst, IGA in Osburn and Harvest Foods in Wallace.
If there's any money left over after all the voucher requests have been filled, the remainder is donated to the Osburn-based Meals on Wheels program foundation.
When the News-Press hosted the event for the first time in 2018, the event raised north of $20,000 — far surpassing the initial goal of $15,000.
If you would like to donate to the cause, contact the News-Press office on Wednesday, Dec. 8 between the hours of 10 a.m. and 2 p.m. at 208-752-1120. Donations can also be mailed to the Shoshone County Clerk's Office at 700 Bank St., Suite 120, Wallace, ID 83873.
Recent Headlines
---