Silver Valley Sports Recap: Sept. 27 - Oct. 3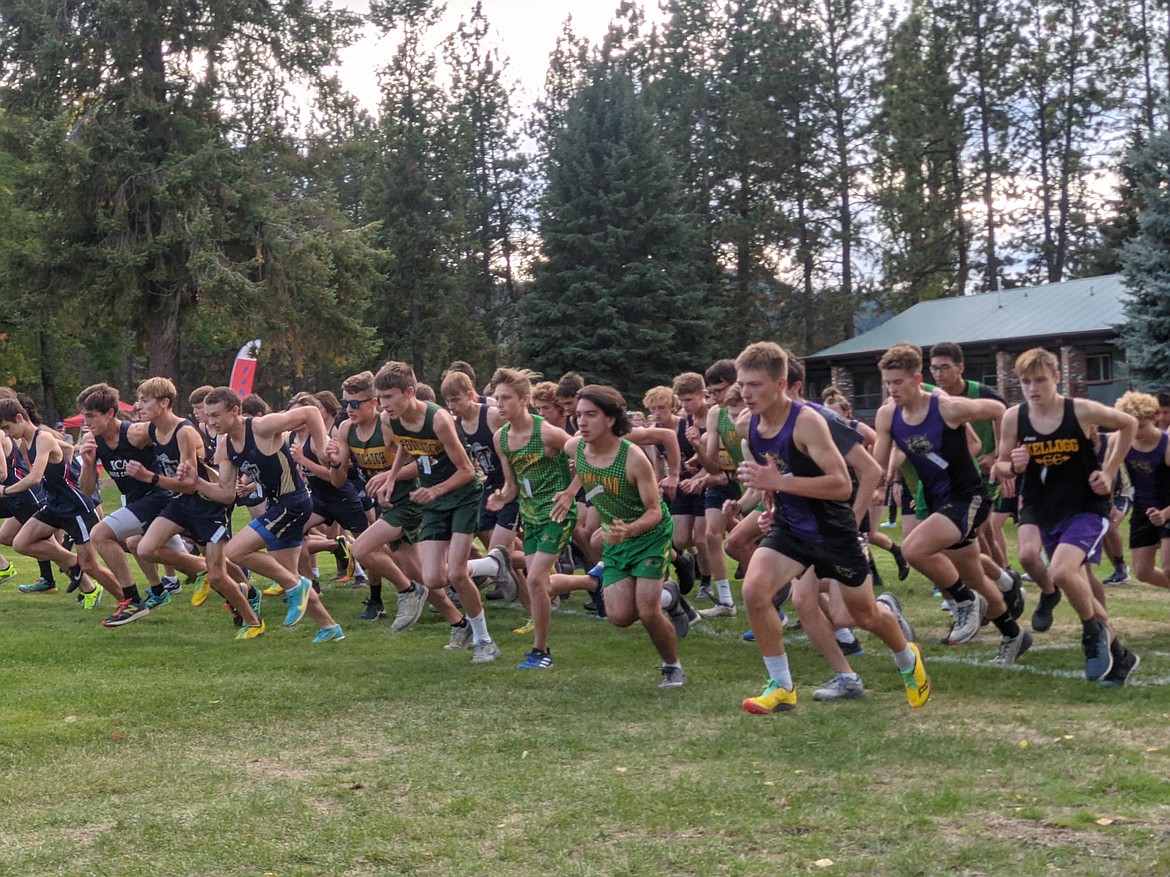 AND THEY'RE OFF! The big group start of the Ben Castro Invitational at Pinehurst Golf Course. Runners from across the region used near-perfect weather last week for a competitive race that saw several Wildcats set personal records.
Photo by CHANSE WATSON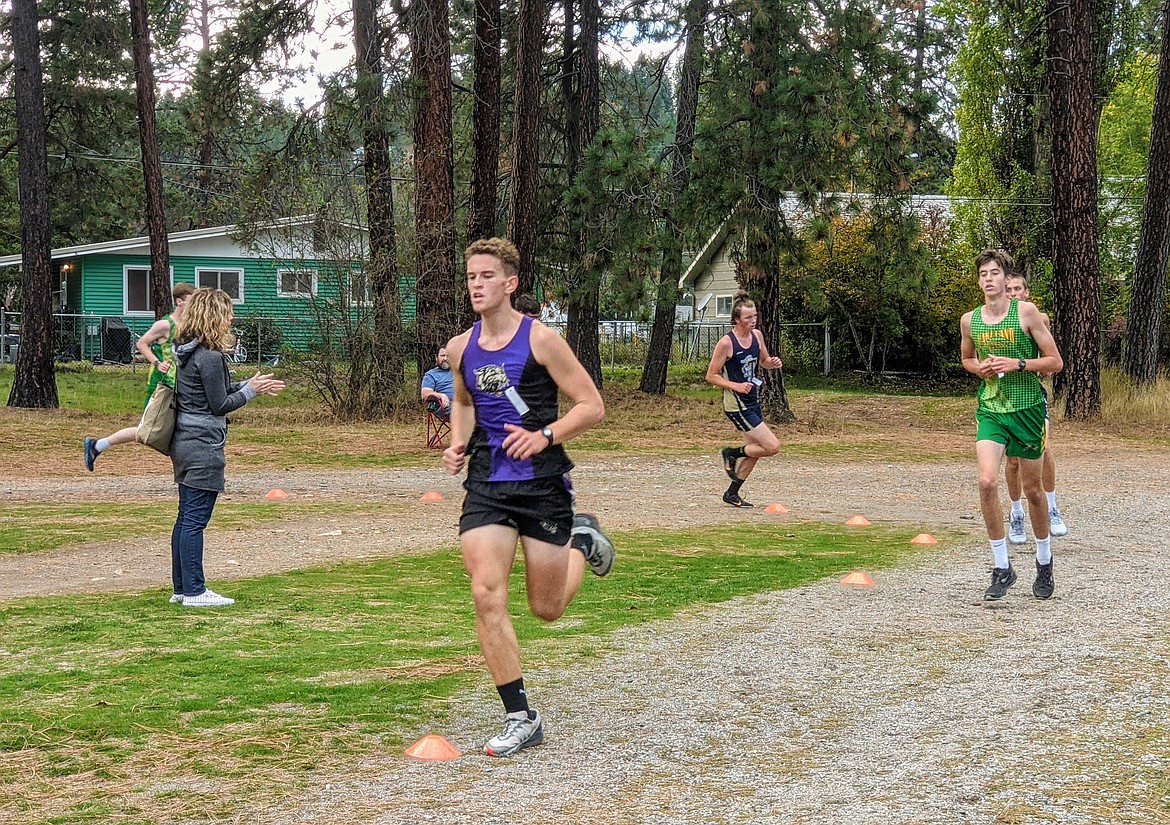 Kellogg runner CO Bergem rounds the corner during the Ben Castro Invitational at Pinehurst Golf Course.
Previous
Next
|
October 4, 2021 3:23 PM
KELLOGG CROSS COUNTRY
Sept. 30
PINEHURST — Coeur d'Alene Charter junior McKenna Kozeluh won the girls race at the Ben Castro Invitational at Pinehurst Golf Course, finishing in 18 minutes, 57 seconds to lead the Panthers to the team title.
Coeur d'Alene Charter finished with 29 points, followed by Bonners Ferry with 48 and Lakeland in third with 50.
In the boys race, Immaculate Conception senior Kellen Souza won in 16:46. Timberlake sophomore Jacob Barnhart was fourth in 17:22 to lead the Tigers to the team title.
Kellogg head coach Jeff Smith was pleased with the Wildcats' performance, especially as his team showed significant improvement.
"Our kids did well," Smith said. "Out of our 15 runners, 11 ran personal bests for the season."
Makai Peak ran his race in 17 minutes flat for his personal best in high school while finishing third overall.
BOYS TEAM SCORES — 1, Timberlake 54. 2, Coeur d'Alene Charter 59. 3, Immaculate Conception 61. 4, Bonners Ferry 71. 5, Kellogg 127. 6, Lakeland 134.
TOP 10 — 1, Kellen Souza, Immaculate Conception, 16:46. 2, Connor Alexander, Bonners Ferry, 16:52. 3, Makai Peak, Kellogg, 17:00. 4, Jacob Barnhart, Timberlake, 17:22. 5, Jack Darakjy, Immaculate Conception, 17:48. 6, Izan Gonzalez Martinez, Cd'A Charter, 17:54. 7, Nathan Russell, Cd'A Charter, 18:03. 8, Evan Howell, Timberlake, 18:13. 9, Owen Elizondo Bachiero, Immaculate Conception, 18:30. 10, Adrian Deartola, Immaculate Conception, 18:30. GIRLS TEAM SCORES — 1, Coeur d'Alene Charter 29. 2, Bonners Ferry 48. 3, Lakeland 50.
TOP 10 — 1, McKenna Kozeluh, Cd'A Charter, 18:57. 2, Ceci Roemer, Bonners Ferry, 21:15. 3, Haileyann Johnson, Timberlake, 21:59. 4, Aubrey Jenson, Timberlake, 22:53. 5, Ty Gilbert, Lakeland, 22:58. 6, Jane Robinson, Cd'A Charter, 23:05. 7, Natal Davis, Cd'A Charter, 23:36. 8, Sydney Beckle, Bonners Ferry, 23:36. 9, Candice Spears, Lakeland, 23:48. 10, Jayden Byars, Bonners Ferry, 24:03.
WALLACE VOLLEYBALL
Sept. 28
Wallace d. Genesis Prep
POST FALLS — A shorthanded Lady Miners squad dispatched of their Scenic Idaho Conference foes from Genesis Prep in three sets (25-20, 25-15, 25-22)
Jaden House paced the Miners with seven aces and eight kills during a night where her primary passing teammate Riley Valley (reigning SIC MVP) was out sick.
Head coach Katie Bauer was pleased with how her team stepped up to fill in for their missing star.
"Setter Riley Valley was out sick and Kynadee Gilmore did an outstanding job stepping in as setter," Bauer said. "Tia Hendrick was 17/17 from the service line."
Sept. 30
Wallace d. Lakeside
WALLACE — The host Miners swept the Knights 25-8, 25-7, 25-15 in Scenic Idaho Conference play.
No other information was available.
Oct. 2
Wallace at Genesee Tournament
GENESEE — The Miners went 2-3 on the day, but got some valuable tournament experience over the weekend.
Head coach Katie Bauer looked at the day from a glass-half-full point of view, where she saw a lot of things she liked, some she didn't, and others that she didn't see coming.
"I would say that we started the day with a very strong showing – Valley and House were clicking well in the first three matches and Tia Hendrick was excellent at the net and on the service line," Bauer said. "I think our 4 a.m. wake-up call caught up to us in the afternoon and we had nothing left in the tank against Genesee. We look forward to a possible matchup with them for a state berth later this month."
To qualify for their second consecutive state tournament berth, Wallace will have to beat the third place team from Central Idaho's White Pine League.
Wallace d. Deary: 21-15, 25-10, 15-11, Pomeroy (WA) d. Wallace: 14-25, 25-21, 15-11, Wallace d. Colton (WA): 25-21, 21-25, 16-14, Grangeville d. Wallace: 25-18, 25-22, Genesee def. Wallace: 25-19, 25-5
MULLAN VOLLEYBALL
Sept. 28
Clark Fork d. Mullan
It was a rough go for the Lady Tigers who couldn't get anything going against their North Star League rivals losing in three quick sets (11-25, 13-25, 5-25).
"It was hard to get anything going with their well rounded team," Mullan Head Coach Dawn McKinnon said. "We had a few hustle points here and there but nothing to push through."
Sept. 30
N.I. Christian d. Mullan
COEUR d'ALENE — Olivia White had 15 assists, 19 digs and seven kills as the Royals defeated the Tigers 25-17, 14-25, 22-25, 25-19, 15-7 in nonleague play at Holy Family Catholic School.
Malia Giesbrecht had 11 assists, 27 digs, five aces and four kills for North Idaho Christian (5-4). Symone Pilgrim had five kills and six blocks for the Royals, and Rylee Overturf had six kills and five blocks.
MULLAN FOOTBALL
Oct. 1
Mullan/St. Regis d. Kootenai, forfeit
HARRISON FLATS — The North Star League opener for both programs was canceled and declared a forfeit victory for the Tigers after illness and minor injuries within the Kootenai program left the Warriors shorthanded.
KELLOGG FOOTBALL
Sept. 30
Kellogg 23, Frenchtown 38
FRENCHTOWN — Two particularly painful plays can be pinpointed from the Wildcats' Thursday night loss at Frenchtown.
Kellogg allowed two different kickoffs to be returned for scores, which ended up being the deciding factor in the two score loss.
"We ran into a buzz saw," Kellogg Head Coach Dan Davidian said. "They outplayed us in every phase of the game. We were most frustrated that they returned two kickoffs for touchdowns – those are backbreakers. If we didn't give those kickoffs up it would have been a tighter game."
Once again the Wildcat offense made several big plays and got stops on defense when they needed to, but those two special teams scores will loom large as the Wildcats prepare to open up Intermountain League play this week on the road against Bonners Ferry.
"We had moments of brilliance on offense and we went toe to toe defensively, but it was all too little too late," Davidian said. "They handled us from the beginning and give them credit for that."
WALLACE FOOTBALL
Oct. 1
Wallace 32, Clark Fork 48
CLARK FORK — No info was received for this game.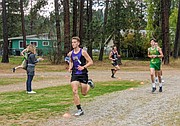 ---