Kiwanis appoints new leaders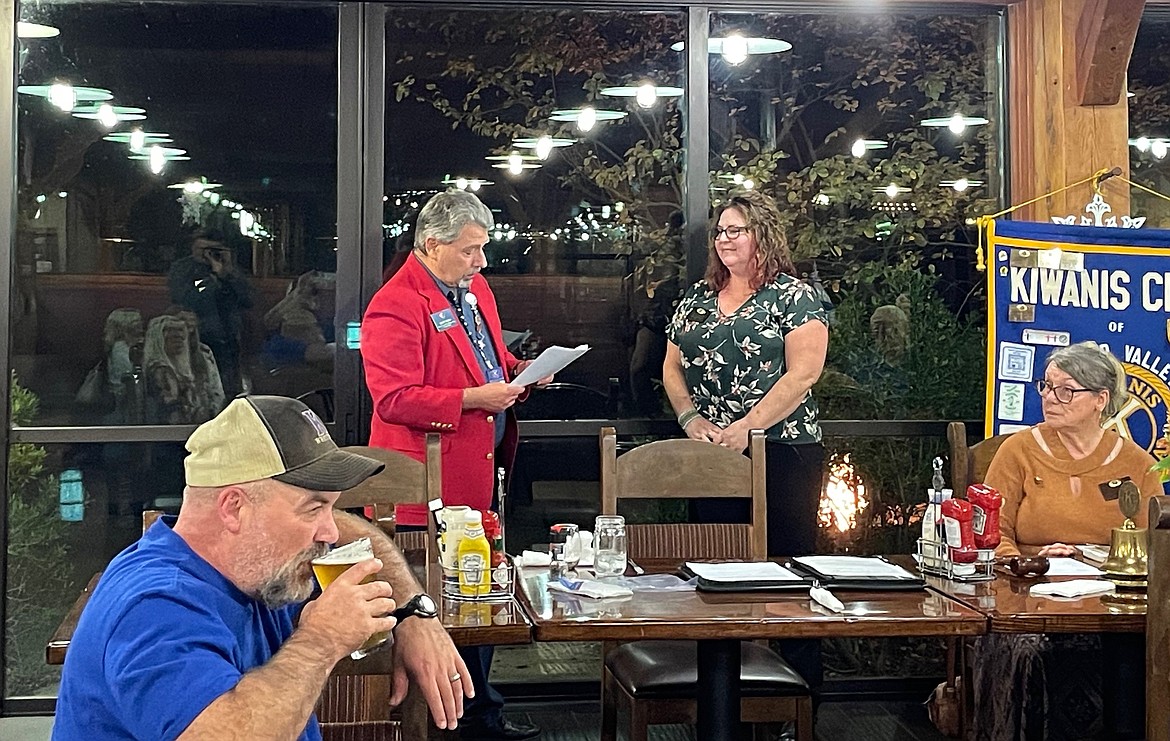 Marty Behn the Lt. Governor of the Pacific Northwest of Kiwanis International installs new Silver Valley President Karen Drapon during the Silver Valley Kiwanis Club's annual installation banquet last Tuesday at Noah's Canteen.
Photo by JOSH McDONALD
by
JOSH MCDONALD
Staff Reporter
|
October 8, 2021 7:00 AM
KELLOGG — Tuesday evening was a night of celebration and honoring those who have served during the annual Silver Valley Kiwanis Club Installation Banquet.
Karen Dapron, Bridget Hojem, Marcia Smith and Marlene Martin were sworn in as the new president, vice president, secretary and treasurer respectively during the event.
Dapron is taking on her new role with a measure of humility, as well as a lot of excitement at the things to come.
"I want to lead this organization and hopefully live up to what everyone else has done," Dapron said. "It's been weird this last year, but my goals moving forward are to get more members — we can do a lot more if we have more members. We are a smaller club, so building our membership is key. Even with our smaller numbers we've doubled some of our fundraising efforts, so we know that we can build off of that."
Dapron also is excited by some of the ideas that her new VP has come up with, including a massive new vendor fair next summer.
"We love having fresh ideas and I have a couple of my own," Dapron said. "I think this will be a great opportunity to get out and show what we can do and even use the opportunity to get people to join us."
The dining room at Noah's Canteen set a near-perfect stage for the evening as Kiwanian Marty Behn, the Lt. Governor of the Pacific Northwest region of Kiwanis International, was on hand to swear in new member Braden Thomas, who also spoke about how proud he was of all of the work that had been accomplished by the Silver Valley Club during the 2020 and 2021 years — despite the ongoing pandemic.
Retiring president Beth Ferraro presented Tobey Hojem with the prestigious Kiwanian of the Year award as well.
The Kiwanis Club of the Silver Valley is a member of Kiwanis International, a larger organization that is dedicated to improving the lives of children in their respective communities through improving literacy, fighting hunger and offering guidance. The Kiwanis Club of the Silver Valley has been around for several years and has worked on numerous projects including the Winter Special Olympics, Dare to Imagine, Head Start, Boys and Girls State, and the renovation of the baseball field inside the Kellogg City Park.
The Silver Valley Kiwanis Club meets every Tuesday at noon at Noah's Canteen in the Silver Mountain Resort Village.
---