McCullough, Mendy appear during Law Day
by
JOSH McDONALD and CHELSEA NEWBY/Staff Reporters
|
October 8, 2021 7:00 AM
WALLACE — Wednesday was Law Day in Shoshone County and Judge Scott Wayman heard several cases throughout the day, including those of Cappuccino McCullough and Quentin Mendy, both of whom were set for sentencing.
McCullough, 44, was one of nine people arrested in a late October 2020 raid on a drug den in Smelterville.
McCullough had entered an Alford Plea in July on one of his three possession of a schedule II substance drug charges in exchange for the other two being dismissed. Under an Alford plea, a defendant admits no wrongdoing but concedes a guilty verdict could result following a trial. The plea is treated no differently than a standard plea of guilt at sentencing.
McCullough recently faced other charges in Kootenai County as well, where he was sentenced to four years (including two years fixed), but the judge in that case retained jurisdiction over the sentence, which will allow him to be released on felony probation.
Judge Wayman heard from both McCullough, as well as his mother Andrate Golden, a minister residing in the Seattle area who has made arrangements for her son to come live with her once his legal issues are settled.
The state, represented by Shoshone County Prosecutor Keisha Oxendine, recommended retained jurisdiction for McCullough, but the judge saw that McCullough was already on a rider in Kootenai County.
Considering all of the factors and the testimony that he heard, Wayman sentenced McCullough to one year of confinement, with credit for time served — which was 348 days as of Wednesday.
These charges stemmed from what began as a probation and parole check in the fall of last year that consequently yielded trafficking amounts of methamphetamine and heroin, along with user amounts of marijuana and miscellaneous drug paraphernalia. As a result, all five individuals present in the home — including McCullough — were taken into custody without incident.
While the scene was being processed, five individuals arrived at the residence, two of which admitted that their intentions were to purchase drugs from the suspects in the home. Another one of these individuals turned out to be a male with an outstanding warrant from Kootenai County.
Quentin Mendy also appeared before Judge Wayman via Zoom for sentencing on Wednesday, but could not be due to the required presentence investigation not being completed.
Mendy was arrested on June 2 and charged with grand theft of firearms, rifles or shotguns, two counts of burglary, aiding in a misdemeanor, revocation of bail — violations of conditions of release.
The arrest was made following an initial complaint that a group of youths were smoking behind the Pinehurst library. Pinehurst Police Department officer Jeff Demery followed up on the report and made contact with the group, which eventually spiraled into an investigation linking Mendy to a slew of burglaries throughout town. Mendy and a group of five juveniles broke into a series of homes and vehicles, stealing thousands of dollars of miscellaneous property.
On June 30, Mendy entered a guilty plea to two felony charges, including grand theft of firearms, rifles or shotguns, and burglary, and a misdemeanor charge of aiding in a misdemeanor.
Mendy was not granted a bond amount due to his refusal to comply with the conditions of his release, as well as noncompliance with the presentence investigation process, which was ordered on June 30.
Sentencing will be scheduled at a later date and will likely be pushed back until December.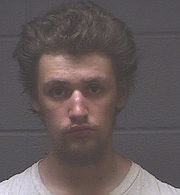 ---