Shoes for youths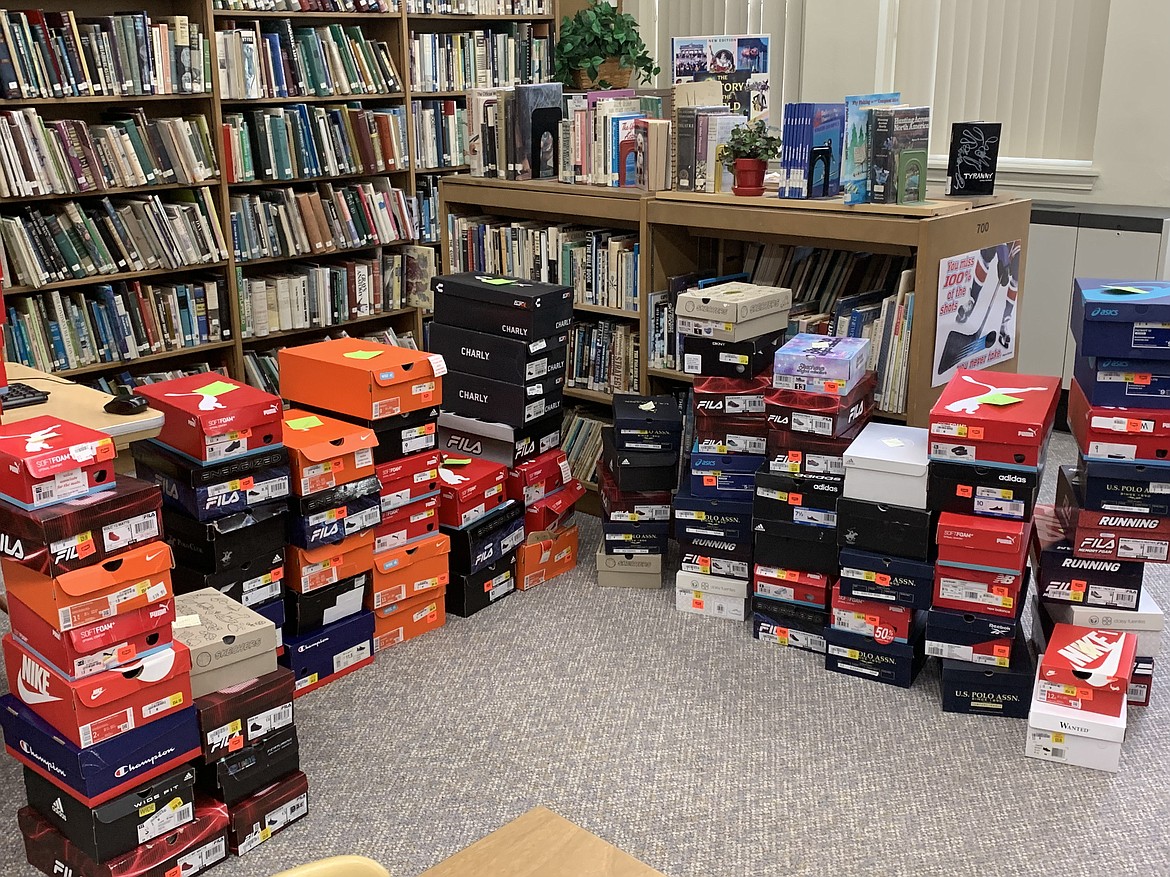 The Mullan Community Foundation donated 94 pairs of athletic shoes to the Mullan School District. The shoes have already been distributed to the high school students, and by Monday each child in the school district will have received a pair.
Courtesy photo
by
CHELSEA NEWBY/Staff Reporter
|
October 8, 2021 7:00 AM
MULLAN — Shoes for everyone…or 94 students to be exact.
The kids of the Mullan School District received an exciting surprise this week, as the Mullan Community Foundation purchased a new pair of athletic shoes for every child in grades K-12.
Katie Murray, a member of the foundation, said that the shoes have already gone out to the high school students and that by Monday, each child in the school district will have received their new shoes.
Murray said the idea to buy athletic shoes specifically was based around a recurring need first seen at the elementary school — she explained that teachers had noticed that many of the young students were coming to school without indoor specific athletic shoes, which are used for physical education and other activities.
After taking an even closer look, the foundation realized that a lack of quality athletic shoes was something that they were seeing throughout the entire school district.
"A lot of times when we do our Christmas for Kids event, the high school kids are also asking for basketball shoes, but then they don't receive them until halfway through the basketball season, so the idea kind of escalated into buying shoes for everyone," Murray said.
When it came to purchasing the shoes, Murray said that quality was one of the main goals. Having a nice pair of athletic shoes is something she thinks will be exciting, especially to the older kids.
"I think that the high school students have been pleasantly surprised because they didn't realize what they were going to get, and that these would be higher quality shoes," she said. "Just as a mom, I want to see everyone have good quality shoes."
Murray said the foundation also has a big picture in mind for the shoes that they distributed this year. Their hope is that the children who don't need the shoes come summertime, or outgrow them, will then donate the shoes back to the school in order to be used again by a student in need the next year.
"We want to reuse them and have a rotation of good quality shoes that the kids can sign up for and have checked out to them for the school year," Murray said.
---