Calling in backup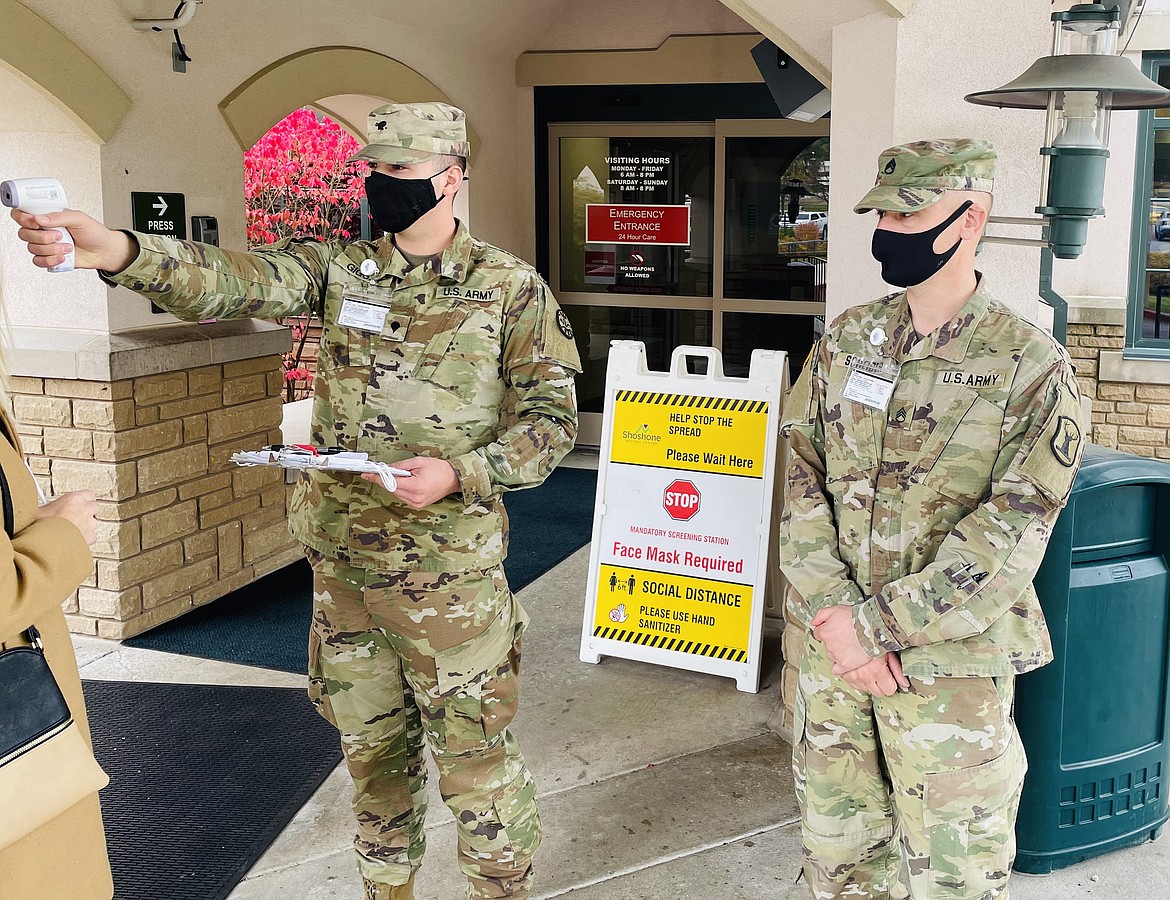 Spc. Ralph Giggey and SSG. Phillip Scheiber are two of the National Guardsmen who have been working at Shoshone Medical Center over the recent weeks.
Photo by JOSH McDONALD
by
JOSH MCDONALD
Staff Reporter
|
October 15, 2021 4:07 PM
KELLOGG — Some new faces at Shoshone Medical Center have been a welcome addition.
It had been just seven weeks since the first COVID-19 related deployment of the Idaho National Guard had ended, but as positive cases began to climb at the end of August, Idaho Gov. Brad Little re-activated Idaho's troops, as well as called in federal assistance to help with mitigating the added pressure on the state's health care facilities.
During the first deployment, SMC didn't utilize any of the National Guardsmen — allowing them to focus on assisting in Idaho's vaccination efforts.
At the time, SMC was using valuable personnel for screening people as they came in the door at the hospital — which led to shortages in other departments.
When Gov. Little redeployed the National Guard on Aug. 31, SMC put in a request with the Panhandle Health District for two Guardsmen to help with screenings.
"We had been staffing our entry with nurses, CNAs and clinical people," said SMC Chief Executive Officer Paul Lewis. "Now, with the National Guard, we have them handling support screenings, intake and front desk work. They have been a big help for us."
According to a report from the Idaho Army National Guard, members of the Idaho National Guard are serving at nearly two-dozen health care facilities throughout Idaho, performing non-clinical duties that include medical screenings, testing collection, logistics assistance and other administrative tasks.
"They have been really well accepted, and acclimated into our daily workflow and patient screenings," Lewis said. "They're very professional, courteous, reliable, on-time. They do a great job. I just think they have fit really well. We're excited and thankful to have them, it's been a nice support to have them."
Last month Gov. Little and Major General Michael Garshak appointed Brigadier General Russ Johnson as Idaho's first dual-status commander.
"Joint Task Force — Idaho is helping free up civilian medical staff, allowing them to focus on providing medical care during the ongoing surge in COVID-19 cases," said Johnson in a recent press release. "Collectively, our Title 32 Idaho National Guardsmen and Title 10 active-duty personnel are employed in direct support of our health care sector, making a difference in the lives of Idaho citizens every day."
Idaho is one of several states to recently activate a dual-status commander for COVID-19 response, joining Alabama, Mississippi, Louisiana and Tennessee.
---