Silver Valley Sports Recap: Oct. 11-17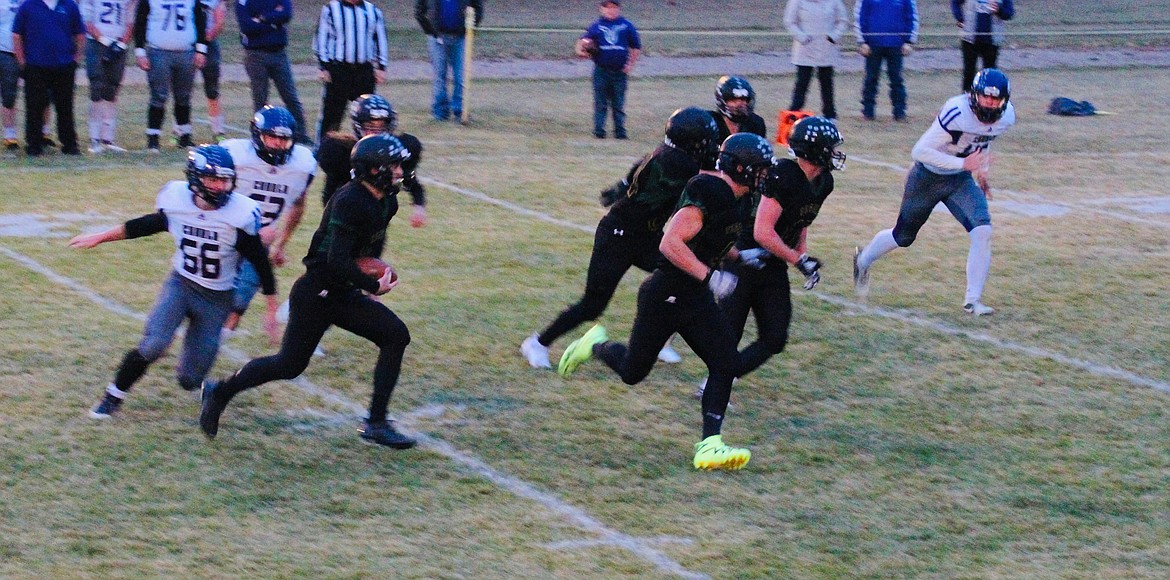 Tiger quarterback Caleb Ball (ball carrier) gets behind a line of blockers on his way to the endzone during Mullan/St. Regis' win over Charlo.
Photo by JOSH McDONALD
|
October 18, 2021 1:26 PM
MULLAN FOOTBALL
Oct. 15
Mullan/St. Regis 70, Charlo 26
ST. REGIS — It was senior night in Montana and the Tigers honored Adam Ball, their lone senior player from that side of Lookout Pass, and he made the most of his evening.
Nine carries, 213 yards, and two scores all before he sat the fourth quarter.
While Ball's stats may have been the most gaudy of the bunch, teammates Caleb Ball (Adam's younger brother), Luke Trogden, and Blake Layton all put up video game-esq numbers in the blowout win.
Charlo was a different animal than anything the Tigers had encountered this season, which head coach Stetson Spooner was pleased with as the playoffs are quickly approaching.
"Charlo has some outstanding athletes in space and with a pass heavy and very efficient air attack," Spooner said. "It was a game that stretched our defense in ways that were challenging. We were equally impressed with our two touchdowns on special teams and the offense getting the usual big-play-wheels rolling against a gritty tough defense."
Spooner also waxed sentimental about Adam Ball, a player that has been key in the cooperative between the two schools.
"All in all it was a great night," Spooner said. "It was great to honor Adam in front of our great fans. It was an even bigger honor for me to have the privilege of coaching him daily."
Mullan has already locked up a spot in the 1A D2 State Playoffs, but they will host Kootenai in the North Star League finale on Friday at 3:30 p.m.
KELLOGG VOLLEYBALL
Oct. 11
Kellogg d. CDA Charter
COEUR d'ALENE — The Wildcats flexed their muscles a bit on Monday night, knocking off the host Panthers (25-17, 25-4, 25-14).
After already clinching the Intermountain League Championship the week prior, Kellogg had the opportunity to polish their already lethal attack.
Maddie Cheney and Grace Nearing ran the show from the serve line, recording eight and five aces respectively, with Nearing also leading the team with 22 assists.
Hailey Cheney was an absolute problem at the net for Charter, the Northwest Nazarene University commit unleashed on the Panthers to the tune of 17 kills and four blocks.
Kellogg Head Coach Steph Batchelder has a knack for drawing every last drop of talent from her players and knows that in just over a week they will need to have every tool at their disposal.
"All of our passers did a great job at keeping the ball going and reading Charter well," Batchelder said. "We got to run a couple different offenses which will hopefully help us succeed during the postseason. We need to work on our block coverage — that's when most of the balls hit the ground."
Oct. 14
Kellogg d. Priest River
KELLOGG — The Wildcats honored their eight senior members the best way that they could, a clean 3-set win over the visiting Spartans (25-13, 25-10, 25-17) and an even cleaner sweep of their 2021 IML schedule.
Head coach Steph Batchelder heavily rotated her senior players, mixing in her younger talent instead of sticking with her normal rotation.
Senior Jezzy Hall finished with seven digs for the Wildcats, meanwhile seniors Hailey Cheney (seven aces and 11 kills) and Grace Nearing (15 assists) made sure everything followed smoothly.
By winning the IML, the Wildcats earned the right to host every match that they will play in the 3A District 1 Tournament, beginning Tuesday evening and continuing through the week.
WALLACE VOLLEYBALL
Oct. 12
Wallace d. Lakeside
PLUMMER — The Lady Miners wrapped up the Scenic Idaho Conference with a win last night at Lakeside (25-8, 25-11, 25-15).
Wallace was the aggressor in their matchup with the Knights, understanding that the win would give them their second straight outright league title and allow them to wait for the 1A D1 District 1 championship match this weekend.
Riley Valley led the way with 27 assists and eight aces, while Jaden House finished with 12 kills and 10 digs while going 12 for 12 serving.
Wallace will face the winner of Genesis Prep and Lakeside for the District 1 Championship on October 21 at 7:30 p.m. at North Idaho College.
The winner will face the third place team out of District II on Saturday the 23, at 1:00 p.m. at Lake City High.
Oct. 14
Wallace def. Kootenai
KOOTENAI — Wallace wrapped up their regular season with a quick 3-set win over the host Warriors (25-14, 25-5, 25-9).
Riley Valley capped off her stellar career doing what she does best, distributing the ball.
Valley had 23 assists, several going to running mate Ellie Welch who led the way with six kills.
Jaden House also finished with six aces and two digs.
Serving was the emphasis for the Miners this year and head coach Katie Bauer was pleased to see her squad end the year on a high note.
"The team was very focused on completing serves," Bauer said. "We had four players serve 100%."
Those four players were House (13/13), Britany Phillips (11/11), Lacey Dye (12/12), and Tia Hendrick (12/12).
KELLOGG FOOTBALL
Oct. 15
Kellogg 14, Timberlake 27
SPIRIT LAKE — The Wildcats went on the road in what was essentially the Intermountain League Championship and came up short in a hotly contested matchup with the Tigers at Van Tuinstra Memorial Field on Friday
Riply Luna threw two touchdowns for the Wildcats, but the Tigers utilized a ground and pound attack that kept the Kellogg defense on the field for long stretches and when they had possession of the ball, having several two-way players finally got the better of them.
Timberlake will get District I's automatic berth into the 3A State Playoffs, and the Wildcats will need to beat Priest River this week to earn the District's second spot and a spot in one of the 3A Playoff Qualifier games.
This week is also homecoming and senior night for Kellogg.
WALLACE SWIMMING
Oct. 16
COEUR d'ALENE — Wallace High School junior swimmer Aydin Hasz demolished his own school record on his way to a first-place finish in the 100-yard butterfly Oct. 16. Hasz cut seven seconds from his personal best to claim the win against Lakeland and Lewiston with a time of 1:13.13.
Hasz ended the day with a third-place finish in the 100-yard breast stroke with a time of 1:22.72.
Co-hosted by Lakeland and Wallace, the meet was designated Senior Day held at the Kroc Center in Coeur d'Alene.
Senior Dorsey Pearson finished third in both the 50 and 100-yard freestyle events with times of 25.64 and 59.69 respectively.
Junior Jordan McNeil posted personal bests in the 50-yard freestyle and 100 freestyle while placing sixth and seventh in the events. He erased three seconds from his personal best in the 100 free.
Gage Wood swam in his first swim meet and placed ninth in the 50 freestyle.
For the ladies, sophomore Kendra Korasick placed third in the 100-yard freestyle and fifth in the 50-free while posting personal bests in each event. She shaved two seconds off each of her times.
Junior Skyelee Austin and senior Kimberly Larson both made tremendous improvements in two events. In the 100-yard breaststroke, Austin cut 13 seconds off her personal best with a fourth-place finish while Larson improved her time by 18 seconds. Both swimmers also improved their 50 freestyle times by four seconds.
Korasick and Larson also welcomed an opportunity to swim a 200-freestyle relay with two Timberlake swimmers.
The team will compete in Moscow Oct. 23 in the final tune-up before districts the following week.
MULLAN VOLLEYBALL
Oct. 12
Clark Fork d. Mullan
MULLAN — The host Tigers had opportunities, but couldn't overcome the league-leading Wampus Cats (10-25, 25-20,15-25, 8-25).
"Leah Frazier had an awesome serving night for us along with two kills," Mullan Head Coach Dawn McKinnon said. "Jazzmyn Nelson also had a hood night digging balls in the back court. We had to adjust our offense with Sairah Haig out sick. Kara Stayle ran our setter position and did a good job."
Oct. 14
Genesis Prep d. Mullan
MULLAN — The visiting Jaguars took everything Mullan had and were still able to pull out the win in a competitive 4-set match at the Mullan Pavilion (22-25, 25-21, 16-25, 22-25).
A couple of costly errors caused a few of the ladies to begin doubting themselves according to head coach Dawn McKinnon, but now they'll need to put all of their struggles out of their head as they gear up for district play.
Mullan will host Kootenai Tuesday night at 6 p.m. for a shot at Clark Fork, the district championship, and a berth to the 1A D2 State Tournament.
Recent Headlines
---