Silver Valley Sports Recap: Oct. 18-24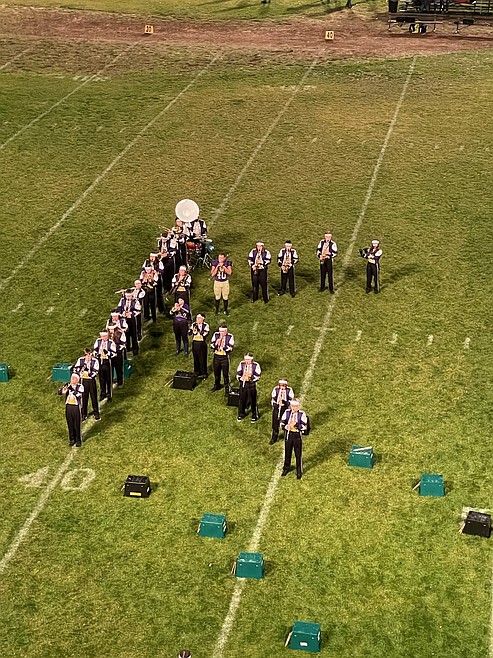 Kellogg runningback Austin Miller also plays a mean trombone as part of the Kellogg High School marching band during last week's homecoming festivities.
Photo by JOSH McDONALD
|
October 25, 2021 4:06 PM
KELLOGG FOOTBALL
Kellogg 50, Priest River 16
KELLOGG — It was hardly the perfect conditions for a football game, but as the rain swirled and the wind blew, the Kellogg Wildcats made their intentions clear.
No one beats them at home.
The Wildcats finished the season a perfect 4-0 within the confines of Teeters Field, outsourcing their visiting opposition 176 — 37 along the way.
Junior Riply Luna threw eight touchdown passes, the new 3A, single game record and also eclipsed the 3A single season passing yards record.
Senior KJ Walker did quite a bit of the heavy lifting, catching three of those touchdowns, each one seemingly more spectacular than the one before it.
Kolby Luna also grabbed a pair of receptions for scores, as Kellogg imposed their will on the visiting Spartans in what was possibly both teams' final 3A Intermountain League game.
Head coach Dan Davidian was pleased with how his team ended their regular season and is gearing up for what will likely be a tough playoff matchup later this week.
"It was a great win on homecoming night for us. The atmosphere was great. The stands were full, the energy was high, and this all contributed to our success," Davidian said. "We played well across the board. Offensively, we played extremely well."
It's hard not to get overly excited when you have a junior quarterback who has accomplished what Luna has done, but Davidian is proud of his signal caller and also the cast of characters who made his season so special.
"Riply had a big night. He's setting all kinds of records but more importantly he helped propel us to a playoff berth," Davidian said. "Kolby Luna and KJ Walker had a great night receiving, Austin Miller ran the ball well, and we just clicked offensively."
The two scores Kellogg gave up were anomalies in an otherwise perfect defensive games, however, both of them came with the game already out of hand and with the Wildcats rotating some of their younger players into the game to gain valuable experience that may come into play this week.
At this point Kellogg knows that they will be playing this weekend, although it is unknown who their opponent will be or where that game will be played.
The Shoshone News-Press will provide an update when that information is released.
WALLACE FOOTBALL
Wallace 46, Lakeside 42
PLUMMER — Teagan Goldade scored on a 32-yard touchdown run with 3:09 remaining, and the visiting Miners were able to force two turnovers late to hold off the Knights in a Scenic Idaho Conference game.
"We had a couple of late turnovers that cost us," Lakeside coach Chris Dohrman said. "We had the lead and were driving, then had an interception and they scored. Then we had another interception after that. We played pretty well considering all that. I was proud of all the guys that played tonight, some in different spots than they were used to."
Vander Brown ran for 237 yards and three touchdowns for Lakeside. Wallace quarterback Landon Streeter ran for 181 yards and two touchdowns.
Wallace 0 22 12 6 — 40
Lakeside 6 12 12 6 — 36
MULLAN FOOTBALL
Mullan/St. Regis 52, Kootenai 26
MULLAN — The host Tigers got off to a hard start and then let their JV players handle the rest as Mullan wrapped a sensational 7-1 season and now await their 1A D2 Playoff quarterfinal.
Senior Luke Trogden ran for three touchdowns and caught another as he totaled up 112 yards in four plays in the first half.
The Tigers were playing without co-MVP Adam Ball who was out with a minor injury that prevented him from likely eclipsing the 1,000 yard mark for rushing.
Junior Caleb Ball threw six times for six completions and 114 yards and scored three touchdowns.
"We ran JV guys for almost a full three quarters," Mullan Head Coach Stetson Spooner said. "Kootenai battled really well and had some dudes that flat out made big plays. That program is headed up. We worked on and improved with some things that we believe we need to be sharper at moving into the playoffs. The Warriors were very competitive throughout the course of the game and their heart and sportsmanship are unmatched."
Mullan awaits the winner of Carey and Timberline and will be on the road for that playoff matchup in two weeks.
WALLACE SWIMMING
Oct. 23
MOSCOW — Two Wallace High School swimmers and state-qualifying contenders made drastic improvements to their personal best times with their 4A district meet looming next week.
During a meet in Moscow Saturday against Lake City and Lewiston, junior Aydin Hasz claimed another school record, this time in the 100-yard breaststroke. Hasz improved his personal best by four seconds to 1:16.12 and upended a record set in 2012 by Eric Braaten. He finished second in the event Saturday.
Hasz also took another second off his school record he set in the 100-yard butterfly a week earlier and claimed third place.
Senior Dorsey Pearson dropped seven seconds off last year's state-qualifying personal best in the 200-yard freestyle at 2:07.56 for a third-place finish.
"I'm so proud of those two for swimming the best times of their lives and significantly shaving time going into districts," said coach Jolyn Pearson.
Sophomore Kendra Korasick swam a personal best in the 100-yard freestyle with a time of 1:15.31 and a fifth-place finish.
Junior Jorden McNeil posted a personal best in the 50-yard freestyle.
Freshman Gage Wood competed in the 100-yard freestyle for the first time, and posted a personal best in the 50-yard freestyle.
The team will compete at its district meet in Moscow this Saturday, Oct. 30.
WALLACE VOLLEYBALL
Oct. 23
Genesee d. Wallace
COEUR d'ALENE — The Miners (17-6) fell to the Bulldogs in a state 1A Division I play-in match at Lake City High (26-24, 25-10, 25-21).
It was a tough out for a Wallace team that had only lost five matches prior to the play-in.
Genesee advances to state Friday, where they'll take on Liberty Charter at Lewis-Clark State College in Lewiston.
MULLAN VOLLEYBALL
Oct. 21
CLARK FORK — The Lady Tigers had to go on the road to face the North Star League champion Wampus Cats, and despite a valiant effort they were just too much for Mullan (25-20, 25-18, 25-10).
It was Mullan's first game with a full roster, which helped the Tigers get some rest and stay fresh.
"Playing with a full roster was nice," Head coach Dawn McKinnon said. "My kids came out hard in the first two sets. Hustling and playing each ball to the end, but we had some mental mistakes in the third one. Jazzmyn Nelson had an outstanding game digging in the back court and Leah Frazier made the all league squad. Overall, I'm sure proud of these kids for competing."
Clark Fork lost Deary in the District I-II Play-in match on Saturday.
KELLOGG CROSS COUNTRY
Oct. 21
Kellogg sends two to State Meet, Peak wins district championship.
PRIEST RIVER — Timberlake's run of 12 straight district girls titles came to an end as Coeur d'Alene Charter clipped Bonners Ferry for the team title at the 3A District 1 meet at Priest River High.
Coeur d'Alene Charter junior McKenna Kozeluh won the girls race in 18 minutes, 38.2 seconds, leading the Panthers to the team title by a 40-43 margin over the Badgers.
Timberlake qualified for state finishing third.
Timberlake's boys beat Coeur d'Alene Charter for the program's eighth title in nine years.
Kellogg sophomore Makai Peak won the boys race in 16:40.9. The state 3A meet is Oct. 30 at Eagle Island State Park.
BOYS TEAM SCORES (Top three to state) — 1, Timberlake 37. 2, Cd'A Charter 55.
3, Bonners Ferry 72. 4, Priest River 98. 5, Kellogg 100.
STATE QUALIFIERS — 1, Makai Peak, Kellogg, 16:40.9. 2, Connor Alexander, Bonners Ferry, 16:53.3. 3, Jacob Barnhart, Timberlake, 16:58. 4, Logan Davis, Cd'A Charter, 16:58.4. 5, Dylan Lord, Priest River, 17:57.2. 6, Evan Howell, Timberlake, 17:59. 7, Izan Gonzalez Martinez, Cd'A Charter, 18:22.1. 8, Dylan Nelson, Timberlake, 18:24.4. 9, Taylor Menti, Timberlake, 18:25.3. 10, Nolan Oyler, Cd'A Charter, 18:37. 11, Jeremiah Alameda, Timberlake, 18:41.4. 12, Mason Zollinger, Timberlake, 18:43.1. 13, Jacob Howell, Timberlake, 18:49.8. 14, Levi Bonnell, Bonners Ferry, 18:58.1. 15, Nathan Russell, Cd'A Charter, 18:59.4. 16, Colin Fairchild, Bonners Ferry, 19:02.3. 17, Hyrum Lakko, Kellogg, 19:11.4.
GIRLS TEAM SCORES (Top three to state) — 1, Coeur d'Alene Charter 40. 2, Bonners Ferry 43. 3, Timberlake 55. 4, Kellogg 106. 5, Priest River 119.
STATE QUALIFIERS — 1, McKenna Kozeluh, Cd'A Charter, 18:38.2. 2, Haileyann Johnson, Timberlake, 20:49.1. 3, Natal Davis, Cd'A Charter, 20:59.6. 4, Ceci Roemer, Bonners Ferry, 21:11.7. 5, Camille Ussher, Bonners Ferry, 22:13.6. 6, Izabella Cornell, Timberlake, 22:21.5.
7, Lacey Medina, Kellogg, 22:27.9. 8, Aubrey Jenson, Timberlake, 22:28.3. 9, Jane Robinson, Cd'A Charter, 22:28.8. 10, Sydney Beckle, Bonners Ferry, 22:45. 11, Leah Moellmer, Bonners Ferry, 23:55.6.
Recent Headlines
---