SPORTS TAB: Lady Miners ready for the big time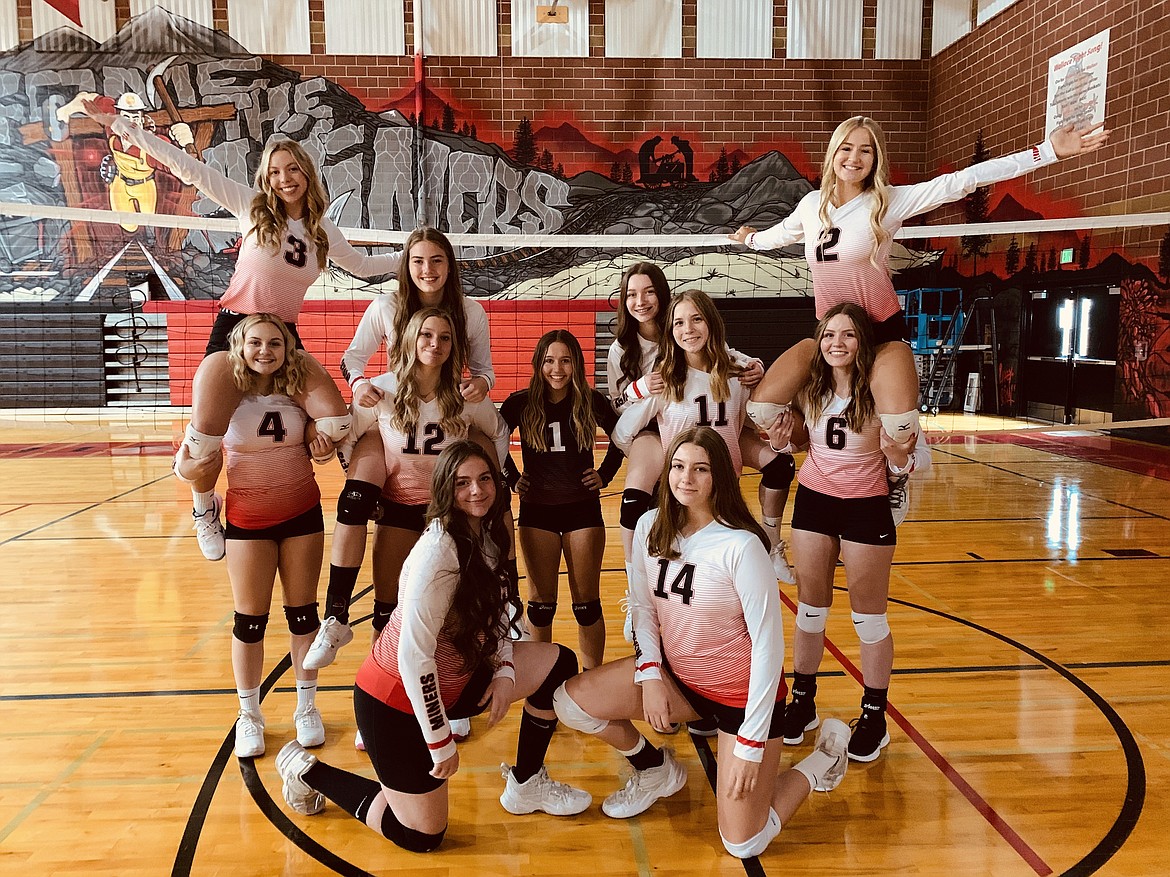 The Wallace volleyball team pictured from left (back row) are Elli Welch, Britany Phillips, Caitlin Garitone and Riley Valley. Middle: McKelvy Specht, Savannah Smith, Kynadee Gilmore, Lacey Dye and Jaden House. Front: Kiya Taylor and Tia Hendrick.
Courtesy photo
by
JOSH MCDONALD
Staff Reporter
|
September 10, 2021 7:00 AM
WALLACE — The Lady Miners are going to be fun to watch this year.
Katie Bauer has made the most in her second stint as head coach of the Wallace volleyball team, getting the team back to the state tournament last year where they won a match and were competitive until the end.
This year, with state tournaments shifting to the north, Bauer and her crew are salivating at the opportunity to play the biggest games in front of a gaggle of Miner faithful.
Returning several key players helps, but really it's going to be a season that goes as their big three goes.
The trio of Scenic Idaho Conference MVP Riley Valley (also second team All-State), and SIC All-Leaguers Jaden House and Elli Welch are as good a trio as you'll find and they will look to continue their streak of dominance.
"Riley will continue to run our offense as setter, and look for her to rack up aces from the service line," Bauer said. "We will look for Jaden to lead us in kills again at outside hitter. Elli was our leading blocker last year and she has also improved her attack efficiency. We are expecting big things from libero Kynadee Gilmore, middle blocker Tia Hendrick and outside hitter Britany Phillips."
With an attack-first mentality, the seniors leaders of Wallace don't often find themselves anywhere but as the aggressors when they are on the floor, but this aggressive style of play led to a lack of focus at the service line, which resulted in Wallace giving away valuable points and possessions.
Bauer is a crafty thinker and will make sure that she keeps a few special things up her sleeve if and when the time comes that her team needs them, but she wants to make sure that they are in position to do so before she asks that of them.
"I'd like to see us put in more specialty plays in our offense this year," Bauer said. "We are very capable and we just need some confidence and practice."
This year, the road to the state tournament requires that the SIC champs play in a play-in game against the third place team from District II, a matchup that hasn't always shaken out for Wallace in the past.
This year, may prove to be the exception.
---