SPORTS TAB: Miner football back on track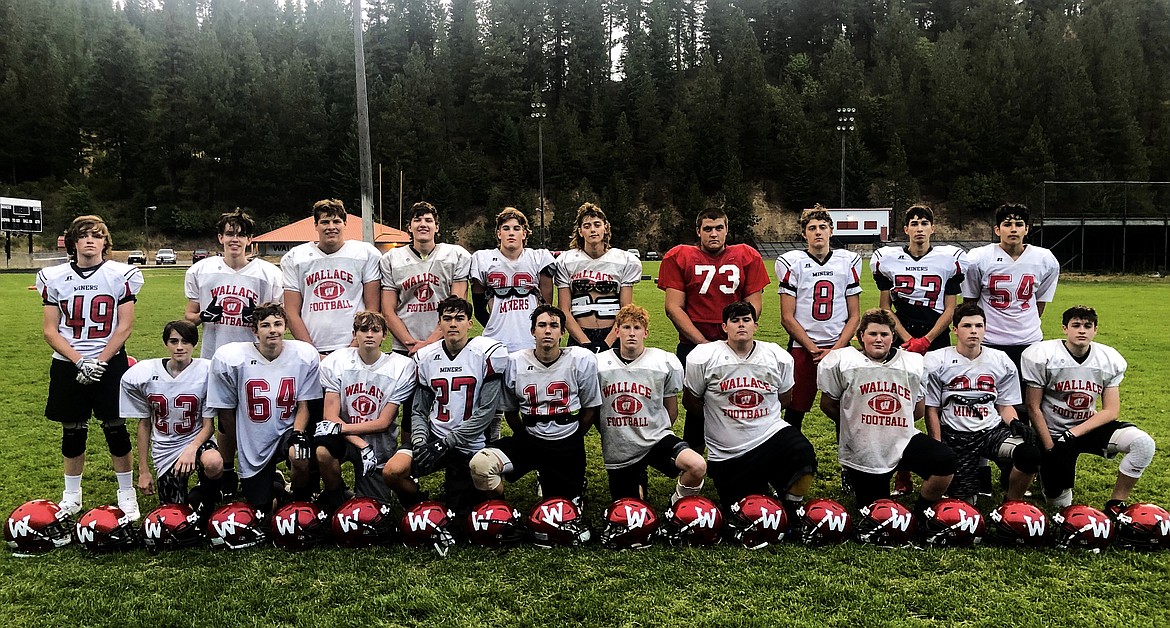 The Wallace Miners pictured from left (back row) are Zack Lewis, Hunter Bennett, Luke Hull, Robbie Morin, Liam Murdock, Teagan Goldade, Branden Travis, Parker Goldade, Izayah Jaramillo and Julian Davis. Front: Jordan Guardipee, Theron Morden, arik Wilkinson, Landon Streeter, Blake Allison, Evan Wilkinson, Garrett Clark, Cameron Flood and Wyatt Ritchey.
Courtesy photo
by
JOSH MCDONALD
Staff Reporter
|
September 12, 2021 7:00 AM
WALLACE — Growing pains, lots and lots of growing pains.
But all of that pain is about to pay off for the Miner football team.
"This season we look to be much improved and be a dual threat offense, with more balance than in past years," said Head Coach Jared Young. "We have a few athletes out this year that give us options on offense and make us more versatile on defense. We expect to compete each and every down this year and mix it up with the run and pass."
Entering his seventh season as the primary signal caller in Wallace, Young has literally experienced a little bit of everything during his time.
From operating as an independent to joining the Whitepine League, and now as a member of the Scenic Idaho Conference (SIC) he plans on getting Wallace back to the playoffs and back on the winning track.
"This season we expect to contend for the SIC playoff spot and potentially make a run at something special," Young said. "It's a much improved conference this year and we plan on competing each game with great effort, attitudes, and play with a chip on our shoulder."
Young has a team that has played a lot of varsity minutes as underclassmen and are now moving into the role of being the veterans.
Landon Streeter will be stepping in as QB1 in Wallace and will be working as a dual-threat quarterback who can extend plays with his feet and throw the ball from a variety of angles.
Liam Murdock and Teagan Goldade will add a level of explosiveness in a backfield that will see a lot of pass action, as well as rushing.
"We have several kids at wide receiver that will give us a great opportunity to catch the ball downfield in Blake Allison, Izayah Jaramillo and Parker Goldade (who will potentially see a little time at quarterback as well)," Young said. "On the Offensive line Robbie Morin, Luke Hull, Brandon Travis and Evan Wilkinson will anchor our much-improved offensive line and give us a chance to be a dynamic offense this season."
Balance will be the name of the game for Wallace this year as they are really hinging their future on the backs of the aforementioned offensive line, their ability to block will open up their offense for everything from basic running all the way to play-action when they need to take a shot down field.
Defensively Young wants to keep things simple, play big and physical up front and use their athletes on the back end for coverage — this should open things up for some of their impact players at linebacker to make plays.
Depth is an issue, but it's nothing that every other 8-man football team in Idaho hasn't experienced at one time or another.
Winning the SIC won't be easy, but if they can get past Lakeside they'll be seeded right in the middle of the playoffs (based upon a MaxPreps ranking) and be right in the thick of things.
"No more traditional meeting with the No. 1 or 2 seed out of the Whitepine League this year with the new playoff set-up," Young said. "We expect to compete for that spot to represent our league with Miner pride. Our main goal this year is kind of our team mantra this year: 'compete.' Football is a game that coaches give the tools, and players control the outcome together. Competing each play in practice, and in games is what we need to do with exceptional effort and with a great attitude. If we do those little things, we should put ourselves in a position to be in ball games and pick up some wins."
---