SPORTS TAB: The time is now for Lady Wildcats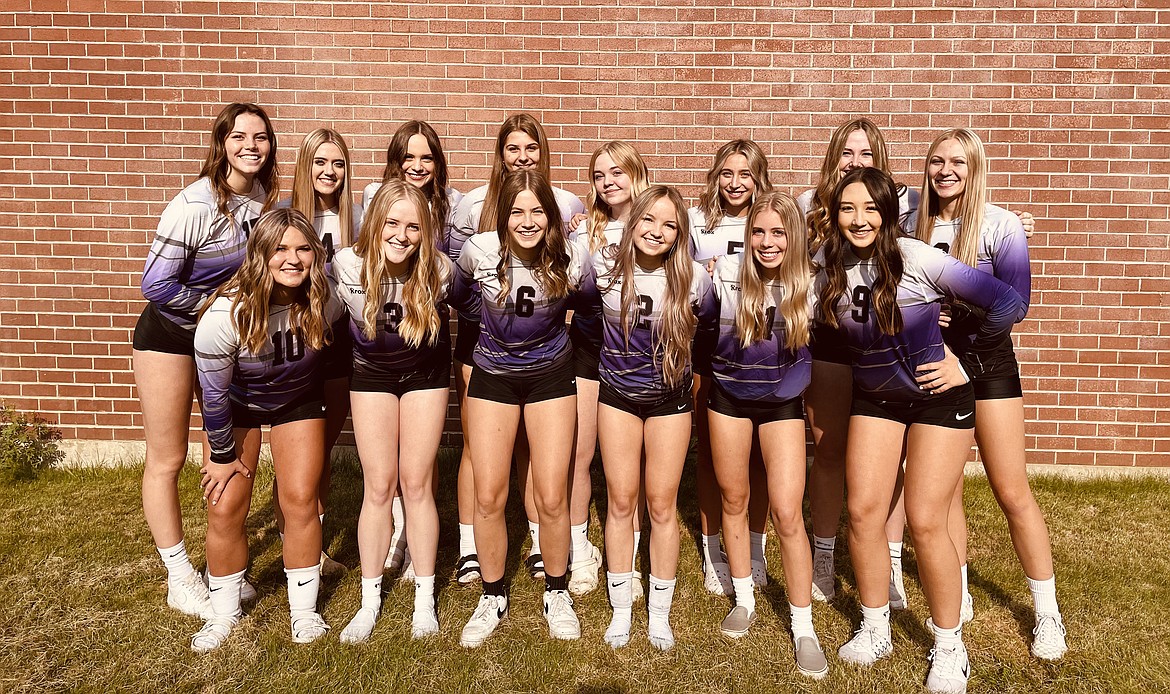 The Kellogg volleyball team pictured from left (back row) are Hailey Cheney, Gracelynn Nearing, Faith Byrant, Kay Reed, Karlee Pearson, Macy Jerome, Maddie Cheney and Emily Coe. Front: Jezerial Hall, Olivia Derbyshire, Zoe Brooks, Olivia Sawyer, Elliot Hei and Caitlin Pipkin.
Courtesy photo
by
JOSH MCDONALD
Staff Reporter
|
September 13, 2021 7:00 AM
The last three years have set the tone for what will be a pivotal year for the Kellogg volleyball team.
Head coach Steph Batchelder has qualified for three straight state tournaments, but for one reason or another once that state competition begins, her team suffers a misstep that takes them out of trophy contention.
Batchelder is a program builder first and foremost, and wants to be just as cognizant of her C Team as she is of her own varsity squad, which is likely why she has consistently seen success where others have struggled — this year is no different and she fully expects to see her program continue to develop throughout the season.
"We have three competitive teams but all three teams have a lot of room to grow," Batchelder said. "We set up the teams to have the maximum amount of playing time for people in hopes they all grow since we will be losing so many seniors this year. All three teams have big goals that we are striving for each day."
Sacrificing a little bit immediately in hopes of extensive future growth is a gamble, but Batchelder also insists that her players build their mental toughness — something that may just be that missing end-of-the-year ingredient.
"We are a team and function as one," Batchelder said. "We know we can only be as strong as our weakest point on our team. We only lost three seniors last year so most people should be used to playing with and next to each other. This should allow us to hit the ground running."
Bringing back the same team from last year, including the Intermountain League MVP in senior Hailey Cheney, as well as several other all IML selections puts Kellogg in an advantageous spot that many teams won't achieve until late in the season.
"We have almost the same team as last year, and we have played in a lot of highly competitive matches with each other," Batchelder said. "We lost our libero, so we are looking to see who will step into that role. I'm switching a couple people to different spots so they will have to adjust and get used to those roles while our team gets used to them playing there and what their tendencies will be."
Kellogg was tested at times last year by their own complacency more than they were by any of the other teams in the IML, but that doesn't mean that Timberlake and Bonners Ferry won't give them a run for their money.
This year has a lot at stake for all of North Idaho's team, due largely in part to the tournaments being in the Panhandle as opposed to southern Idaho — the opportunity to perform in front of large hometown crowds at the highest level is something area teams will be clamoring for.
If Batchelder can find that right combination of in-game ability and mental toughness, there is a good chance that she winds up coaching the eventual state champions.
But it all starts with building the program and growing as a team.
"Our goal, above all else — function as a team and be one cohesive unit, always putting the team first and playing whatever role you have on the team to your best ability," Batchelder said. "Hosting districts, undefeated in league, have a winning record. We have some high level competitive tournaments we would like to win or place high in. Bring home some state hardware, not just the sportsmanship award (although that was nice), we want a title."
---