Climbing for a cause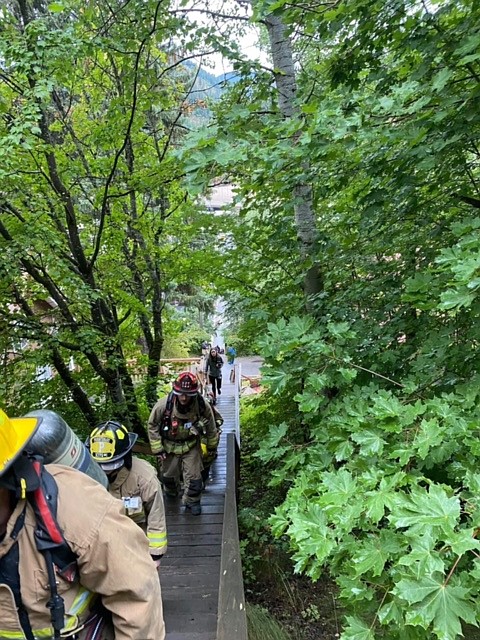 Firefighters and community members make their way up a staircase in Wallace during the 5th annual 9/11 stair climb on Saturday. All of the firefighters who participated completed the entire 14-lap, 110-flight marathon.
Photo courtesy of JOHN MILLER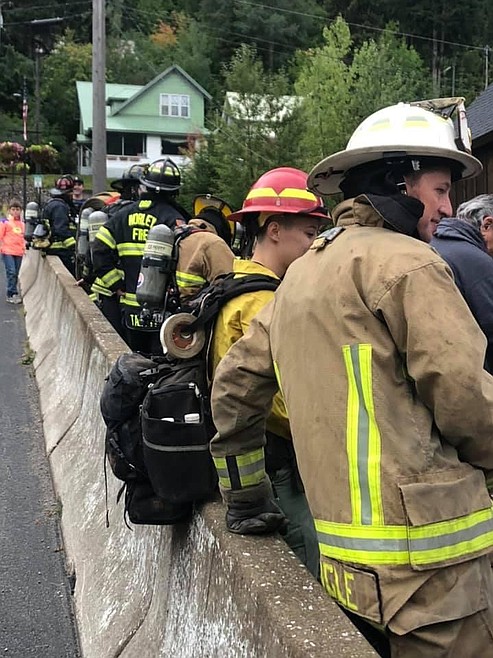 Firefighters from the Shoshone County Fire District No. 1, No. 2, Kootenai County Fire and Rescue, Selkirk Fire, Idaho Department of Lands and Worley Fire participated in this year's climb.

Wallace Chamber of Commerce
Previous
Next
by
CHANSE WATSON
Managing Editor
|
September 14, 2021 7:00 AM
WALLACE — The personnel of Shoshone County Fire District No. 1 have been hosting the annual 9/11 stair climb for five years now, but with the addition of a VIP speaker, some fitting music, a unique beer, and the important milestone of the 2001 terrorist attacks — this year's event was just a bit more special.
"It being the 20th anniversary definitely added to it," said SCFD No. 1 John Miller. "We also had Sue Welch, Jeff Welch's widow, speak on behalf of the fund named after her husband. Hearing her talk made it extra special."
All proceeds from the climb will go to the Jeff Welch Memorial fund, which will contribute to families of first responders who have suffered a catastrophic injury or died in the line of duty. Welch was the Fire Chief of the Northern Lakes Fire District and was an active member of the community until he died in 2019 from cancer.
Following the speech from Sue Welch and a rousing performance by the Coeur d'Alene Fire Department Pipes & Drums, the climbers set off. It took roughly two hours for everyone to complete the 14 laps needed for 110 flights — the same number emergency crews climbed in the World Trade Center on 9/11.
Before they started, each participant grabbed a badge with the name and small biography of a firefighter that was killed on 9/11 to carry with them.
In addition to some civilians tagging along, firefighters that made the climb included ones from SCFD No. 1, No. 2, KCFR, Selkirk Fire, Idaho Department of Lands and Worley Fire.
With roughly 25 firefighters and 25 community members participating, Miller was pleased with the turnout — considering the stair climb was competing against numerous other 9/11 events going on in the region.
In addition to money raised through donations and silent auction items, the event also received funds through the sale of T-shirts from Traveling T and a special "Chief 501 Wheat" beer made in cooperation with Wallace Brewing Company.
Between the auction and donations, the amount of raised funds currently sits at more than $1,000. When numbers come in from T-shirt sales and beer proceeds, Miller estimates that the number will come in over $2,000 — which is nearly double what they have made in the past.
Following the climb, both participants and spectators were invited back to Wallace brewing to partake in the specialty beer made just for the occasion.
"It sounds as though people really enjoyed the beer," Miller said. "Very 'blue moon-esque' and can be enjoyed with an orange slice."
Miller added that it was a very unique experience for him and his fellow firefighters to assist with the brewing process, which they did earlier in the week.
"I think most of us don't know the process of brewing beer, so it was neat to see how that process works," he said.
With another successful stair climb in the books, Miller is thankful to those who made everything possible.
"This event could not have been possible without the support from the community and sponsors," he said.
To learn more about the Jeff Welch Memorial Fund, visit https://www.jwmfidaho.com/
Video
The Coeur d'Alene Fire Department Pipes & Drums preforms before the 5th annual 9/11 stair climb in Wallace on Saturday.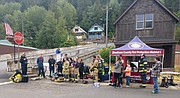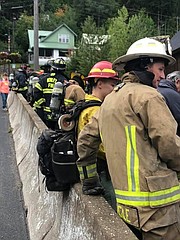 Recent Headlines
---