Don Haynes: A legend remembered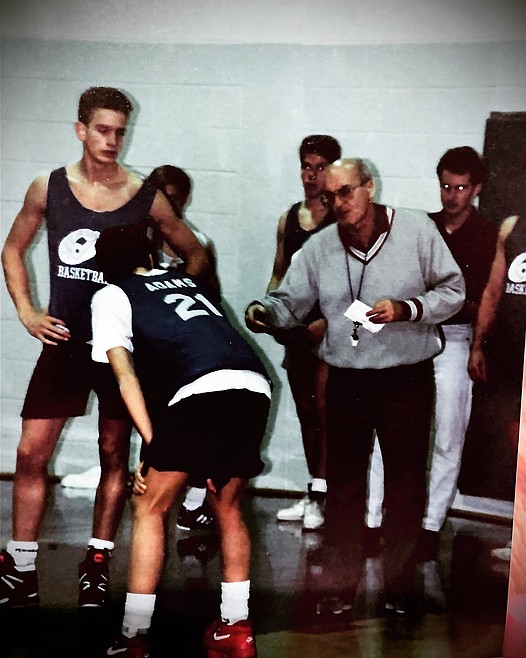 Photo courtesy of JON ADAMS Former Coeur d'Alene High boys basketball coach Don Haynes provides instruction to player Jon Adams, the current Coeur d'Alene boys coach, during a 1991 practice. Haynes, 91, passed away on Tuesday.
by
DYLAN GREENE & JASON ELLIOTT
Hagadone News Network
|
September 16, 2021 12:38 PM
Don Haynes was a players' coach, as some of his players and former administrators recall of the Coeur d'Alene High grad and former Viking boys basketball coach.
Sure, the 510 wins as a coach are nice to have. But it was the work that most didn't see that meant the most.
"I remember when he came to Coeur d'Alene at the end of his coaching career, I thought, 'Why is this guy giving me this kind of attention?'" former Viking player and current Cd'A head coach Jon Adams said. "He'd tell me every day during the summer, 'We're going to be in the gym working.' And I thought, 'Why is this guy doing this?' And he'd open the gym at any time for anybody at any time. He just gave everything back to the kids and basketball was his vehicle to mentor kids."
And it wasn't just the gym doors either.
"He'd open the doors to his home to many kids," Adams said. "I had Thanksgiving dinner at his house once. As a kid, I'd keep losing my winter coat, so he and his wife Shirley would go out and buy me one, or they'd find me one. He used basketball to give some purpose. In a lot of ways, for me personally, I can't think of anyone that had more influence on me."
Longtime Coeur d'Alene High athletic director Larry Schwenke echoed Adams' thoughts.
"He was always willing to listen to others," Schwenke said. "When I think of him, I think of the notebooks and handouts he'd give to the kids. He had a great philosophy and wasn't afraid to share that with any coach. And that applied to many different sports."
Haynes, 91, one of the top coaches in Pacific Northwest history, passed away on Tuesday night. He compiled a career record of 510-225 at nine coaching stops spanning four decades. Four of his teams won state titles.
Haynes was hired at Wallace High and was an assistant coach in football, basketball and track. He moved on to Kellogg in 1959, where he was an assistant in football and basketball. He was promoted to head football coach in 1961, winning a league title and finishing with an undefeated record in 1962.
He won his first state basketball title as a coach at Kellogg in 1964.
From there, Haynes moved on to Moscow High, going 93-29 in five years.
He then coached two seasons in Astoria, Ore., then went to Twin Falls High, where he won a state title in 1974. He coached at Lewis and Clark High in Spokane for three seasons.
He moved to Meridian High for the 1978-79 season and coached there for 10 years, capturing state titles in 1979 and 1983. His '83 state championship team was named the "Greatest High School Basketball Team Ever" for Idaho by MaxPreps.
Haynes, a 1948 graduate of Coeur d'Alene High who played for legendary coach Elmer Jordan, returned to his alma mater in 1988 and coached four seasons, taking the Vikings to state in 1990, 1991 and 1992.
Adams played for Haynes in 1990 and 1991. Adams was named head boys basketball coach at Coeur d'Alene in 2020, coaching the Vikings to a 7-10 record this past season.
"I wouldn't be coaching basketball, or here at Coeur d'Alene without him," Adams said. "When he left here as a student, to the time when he came back as a coach, he had success at every level. But his ability to go above and beyond the coaching aspect of things, especially for those kids that needed a direction in life, he just had a way of making a connection with kids. His competitiveness burned, but he really had a way of connecting with each kid he coached. There's not a week that I'm not saying or doing something that doesn't come from Donny."
He first "retired" as coach in 1992 in Milwaukie, Ore. A couple years later, nearby West Linn High coaxed him out of retirement for one season, and it was there he surpassed 500 wins for his career.
Haynes retired to Sandpoint in 2001, where his son, Tyler, coached the Bulldogs for three different stints.
Donny Haynes was inducted into the North Idaho Athletic Hall of Fame in 1994.
"He was a very passionate coach and about the kids and the system," said Schwenke, who retired as athletic director at Coeur d'Alene in 2007. "He was very, very organized and I think his assistants were very loyal to him. He had quite the run as a coach, including Idaho, Southern Idaho and into Oregon."
Sandpoint High athletic director Kris Knowles said no one cared more about the sport than Haynes.
"There's nobody that has more passion for basketball than Don Haynes and it's not even close," he said.
Knowles, a 1993 Coeur d'Alene High grad, played for Haynes in 1991 and '92. He first met Haynes in 1988 when he was attending his basketball camps as an eighth-grader. The impact Haynes had on Knowles went well beyond the basketball court.
"He was very much an aspiration for me growing up," said Knowles, who was the head boys basketball coach at Lake City from 2003-05. "His just absolute zest for basketball and for working with young men was completely infectious for me when I was a young guy. There's no doubt that Donny Haynes' influence on me helped me get into education and helped me become what I am today."
When Haynes retired for the second and final time in 2001, he moved to Sandpoint. His son, Tyler Haynes, was the head boys coach at Sandpoint for a total of 11 seasons in three different stints. Tyler is the winningest coach in the program's history and was the last coach to carry the Bulldogs to state in 2009.
Jim Winger was an assistant coach at Coeur d'Alene High under Haynes, and took over as head coach when Haynes retired in 1992.
"Very few people other than my parents have had the kind of impact that he had on my life," Winger said. "When I worked with him 30 years ago, and we wouldn't always talk basketball, I find myself doing some of the same things he did. He was really good about teaching more than basketball and life skills. He was just awesome at that."
During the summer of 2020, when practices were limited due to COVID-19, Winger found himself doing something like what Haynes did.
"He'd do open gyms and he had a gradebook where sometimes he'd keep score," Winger said. "He told me that you learn more about the kids and the way they play. During the pandemic, when you couldn't go out and play, you can learn a lot about the way they practice. As I stood there watching, I thought to myself, 'Darn it, he's right.' It just brought back some good memories."
When most of his coaching stops concluded, Haynes often made sure his assistant coach was the next head coach.
"As far as people go, Donny's as good as it gets," Winger said. "Good things happened a lot for him and anyone that played or worked with him. Basketball-wise, I owe a ton to him. He recommended I get the job when he retired and one of the biggest things of all the places he coached is that the assistant always got the job. I'll always remember that."
Knowles has kept in close contact with his former coach over the years and when Tyler was coaching the Sandpoint boys when Knowles took over as AD, Haynes and his wife had a free pass to come and watch the Bulldogs play.
Knowles said he's always cared deeply about Haynes and it seemed like everyone he influenced over the years felt the same way.
"Coach is an absolutely amazing human being," he said.
Every time Knowles interacted with Haynes over the years, the legend always asked him how his family was doing. That was the type of person he was, Knowles said.
Knowles said he learned something new each conversation he had with Haynes and he possessed a special gift for storytelling. As a player, Knowles said the team constantly talked about the millions of sayings Haynes used, and his words of wisdom are still with him to this day.
Haynes made a connection with every athlete that stepped on his basketball court, Knowles said.
"You could be a freshman 'B' player and he was going to treat you the same as he treated the superstars and that's an amazing skill, and coach was that guy," he said.
Knowles said winning four state titles across three different schools in Idaho is quite the accomplishment.
"That says a lot about your ability to coach," he said. "He was a winner … and he was the best of the best."
Duane Ward, who coached in Sandpoint for over half a century, got a chance to coach opposite Haynes a handful of times while he was leading Moscow and Coeur d'Alene. Ward started coaching in 1966 and he said Haynes taught him a thing or two over the years.
"He used to give me some tips and ideas," he said, "and I always thought that was a gracious thing for him to do, to kind of take a young coach like that and spend some time with me, and it made me feel good."
Ward shared a fond memory of his first year as head boys basketball coach at Sandpoint. During the 1968-69 season, Hughes' Moscow team was ranked No. 1 in the state, according to Ward, and the Bulldogs faced them twice in the regular season.
In the first matchup, the Bears won 62-59. In the second, the Bulldogs built a 13-point halftime lead at Moscow, according to Ward, but Haynes worked his magic and pulled out a comeback victory in the second half.
Moscow went on to win the Inland Empire League title that year and in the district tournament Sandpoint had to beat the Bears twice in order to advance to state. The Bulldogs beat the Bears 68-62 to end a 21-game winning streak for Moscow and force a winner-take-all Game 2.
Prior to Game 1, Ward said Haynes told him: "Glad this thing is over after tonight." Ultimately, it wasn't.
Haynes came back and worked his magic again in Game 2 to allow the Bears to move on to state, Ward said.
"He came up to me after the first game and said, 'You know I learned a lesson; it's never over until it's over,'" Ward recalled.
Ward was saddened when he learned about Haynes' passing. He said his knowledge of the sport was unmatched and he was an excellent motivator.
"He was a great person and he always wanted to talk basketball," Ward said. "He was quite the guy."
Ward said Haynes' impact in the classroom shouldn't be forgotten either.
"He was just as good a teacher as he was a coach," he said. "If you can't teach, you can't coach."
Services and other remembrances are still being planned.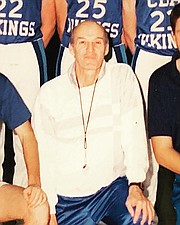 ---