Eugene William (Red) Collins, 83
|
September 16, 2021 12:25 PM
Eugene William (Red) Collins died on Sept. 8, 2021, at his home in Spokane, Wash. Gene or Red, as he was known to his friends, was 83, born May 18, 1938, to Ben and Virginia Collins in Odessa, Wis.
Ben and Virginia divorced when Gene was a young boy. He was raised by his stepdad Norman Tritt, after his mother remarried. Gene had six siblings from these two marriages, brothers Jerry, Larry, Norman Jr., Bob and Dick; and one sister, Barbara. All predeceased Gene except Bob and Dick.
Gene joined the Army, fortunate to serve after World War II and before the Korean conflict, completing his service with an honorable discharge, but proud to remain in the Army reserve for his retirement. After time in the Army, Gene moved to the Silver Valley, Idaho, where he worked in several mines. He further found employment at the Bunker Hill Mine, working both at the Smelter and the Zinc Plant. In Spokane, Gene met and married Barbara Murray. They had one son, Stephan (Steve), divorcing in 1986. Together they adopted a daughter, Jeannie.
During that time, Gene worked as a hot tar roofer in the Silver Valley, as well as in Arizona, Washington, Oregon and Missouri. He always said that after working in the Smelter and Zinc Plant, hot tar just didn't smell so bad. Later in life, Gene worked as a security guard in Spokane Valley and in Arizona for the Tucson Living Museum, keeping the poachers away from the animals.
In 1991, Gene, now living in Spokane, met and married Judith (Judy) Gates Pointer. Judy had three children from a previous marriage: Michael, David and Paula. In addition, Gene had another son and daughter, Eugene (Bill) now in South Dakota, and Shirley in Washington, for an extended family that included Steve, Jeannie the adopted daughter, and Barbara's daughter Jacqueline (Jackie).
Gene was ever active. He loved travel, hunting and fishing. Knowledge was both a priority and its acquisition a pleasure. He read voraciously, even reading encyclopedias for enjoyment. He and Judith has one special rule: they would do something every day. No matter what, or the season, they would pick a destination, new or old, hop in the car and drive. It was important to them both to remain active and not accept a sedentary lifestyle. Along the way, they collected a lifetime of memories among their possessions. Sometimes these mementoes find their way into our homes. Mostly they do not. The tastes and preferences of our parents, although manifest in what they acquired, have shaped our own lives far beyond the value of an object gathering dust upon a forgotten shelf.
Gene's son Steve married Carolyn and made their home in Burke, Idaho. Ironically Carolyn had known Gene and his family since she was 16 when they became next door neighbors in Burke, Idaho. Gene would tease Carolyn asking which one of his handsome sons she would marry.
Carolyn remembers saying emphatically none of them. Now we all know we have to be careful what we wish for. So too we should take care never to say never.
Gene was large, and larger than life. In later years he would change his appearance, losing considerable weight and sporting a big, white, handlebar mustache. He was the iconic image of a confident, handsome gentleman, in his big hat and big mustache behind the wheel of a big car. This image all of us in his acquaintance will recall and forever hold close in our hearts and minds, grateful for the enthusiasm he beamed our way.
Gene was preceded in death by his parents, his wives, his sisters and brothers except Bob and Dick. He is survived by his children, Steve, Jackie, Bill, Shirley and Paula.
No services are planned at this time.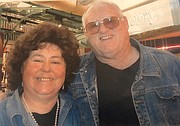 ---