SPORTS TAB: Tigers gearing up for pivotal season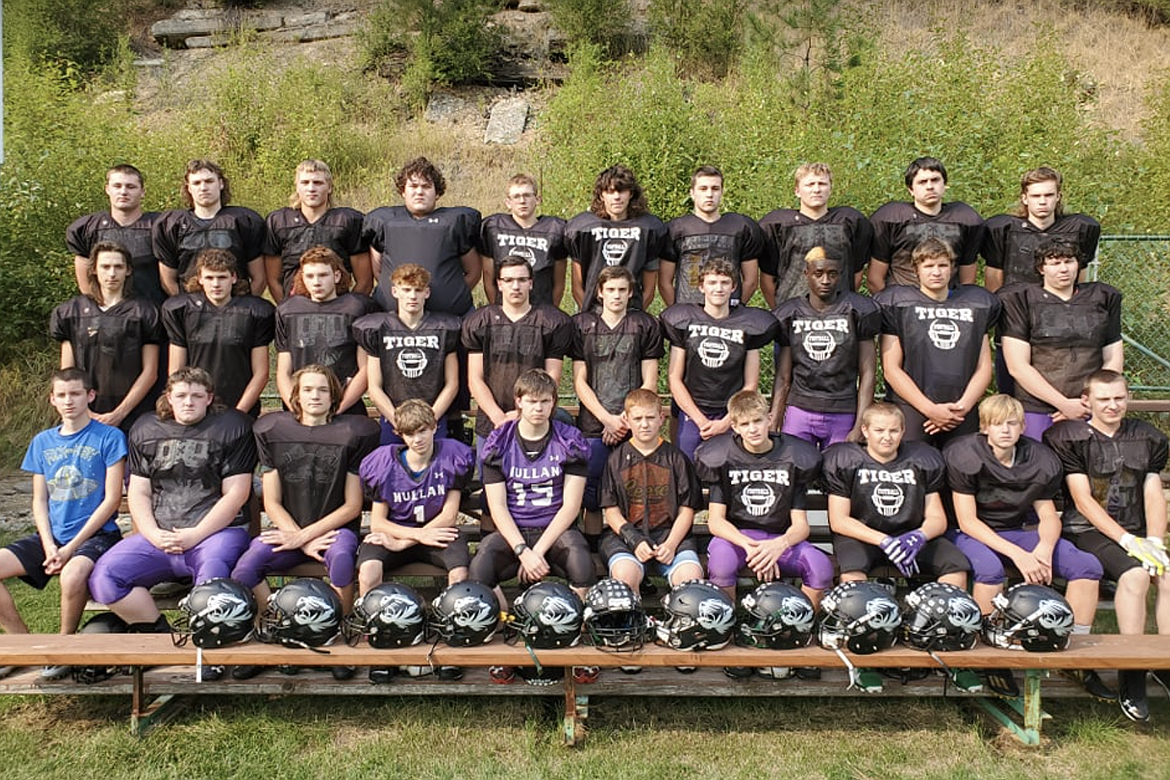 The Mullan football team pictured from left (back row) are Adam Ball, Blake Layton, Luke Trogden, Blake Knoll, Trystan Zingler, Floyd Nelson, Caleb Ball, John Pruitt, Hayden Anderson and Kason Lowman. Middle: Aiden Stack, Alex Trogden, Austin Zingler, Logan Petit, Josh Houston, Stephen Petit, Kaleb Park, Kofi Appiah, Danny Riley and Mike Morgan. Front: Jeremy Haig, Ashton Thompson, Zeke Hess, Talon Rupp-Connors, Ben Lohman, Levi Bush, Logan Doyle, Hunter Stolla, Dylan Thomas and Brenton Brooks.
Courtesy photo
by
JOSH MCDONALD
Staff Reporter
|
September 16, 2021 7:00 AM
MULLAN — The Tigers ran into a buzzsaw last year in the state semifinals, as the eventual champs from Dietrich showed off exactly why they were the kings of 1A D2 Football.
This year, the co-operative of Mullan and St. Regis is looking to continue with their recent run of steady improvement.
But to do that, head coach Stetson Spooner is going to have to get his guys ready for Idaho's best.
"We are looking at a tough road as our district champ would travel to Sawtooth Conference's top seed (which would more than likely be Dietrich or Carey)," Spooner said. "But we will continue to build and take the next step as we have every year with this unique program. We should be solid again with good speed and able to be electric on both sides of the ball."
With senior all-state players Luke Trogden and Adam Ball returning for one last go around, as well as a bevy of underclassmen with big game experience, the Tigers are poised for a good run that should see them playing deep into November.
"Luke (Trogden) and Adam (Ball) are no secret by now," Spooner said. "They are both absolute studs that can do it all. They are poised to have a monster year. Juniors Caleb Ball and Blake Layton have put in a ton of work as well. They both turned some heads at camp and bring a lot to our team on both sides of the ball on elite levels oftentimes."
The senior duo has attracted quite a bit of college interest, ranging from regional smaller schools all the way up to the D-1 level.
With fellow North Star League members Clark Fork and Kootenai offering little resistance, it will be on their out-of-league schedule to sharpen the Tigers prior to the postseason.
The Tigers will live and die by the speed that they are allowed to play, which at times seems almost breakneck, but with the results to really back it up.
"Our strength is our speed and talent in the open field," Spooner said. "We have a handful of highlight reel guys that can bust big time plays. Our selflessness is also impressive. Guys like John Pruitt, who I believe to be the third best runningback in the league behind Adam and Luke, is willing to play offensive line, as well as Blake Layton who would be a top receiving tight end understands that at the guard position he is our best blocker and keeps the other assets safe."
Size can be king in the game of football, and unfortunately the Tigers are not the biggest team on the block — but Spooner believes that maturity and resting on skills and how to properly use the bodies that they do have will be key to their success this year.
But, it will all come down to the playoffs — a place where the Tigers have been relative newcomers in recent years.
"The playoff run last year was a really fun ride and our guys, coaches and communities had a ball with it, so we want to have another one," Spooner said. "This year, we're trying to snag one of those blue trophies instead of a green one though."
---