Clyde Campbell Bailey, 92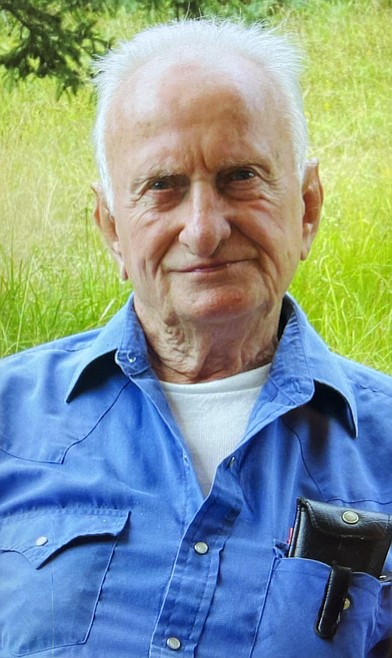 |
September 20, 2021 11:05 AM
Clyde Campbell Bailey, 92, of Osburn, Idaho, passed away Sept. 15, 2021, at Mountain Valley of Cascadia in Kellogg, Idaho. Clyde was born on Feb. 3, 1929, in Nashville, Wis. He was the son of the late Ermin Randall Bailey and Bertha (Campbell) Bailey. He attended school in Kellogg and married Marjorie Gallagher on Nov. 1, 1948, in Superior, Mont.
Clyde was a shift boss at the Bunker Hill Smelter for 30 years. He built his house in Osburn where he lived for most of his life with his wife, Marjorie, and their four children. He planted a huge garden every year to help feed his family. At one time, he had a milk cow, two pigs and chickens. He enjoyed fishing at the swinging bridge on the North Fork of the Coeur d'Alene River when his family was young.
Clyde was raised in a large family that live in the area, most of whom worked at Bunker Hill. They would all gather at his parent's house on Sundays to eat a big lunch and then get ready to go to the stock car races in Pinehurst, Idaho. They enjoyed playing baseball and watching wrestling on TV. He loved playing pool, shuffleboard and picking huckleberries. Later, Cylde enjoyed playing pinochle with friends at the senior centers and also enjoyed going to yard sales and finding good deals, (LOL!). He watched NASCAR whenever it was on.
In addition to his parents, Clyde is preceded in death by his wife, Marjorie Bailey; two brothers, Claude Bailey and Glen Bailey; two sisters, Athlene Bewick and Faye Brumbaugh; a daughter, Colleen Sandra Gordon; a grandson, Jason Tenhonen; and a great-grandson, Cody Gohl.
Survivors include his children, Connie (Michael) Tenhonen of Kingston, Idaho, Gary (Yoshie) Bailey of Sterling, Alaska, and Diana (Bill) Teninty of Winnemucca, Nev.; his loving companion of many years, Marie Bailey of Osburn; two brothers, William "Bill" Bailey of Harrison, Ark., and Donny Bailey of Spokane, Wash.; a sister-in-law, Helen Bailey of Kellogg; 15 grandchildren, 26 great-grandchildren and 22 great-grandchildren, who were the light of his life. He is also survived by numerous nieces and nephews. He will certainly be missed by many.
Cremation will take place and per his wishes, no services are planned at this time.
Shoshone Funeral Services, Kellogg, is assisting the Bailey family with arrangements. Memories of Clyde and messages of condolence may be sent to his family online at www.shoshonefuneralservice.com.
---