Silver Valley Sports Recap: Sept. 12-19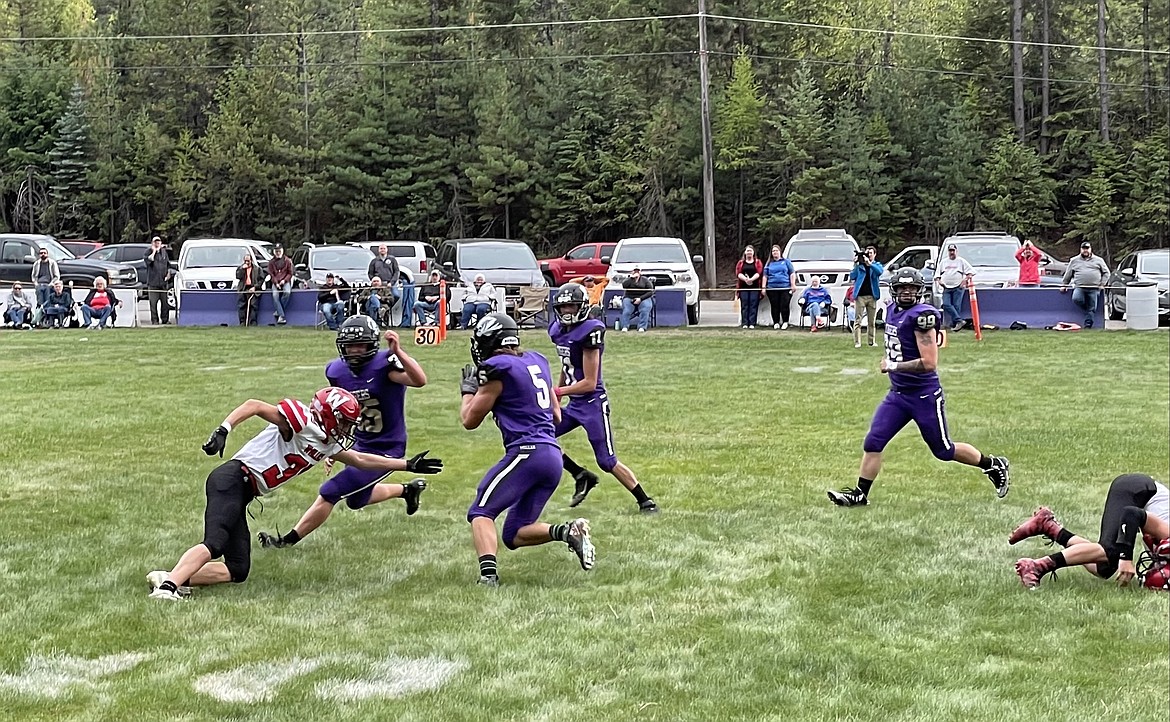 Mullan's Luke Trogden (purple no. 5) makes a move while he picks up a block from a teammate during a touchdown run against Wallace.
Photo by JOSH McDONALD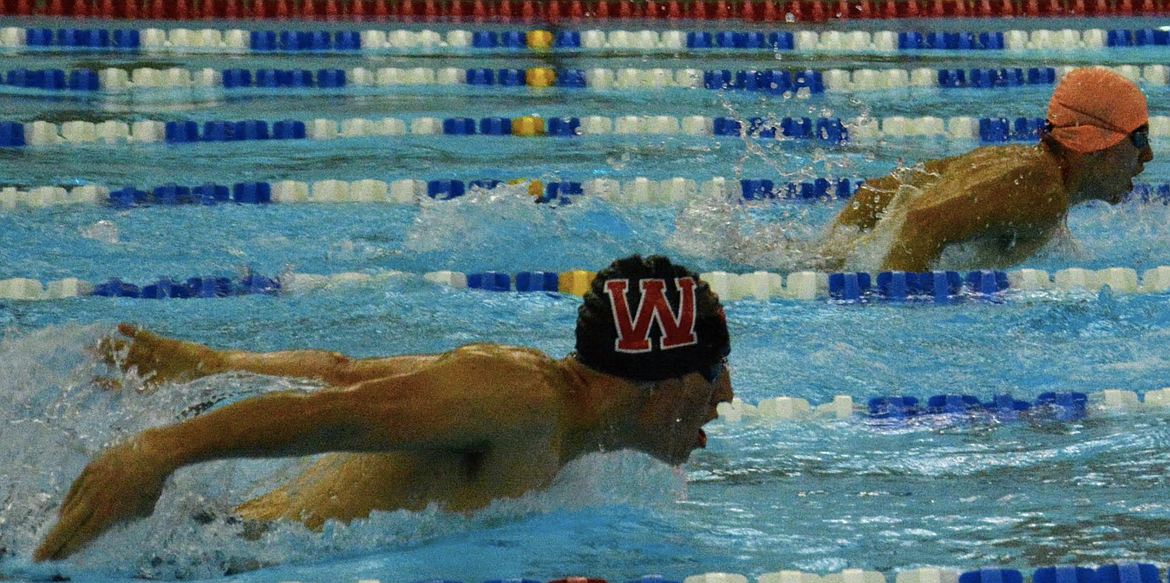 Wallace swimmer Ayden Hasz had a solid day in the pool for the Miners. Hasz finished fifth in the 100-yard butterfly and improved his personal best to 1:20.84.
Previous
Next
|
September 20, 2021 11:04 AM
• MULLAN FOOTBALL
Mullan 54, Wallace 22
MULLAN — Friday afternoon's inter-valley tilt had drama before the game even began, but once kickoff came it was all business for both squads.
Following a positive COVID-19 test within the Wallace coaching staff, and with the Mullan School District facing pandemic issues of their own, the game was canceled on Wednesday afternoon.
But after some contact tracing it was discovered that COVID safety protocols were followed and the game could progress as scheduled.
Despite the recent history of this rivalry being fairly one-sided, the Miners came to play and Mullan Head Coach Stetson Spooner was quite pleased to see his team get challenged in ways they were not a week ago against Lakeside.
"We give credit to Wallace for making us earn every yard, score and tackle," Spooner said. "Huge improvement and that rebuild showed something today. Kudos to Coach Young and his staff for doing it right and staying the course. Lots of hard work went into this noticeable improvement I am sure of it."
The Tigers once again were able to balance their attack out and relied on their experienced players to build the lead before allowing their younger players to put the game away for them.
"For us it stays the same — utilize our weapons and make plays," Spooner said. "Unfortunately sometimes to use all of those weapons and at the same time keeping scores reasonable and not go into that disrespectful side of things it limits certain guys."
Spooner has no interest in running up scores and putting his top talents in harms' way after games have essentially been decided, which means that players like Adam Ball and Luke Trogden may get less than five touches per game, depending on what the outcomes of those touches are.
However, with the breakout play of Caleb Ball, Floyd Nelson and Blake Layton, it also becomes a balance of getting everyone involved.
"To have three primary ball carriers average 19, 20 and 26 yards per-carry sounds like a good problem to have," Spooner said. "But with a stout defensive starting group it's sometimes hard to not do the right thing early and keep those guys healthy and play younger players even when it could impact their on-paper production."
Both teams will move into conference play this week as Mullan hosts Clark Fork this Friday for their annual homecoming game at John Drager Field at 3:30 p.m.
Wallace will host Lakeside at Sather Field on Friday at 7 p.m.
• KELLOGG VOLLEYBALL
Sept. 14
Kellogg d. Timberlake
SPIRIT LAKE — The Wildcats got back on track with a big win over their Intermountain League rivals from Timberlake, but like every time these two teams square off, it wasn't easy.
It took a full five frames (25-21, 21-25, 20-25, 25-19 and 15-8) for head coach Steph Batchelder's team to pull out the win, and even though she still sees things that need fine-tuning, she was happy with what she saw.
"We need to work on our communication and quick fixes in our passing," Batchelder said. "However, the girls dug deep and didn't give up on the ball. We played really scrappy tonight."
Senior setter Grace Nearing was back in the lineup and her presence was known as she racked up 38 assists, 10 digs, and three aces, but that passing allowed for fellow senior Hailey Cheney to go to work (in all of her destructive glory) as she picked up 24 kills and five blocks for points.
Sept. 16
Kellogg d. St. Maries
ST. MARIES — What should have been a home game for the Wildcats was moved south into Lumberjack (LumberJill? Lumberette?) territory, but the game site mattered not, as Kellogg ran over St. Maries in three sets (25-19, 25-15 and 25-15).
Grace Nearing was exemplary once again for Kellogg, finishing with 26 assists, six kills, and five aces.
Hailey Cheney finished with 17 kills and five blocks for points.
"Overall I was very pleased with how the team played tonight," head coach Steph Batchelder said. "They made quick fixes, saw the court well, and executed nicely. Every single girl contributed to this win which always feels good to be able to get everyone in."
Kellogg hopes that they will be returning to their gym this week as long as the new bleachers are installed.
• WALLACE VOLLEYBALL
Sept. 14
Wallace d. Kootenai
WALLACE — In three sets Wallace only allowed 19 points to the visiting Warriors (25-5, 25-9 and 25-5).
Tia Hendrick scored 22 points from the service line, while Jaden House finished with 12 aces and six kills herself, and Riley Valley notched 13 assists and four digs.
This game showed a marked improvement on a statistic that head coach Katie Bauer had hoped to see get better from the season's outset.
"We served over 90% as a team and executed our offensive attack very well with lots of different looks," Bauer said. "Hats off to Kootenai for competing despite losing a player to illness."
Sept. 16
Wallace d. Mullan
WALLACE — The Lady Miners ran through their Silver Valley rivals and beat the Lady Tigers in three sets (25-7, 25-13 and 25-9).
Wallace used a balanced attack as a team to put the match away quickly.
This included a big night from Riley Valley who finished with 19 assists and four aces, Jaden House grabbed six kills and three digs, Kynadee Gilmore and McKelvy Specht had four aces each as well.
• MULLAN VOLLEYBALL
Sept. 13
Mullan d. N. I. Christian
MULLAN — No stats or info was received.
Sept. 14
Genesis Prep d. Mullan
POST FALLS — Camryn Nichols had 10 kills and four digs for the host Jaguars in a 25-27, 25-16, 25-13, 25-17 win over the Tigers in nonleague play at The Courts at Real Life.
Shayla Hill had 19 digs for Genesis Prep.
Bella Anderson added seven kills, six digs and two aces, and Camryn Duff had seven digs, three aces and three kills.
"We started the first set strong, but then gave away a pretty big lead," Genesis Prep coach Paula Thurston said. "We couldn't pull it together in time to win the first set, but I'm super proud of the girls for coming back the next three sets and playing our game. We played very scrappy tonight and made a lot of really great saves on defense. The girls on the net were aggressive, and put the ball away."
• WALLACE SWIMMING
Sept. 18
COEUR d'ALENE — The Wallace High School swim team started the season with a solid showing against Post Falls and Sandpoint.
Junior Ayden Hasz and Senior Dorsey Pearson each improved school records. Hasz finished fifth in the 100 yard butterfly and improved his personal best to 1:20.84, and Pearson had a second-place finish in the 100-yard freestyle with personal best of 58.63.
Hasz also finished third in the 100-yard breaststroke, and Pearson added another second-place finish in the 200-yard freestyle.
Junior Jorden McNeil took second place in the 50-yard freestyle and sixth in the 100-yard freestyle.
Sophomore Kendra Korasick earned a fourth-place finish in the 100-yard freestyle and sixth in the 50-yard freestyle in her first swim meet as a Miner.
Junior Skyelee Austin and senior Kimberly Larson finished eighth and ninth in the 50-yard freestyle.
• KELLOGG CROSS COUNTRY
Sept. 18
BONNERS FERRY — Coeur d'Alene High sophomore Jacob King and Coeur d'Alene Charter McKenna Kozeluh were individual winners at the Bonners Ferry Invitational at Bonners Ferry High.
King won the boys race in 17 minutes, 7 seconds, leading the Vikings to the team title with 21 points.
Kozeluh was the top girls finisher in 19:43. Coeur d'Alene's girls — the only full team in the field — won the team title.
BOYS TEAM SCORES — 1, Coeur d'Alene 21. 2, Timberlake 49. 3, Kellogg 61.
TOP 10 — 1, Jacob King, Coeur d'Alene, 17:07. 2, Connor Alexander, Bonners Ferry, 17:20. 3, Zach Cervi-Skinner, Coeur d'Alene, 17:23. 4, Lachlan May, Coeur d'Alene, 17:28. 5, Jacob Barnhart, Timberlake, 17:55. 6, Makai Peak, Kellogg, 18:06. 7, Kyle Rohlinger, Coeur d'Alene, 18:34. 8, Izan Gonzalez Martinez, Cd'A Charter, 18:42. 9, Nathan Russell, Cd'A Charter, 18:48. 10, William Callahan, Coeur d'Alene, 18:54.
GIRLS TEAM SCORES — 1, Coeur d'Alene 15. Cd'A Charter, Timberlake, Priest River, Bonners Ferry, no full teams.
TOP 10 — 1, McKenna Kozeluh, Cd'A Charter, 19:43. 2, Anne Marie Dance, Coeur d'Alene, 20:58. 3, Zara Munyer, Coeur d'Alene, 21:00. 4, Elliana Rietze, Coeur d'Alene, 21:03. 5, Gracie Averill, Coeur d'Alene, 21:44. 6, Kim Priebe, Coeur d'Alene, 22:13. 7, Georgia May, Coeur d'Alene, 22:51. 8, Abby Buzolich, Coeur d'Alene, 23:05. 9, Riley Yake, Coeur d'Alene, 23:30. 10, Aubrey Jenson, Timberlake, 23:32.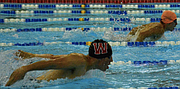 ---