Wallace home declared total loss after fire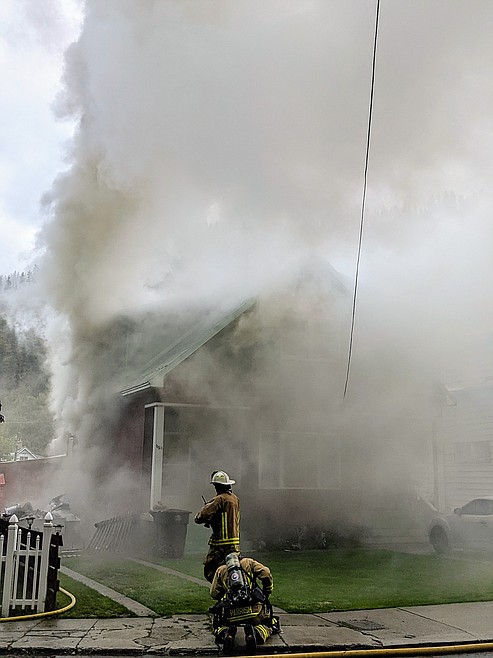 SCFD No. 1 Chief Aaron Cagle scouts the burning building while Firefighter Dan Parrish prepares his equipment on Sunday afternoon. While the fire produced copious amounts of smoke, very little fire could be seen from the exterior.
Chanse Watson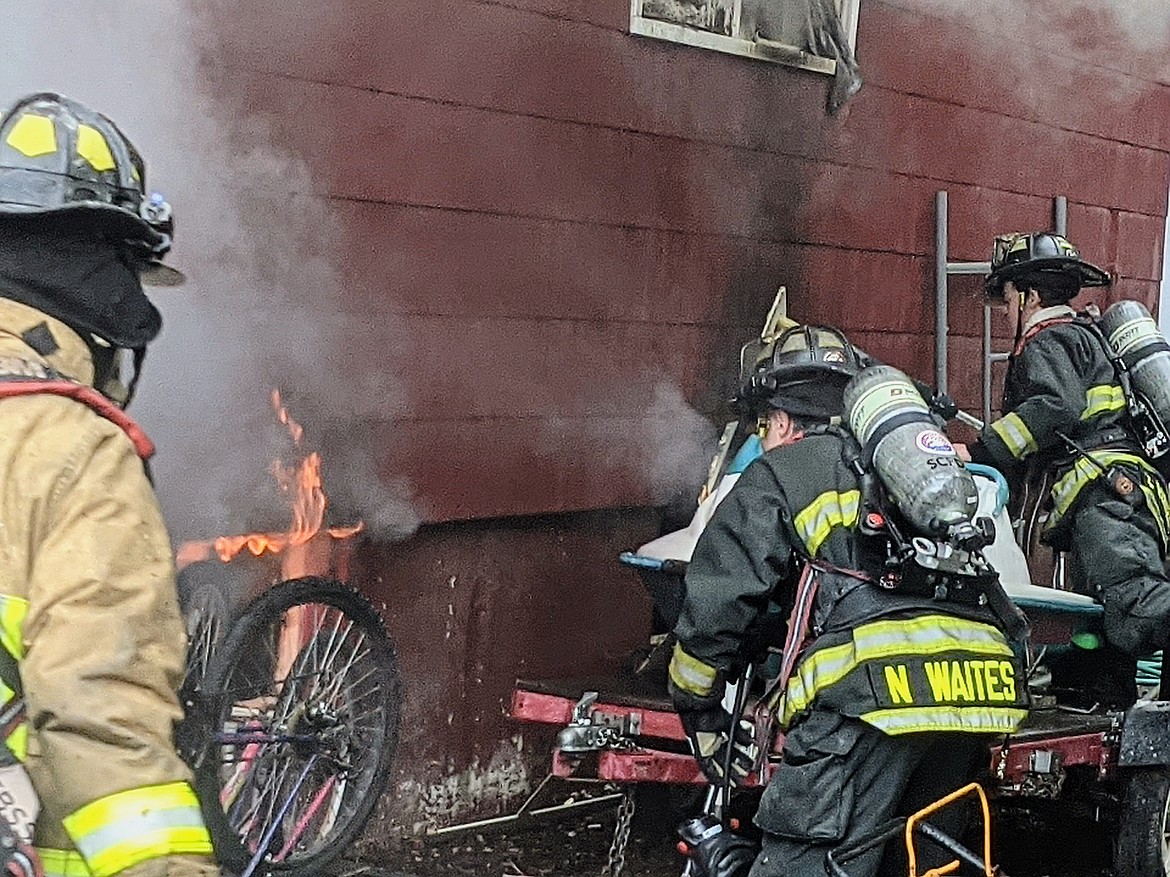 SCFD No. 1 Firefighter Dan Parrish, along with SCFD No. 2 Firefighters Nick Waites and Kyan "Pepper" Zimmerman, observe the flames erupting from the home's basement. The fire started with the home's basement dryer and expanded from there.
Previous
Next
by
CHANSE WATSON
Managing Editor
|
September 20, 2021 8:46 PM
WALLACE — Despite a quick response time by firefighters, little could be done to save a Wallace home on Sunday from a fire that started in its basement.
Shoshone County Fire District No. 1 Lt. Victor Malsom reports to the News-Press that the two-person crew at the Osburn firehouse were toned out to a report of smoke coming from a residence at 115 River St. around 1:03 p.m. Lt. Malsom and another staffed firefighter were the first to arrive on scene six minutes after the call came out and immediately began laying hose lines.
"When we showed up, we had smoke pouring out of the eves and the attic space up top," he said.
Not long after the initial response, numerous other units with SCFD No. 1, 2, and the Mullan Volunteer Fire Department arrived to help carry out a mostly offensive firefighting attack to limit damage to the home as much as possible. With the knowledge that no one was inside the home, the focus then shifted to saving property and containing the flames to the original structure.
Based on where the smoke was coming from, crews had a difficult time at first determining the point of ignition.
"With the smoke rolling out from the top … it looked like an attic fire that extended down, come to find out it was a basement fire that had gotten into the walls," Malsom said. "It started in the basement, burned for a while, then jumped into the walls, skipped the entire first floor, then jumped right up into the attic."
Malsom contributes the fire's unique spread to the split-level, multi-family dwelling's balloon frame — a common design type in Wallace where there are empty spaces built within the frame.
By the end of the firefighting effort, primary burn damage had been relegated to the original structure, with only some secondary heat and water damage affecting the neighboring homes. While the historic home is still standing, the roof did cave into the second floor due to its structural integrity being compromised.
As for what caused the initial fire in the basement, Malsom points to the home's dryer as the culprit — largely due to heavy wall charing found behind it.
"Pending the completion of our investigation, we believe the cause to be an unintentional dryer fire, "he said. "The home's occupants just threw a load of laundry in and went to run errands."
No injuries were reported as a result of the incident and Malsom would like to thank the assisting agencies for their help.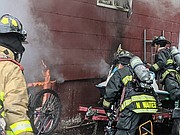 Recent Headlines
---