Silver Valley Sports Recap: Sept. 20-26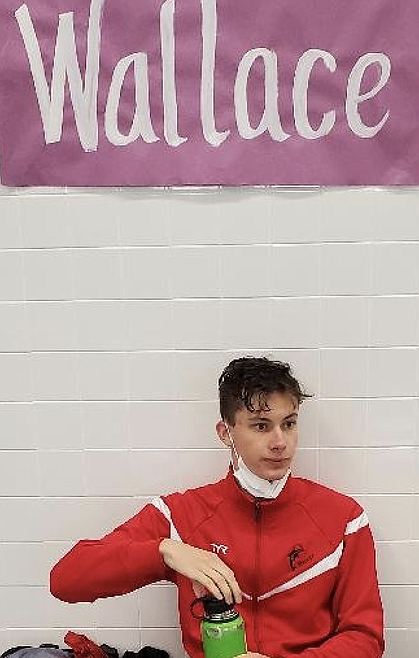 Wallace swimmer Dorsey Pearson takes a minute for himself after breaking the WHS school record in the 50-meter freestyle event over the weekend.
Courtesy photo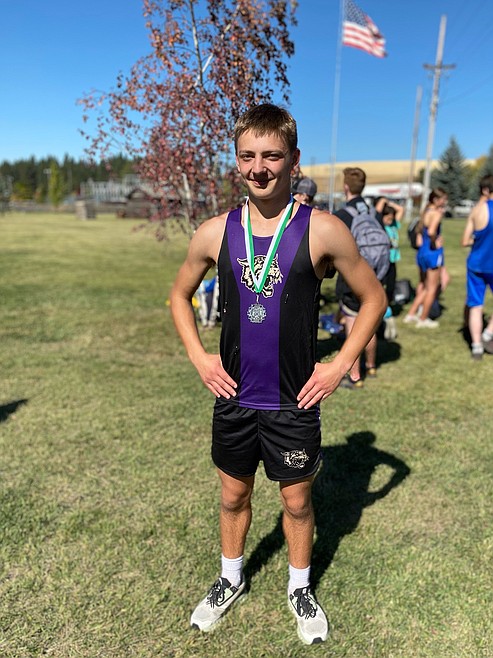 Kellogg runner Makai Peak took second in Potlatch over the weekend.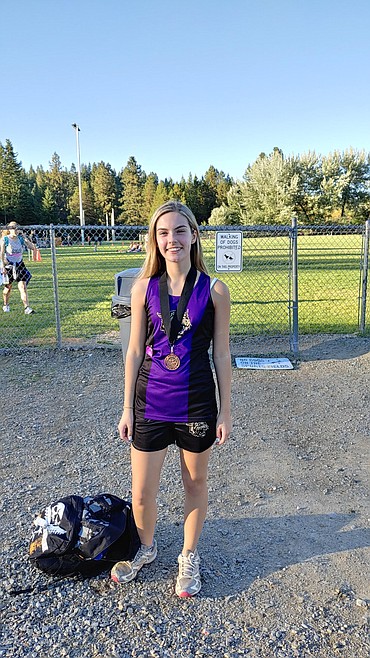 Wildcat runner Paige Carlson took ninth place at a recent meet in Priest River.
Previous
Next
|
September 27, 2021 1:21 PM
• WALLACE SWIMMING
Records were made to be broken and that is exactly what Dorsey Pearson did this past weekend
The Wallace High School swimmer broke one of the most longstanding school program records during a meet at the University of Idaho Saturday, Sept. 25 by posting a 50-yard freestyle time of 25.22.
Pearson improved the previous mark of 25.57 set in 2011 by Chilgren's son Daniel Chilgren.
"Dorsey now owns every individual freestyle Wallace High School male record," said coach Ed Chilgren. "Dorsey has done something incredible, owning all the freestyle records for Wallace. To give Dorsey his due, you have to give due to the past. Daniel was the founder of the swim team in 2009, and I just came along because they needed a coach."
Pearson, a senior, set a goal as a freshman to claim all freestyle records at the school. He currently has the best marks in the 500-yard, 200-yard, 100-yard, and 50-yard events.
"I'm happy with what I've done so far, with helping move Wallace swimming forward like some of the athletes who came before me did," Pearson said.
Pearson qualified for the state meet last year in the 200-yard freestyle but will determine which events to swim in the district meet that give him the best chance to qualify at the 4A state level this year. In the meantime, he thinks he can improve the 50-yard record to below 25 seconds.
"I could have gotten a better push off the wall," he said.
Also during the meet, junior Aydin Hazs improved his 100-yard butterfly personal best to 1:20.65. and finished the 100-yard breaststroke in 1:23.43 while junior Jorden McNeil competed in the 50-yard freestyle and posted a personal best in the 200-yard freestyle.
For the girls, Sophomore Kendra Korasick posted another strong showing in only her second meet for Miners in the 50-yard freestyle and 100-yard freestyle.
Kimberly Larson and Skyelee Austin continued to improve in the 50-yard freestyle and the 100-yard breaststroke.
• KELLOGG CROSS COUNTRY
Sept. 22
Priest River Invitational
PRIEST RIVER — Kellogg's Paige Carlson and Makai Peak led the way for the Wildcat runners during their Intermountain League meet last week.
Peak finished in third place for the boys while Carlson took ninth for the girls.
"Lots of injuries this year, so the teams as a whole are a little behind the power curve," head coach Jeff Smith said. "Our runners are starting to get healthy as we make our final push for districts."
Sept. 25
POTLATCH — Despite mounting injuries and illnesses, the Wildcats boys pulled out a second place team finish Saturday in Potlatch.
Makai Peak, battling a lingering injury, finished second overall and is leading the Wildcats who are without their number two runner.
"Makai took second at Potlatch yesterday for individuals and is currently fourth in the district and ranked 15th in state for 3A," Kellogg coach Jeff Smith said. "He is getting faster every week, so it will be exciting to see how he finishes the season."
Kellogg will host their lone home meet this week with the Ben Castro Invitational at the Pinehurst Golf Course on September 30 at 3:30 p.m.
• KELLOGG FOOTBALL
Kellogg 33, Grangeville 21
GRANGEVILLE — The Wildcats withstood their toughest test of the season last week when they made their first road trip of the year.
After falling behind by two scores and struggling to get their normally high-powered offense going, Kellogg trailed 14-7 at the intermission.
The second half was a different story as the Wildcat offense came alive for 26 points, including a 20 point fourth quarter that helped them seal up the win.
"This game was the tail of two halves. The first half they took it to us," Kellogg head coach Dan Davidian said. "I really believe the longer 20-minute homecoming halftime gave us the time we needed to regroup and come out strong in the second half. We outscored them in the second half 26-7. Our team showed the heart of champions never wavering from the goal of winning this game."
Kellogg had 500 yards of total offense, 407 of them coming through the air as Riply Luna dialed up another amazing performance in what is quickly becoming an MVP-candidate season.
"There was good protection up front, Rip was dialed in and made some amazing throws," Davidian said. "Jayce Garcia had a big night getting in the end zone and Kolby Luna and KJ Walker played very well."
Kellogg will be on the road again this week to take on Frenchtown, MT, which should be the biggest test of the season to date.
The Broncos and Wildcats shared a mutual opponent in Corvallis, MT, both teams won big against the Blue Devils.
• KELLOGG VOLLEYBALL
Sept. 21
Kellogg d. Bonners Ferry
KELLOGG — Playing in front of their home crowd for the first time this season, the Lady Wildcats flexed their Intermountain League dominance dispatching the Badgers in three sets (25-22, 25-23, & 25-12).
Head coach Steph Batchelder was pleased with her team's win, but still sees some finetuning that will be needed if Kellogg is to get over the hump this year.
"We played well tonight but it felt very slow motion," Batchelder said. "They have a faster tempo and pace that they only revealed in streaks. Our serving was a bit of an issue, we typically don't miss as much as we do. I thought Grace Nearing ran our offense very effectively. Overall we played scrappy and had a handful of good saves."
Speaking of Nearing, the Wildcats are almost a completely different team when she is on the floor and she did a little bit of everything as she racked up 26 assists, seven kills, and five aces.
Hailey Cheney, 15 kills and four blocks, was her typical dominant self as she dominated the net and made life a nightmare for anyone unlucky enough to find themselves in her crosshairs.
Sept. 23
Kellogg d. CDA Charter
KELLOGG — Three up, three down and all business for the Lady Wildcats who sent the visiting Panthers packing in three sets (25-14, 25-18, & 25-9).
Head coach Steph Batchelder worked her entire squad into the match, which will provide valuable experience for her team as the season progresses, but they were paced by the usual suspects as Hailey Cheney (16 kills, five aces, and one block) and Grace Nearing (31 assists, five kills, and four aces) kept the Panthers at arm's distance.
Not one to be satisfied with subpar play, Batchelder is still waiting to see her girls play a complete match.
"At times we saw glimpses of how I felt like we should be playing," Batchelder said. "They need to figure out how to play at their tempo and caliber no matter what is happening on the other side. We got to try a few new things that worked well tonight so that's exciting and once again everyone contributed to our win."
Maddie Cheney, Jezzy Hall, and Emily Coe all had nine digs.
• MULLAN FOOTBALL
Mullan 68, Clark Fork 8
MULLAN — It wasn't pretty, but that came as no surprise to anyone wearing purple on Friday afternoon as the Mullan/St. Regis Tigers dispatched the Wampus Cats on Homecoming.
The Tigers scored early and often as Clark Fork couldn't get stops when the opportunity presented itself, and then offensively the Wampus Cats couldn't out of their own way with penalties and poor execution.
It was video game stats once again for Mullan's big three as Luke Trogden turned seven carries into 123 yards, one catch for 47 yards, and three touchdowns total.
Adam Ball carried the ball eight times for 185 yards, caught one pass for 53 yards and had three scores himself.
Caleb Ball threw eight times for 160 yards and three touchdowns, and added 50 yards on six carries.
"When we execute we can be dangerous," Head coach Stetson Spooner said. "What a great focused effort by the Tigers."
Mullan will be on the road for another North Star League contest this week in Kootenai at 7 p.m.
• MULLAN VOLLEYBALL
Sept. 21
MULLAN — The Lady Tigers got their North Star League season off on the right start with a clean sweep of Kootenai (25-16, 25-19, & 25-14).
Leah Frazier paced her team with six kills while Sairah Haig had nine assists for Mullan.
Head coach Dawn McKinnon was happy with the win, but pointed out where her team needed to improve if they were to stay in hunt for a state berth.
"We had a good all-around team effort," McKinnon said. "But we need to be a lot more consistent from the service line."
Sept. 23
MULLAN — In classic Tiger fashion, this one went the distance as Mullan knocked off Lakeside in five competitive sets (25-19, 25-18, 26-24, 19-25, & 15-12).
Leah Frazier and Jazzmyn Nelson had seven kills each and Sairah Haig tallied up eight assists.
Mullan's service woes continued, but it was not fault of Ellie Lowman who was a perfect 10 for 10 for Mullan from the line.
"This was a hard fought battle," Head coach Dawn McKinnon said. "We need to get more consistent from that line and work on receiving serves better."
• WALLACE VOLLEYBALL
Sept. 22
WALLACE — Don't look now, but the Lady Miners are 8-1 and are on a tear.
Their most recent victims, the Priest River Spartans, who they dispatched in three sets (25-15, 25-16, & 25-19).
Jaden House had 13 kills and four aces, while reigning Scenic Idaho Conference MVP Riley Valley had 28 assists.
Wallace is rolling right now and has only lost six total sets thus far in the season.
Head coach Katie Bauer is seeing tough play across the board from her team and likes where she is still seeing improvement despite the consistent winning.
"Riley had a great night setting and also contributed nine digs for us," Bauer said. "The team combined for 42 digs, so a lot of good rallies with Priest River. Tia Hendrick served 17 for 17 and had three aces."
Serving had been an issue for the Miners last year and early on this year, but those issues seem to be trending in the right direction for Wallace.
• WALLACE FOOTBALL
Wallace 52, Lakeside 56
SILVERTON — It literally came down to the final minute, but it just wasn't meant to be on Friday night for the home team.
"It was a back and forth battle, each team struggling to stop the other and it came down to the last possession — we had the ball just came up a little short," Head coach Jared Young said. "We had a chance to win at the end and just wasn't in the cards for us tonight, but the kids' effort was tremendous and they competed well all night."
The visiting Knights got a fourth-down stop late in the fourth quarter to hold off the Miners in a game where getting stops was an unusual sight.
The Miners rushed for six touchdowns, with quarterback Landon Streeter rushing for 223 yards and three scores of his own, while teammates Teagan Goldade and Arik Wilkinson combined for 120 yards and three scores.
Liam Murdock also caught a touchdown from Streeter.
The Miners amassed an astounding 476 yards on offense, but came up just short with the game on the line.
However, they proved that they were capable of competing for a spot in the 1A playoffs, but they'll need to get this win back in a few weeks.
"We battled all game long and were able to move the ball all game. Hats off to Lakeside for hanging on, we look forward to playing them again, this one left a bad taste in our mouth, and we will be ready for the challenge again when it comes next month," Young said. "We will continue to compete and get better, the effort is there. We just need to clean up our bad habits on defense and we look forward to the next game with Lakeside."
Wallace is on the road this week to take on Clark Fork at 6 p.m. on Friday.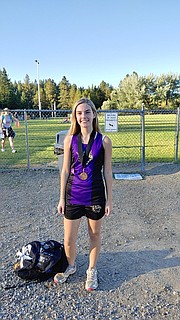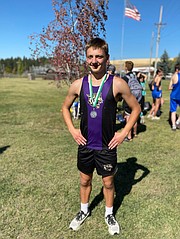 ---