Prop 1 officially on the ballot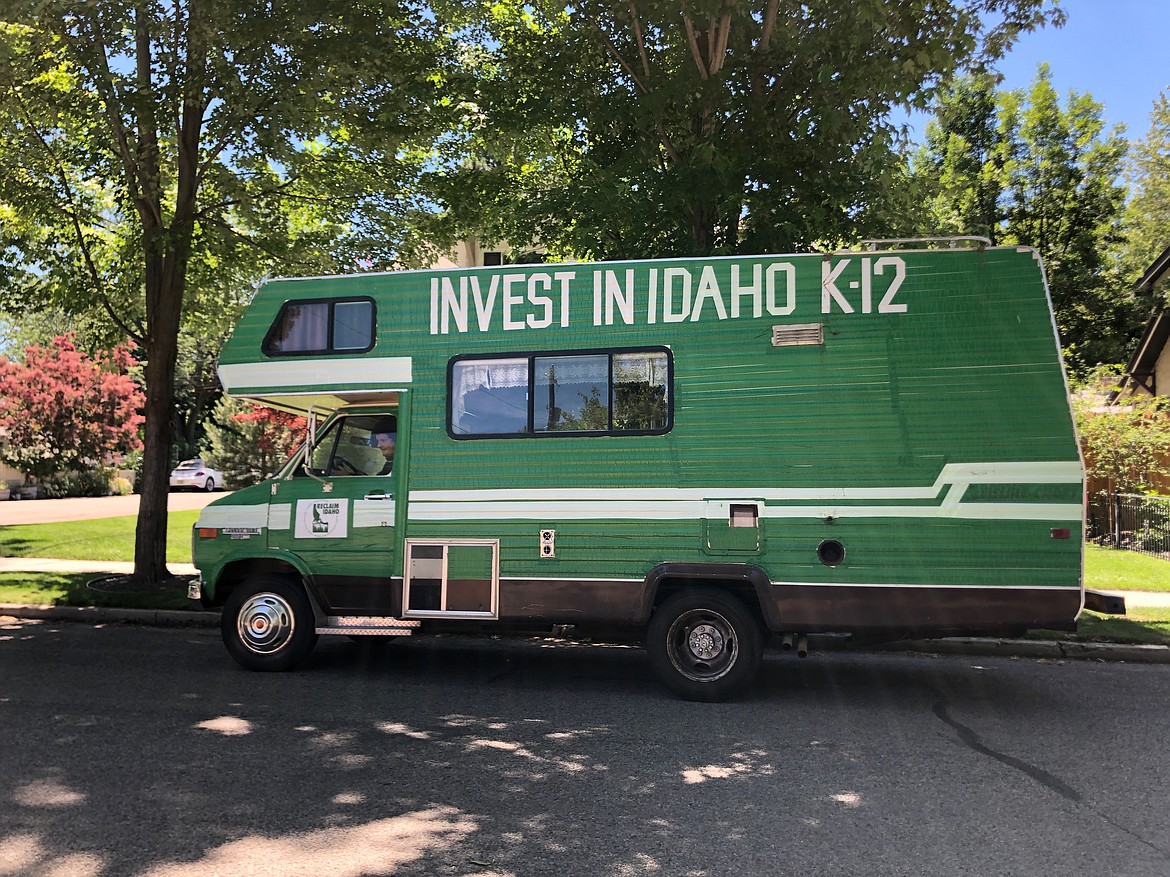 Reclaim Idaho's Quality Education Act will now be known as Proposition 1, after it was approved to be on the Nov. 8 ballot. The initiative calls for more than $300 million in annual K-12 funding instead of the current structure where the State Legislature sets the education budget every year.
Courtesy photo
by
JOSH MCDONALD
Staff Reporter
|
August 1, 2022 9:15 AM
The future of Idaho's educational funding will be decided by plebiscite this fall when voters get a chance to cast their ballots for or against the Quality Education Act.
Formally recognized as Proposition 1 (Prop 1), the Quality Education Act is the creation of Idaho grassroots organization Reclaim Idaho.
The initiative, which was officially confirmed for the Nov. 8 ballot last week, calls for more than $300 million in annual K-12 funding.
Prop 1, if approved, will bypass the current Legislature in creating a brand new, supplemental funding source for Idaho's public school system — and only requires a simple majority in order to pass.
"The Idaho Legislature has failed to invest in education for the past 25 years, leaving us dead last of 50 states in education funding," said Reclaim Idaho co-founder Luke Mayville. "It's time to put the Quality Education Act on the ballot and give Idaho voters a chance to start investing in our kids again."
In order to get the proposition on the ballot, the state of Idaho required that Reclaim Idaho secure 64,945 signatures, or 6% of the registered voters at the time of the state's last general election — they received 95,269 signatures.
Idaho also maintains a distribution requirement that requires signatures from 6% of the registered voters in 18 of their 35 legislative districts — it was reported that Reclaim Idaho met that requirement in at least 19 districts.
According to information from Reclaim Idaho, the initiative would amend state statute to increase the tax on income above $250,000 for individuals, trusts, and estates and above $500,000 for couples filing jointly to $16,097 plus 10.925%. The tax bracket would not be adjusted for inflation until 2025. The initiative would also increase the corporate income tax from 6% to 8% — a level that the state of Idaho operated at from 1987 through 2000.
If passed, the new tax brackets and tax rates would take effect on Jan. 1, 2023.
The hope would be that they would be adding roughly $1,000 per student in Idaho's schools.
At the local level, Prop 1 is being supported by local administrations, including the Kellogg School District — who believes that supporting schools is the first step in investing in the community.
"This initiative is a step in the right direction," said KSD Superintendent Lance Pearson. "While the opponents say it is another tax, a quick look at households that would be affected in Shoshone County shows a very, very small number. Meanwhile, long-term economic data suggests by financially supporting schools, communities reap long-term positive economic benefits."
The money would go to the schools as needed where they would decide how it gets spent.
Some of the things Reclaim has emphasized during its signature campaign are teacher hiring and retention, full-time kindergarten, and the creation and accessibility of career-technical education fields (particularly in rural areas) that would help students have some idea on a career path right out of high school.
The money is specifically not allowed to go toward administrator salaries — a common concern among voters.
According to numbers from the State Department of Education, the average Idaho teacher salary dropped by nearly $900 in 2020. And a 2018 report by the State Board of Education found that 1 in 10 Idaho teachers are leaving the profession each year.
Even by expanding education funding throughout Idaho, the initiative still doesn't achieve the goal of fully funding education — but any steps toward that goal are worth taking, according to Pearson.
"While this initiative falls short of supporting our schools at 100%, in my opinion, it is a big step in the right direction for Idaho schools," Pearson said. "As a matter of principle and to better ensure equity amongst its residents, it is always preferred to see a state fund their school districts at 100%. By funding schools at 100%, the state ensures all students have the right to a free and appropriate educational experience and districts do not evolve into the 'haves' and 'have nots' with economically disadvantaged districts struggling to pass levies. This initiative would have a positive impact on the students of the Kellogg School District."
Recent Headlines
---