Brush Trimmers clean up at Mullan Fire Fest
by
CHANSE WATSON
Hagadone News Network
|
August 2, 2022 6:23 AM
MULLAN — The city of Mullan once again looked reminiscent of a water park last weekend when the Mullan Volunteer Fire Department hosted its 51st Mullan Fireman's Fun Festival in the heart of town.
The two-day event featured several activities, including a parade, home-cooked breakfast, kids games, and of course, the famous firefighter competitions.
This year's competition had several teams (made up of fire personnel and competitive civilians) battle it out in the three water-drenched, firefighting-based events.
The first event was the Make-n-Break relays, where teams had to assemble a fire hose, hook it up to a source of water (in the first round, a hydrant, then a fire truck in the next), knock over targets with water, then disassemble the hose as quickly as possible. The winner was the team that completed the relay in the fastest time.
Up next was the Bucket Brigade challenge. In this event, participants handed off buckets of water to each other up a small scaffold, then dumped it out as quickly as possible. The team that filled up a large tub at the top of the scaffold in the shortest amount of time took first place. This throwback event showed how fires used to be put out before modern equipment.
To cap off the competition portion of the festival, teams dueled with fire hoses in the tug-of-war competition. Participants attempted to push a barrel, connected to a hanging steel line, over the head of their opponents with the help of fire hoses. This is easier said than done when you are also having to withstand getting hit with water from the team opposite you.
Throughout the competitions, vendor booths were available to provide spectators a cold beverage or a hot meal.
While the temperatures were high, it didn't hamper any of the fun, as numerous civilians were more than willing to take up the challenge as well.
Once all the scores had been added up, it was the "Brush Trimmers" team, made up of State Parks Department staff, that took first place overall. Runner up teams included "Mullan VFD" in second and "Nozzle Heads (District No. 1)" in third.
On Sunday, dozens of local kids also had the opportunity to compete in their own firefighter competitions.
MVFD Fire Chief Rick Smith was pleased with this year's turnout and was thankful to everyone who contributed in putting on the event.
"Thank you to all that came out and supported the 51st year of the MVFD's Fireman's Fun Festival!"
Event organizer Kjell Truesdell said the year's preliminary count shows the festival raised roughly $2,300.
In addition to being an event that brings attention to Mullan, all the money raised goes back to MVFD or other local organizations that held their own fundraisers, such as local schools, the Mullan library and the community foundation.
"The raffle also had amazing support from local businesses," Truesdell said. "Without Ace Hardware in Wallace, Harvest Foods, Buck Knives, Bottman Detailing, Mullan Trail Sinclair station, Outlaw Bar and Grill, Smith Family, Blackboard in Wallace, Kellogg Mine Fabrication and F & H Mine Supply, we couldn't have pulled off such a successful raffle. So many amazing items were donated to support this fundraising event."
Winners of this year's raffle include:
$100- Brady B. and Luci B.
$50- Tim K. and Gavin R.
$25- Louella I., Andy E., Valerie D., and Dr. Travis N.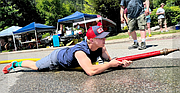 Recent Headlines
---