Lightning storms keep fire crews busy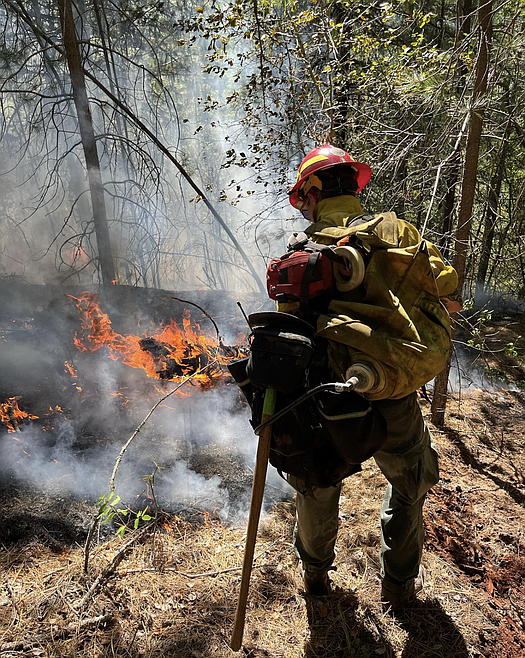 Idaho Department of Lands-Cataldo Wildland Firefighter Marah Ashcraft responds to the Maude Ridge Fire near Pinehurst on Sunday.
Photo courtesy of IDAHO DEPARTMENT OF LANDS
by
CHANSE WATSON
Hagadone News Network
|
August 15, 2022 4:31 PM
Another round of lightning storms that recently pushed through the Inland Northwest were responsible for several wildfires kicking up across the local area.
In Shoshone County, Idaho Department of Lands-Cataldo Fire Warden Chris Myers tells the News-Press that fire crews identified four separate fires in its district on Sunday following the Friday weather.
With a two-day gap between ignition and discovery, Myers said it's not uncommon for wildfires to gather strength and slowly increase in size.
"That storm was fairly wet," he said. "It'll cool things off, slow it down a little bit, and make it hard for the fire to spread into other fuels; but if it has enough where it's at, it'll sit there and smolder indefinitely until it either goes out or starts burning like it did (Sunday). Some fires can sit there for weeks sometimes and not make enough smoke to be seen."
The first burn that crews dealt with was the Wardner Fire, which was quickly contained to 1/10 of an acre. As IDL was mopping up near Wardner, reports came in on what is now called the Maude Ridge fire.
Located 1/2 an acre east of Pinehurst, IDL crews had some difficulty responding to this blaze due to its rural location, lack of visibility, and lack of road access to the area. Working in conjunction with United States Forest Service personnel and aerial units, containment was achieved late Sunday night.
Roughly an hour after the discovery of Maude Ridge, smoke from what is now called the Frost Peak Fire was visible in a rural area south of Pinehurst.
"We hit that one hard with aircraft yesterday," Myers said. "We had four single-engine air tankers and a large air tanker dump some retardant, on top of a heavy helicopter scooping water out of Mirror Lake."
Due to its lack of accessibility, no ground units were initially sent to attack the fire, but smokejumpers were able to respond Monday morning. As of Monday afternoon, the fire had been contained to approximately 1 acre.
While air units were in the process of attacking the Frost Peak Fire, they spotted the last blaze of the day — the Christy Draw Fire near Latour Creek in Cataldo. IDL units were quick on scene and were able to contain the damage to .2 acres.
According to Idaho Panhandle National Forest Public Information Officer Kary Maddox, the Coeur d'Alene River Ranger District has had 11 confirmed wildfires this year. The largest fire to date was 3.65 acres and seven of the remaining fires were contained at a 1/10 of an acre or less.
"Detection flights and district personnel will continue work to locate smoke reports," she said in a news release.
In the southern reaches of Shoshone County in the St. Joe Ranger District, there have been 15 confirmed wildfires and with seven of them currently uncontained. Several of those fires have hand lines in place and containment is expected soon.
"Priority fires are currently staffed with district personnel, Panhandle Helitack, and West Yellowstone Smokejumpers," Maddox said. "Thanks to early detection and aggressive initial attack, the largest fire to date is five acres and the vast majority have been contained at 1/10 of an acre or less. There are currently no road or area closures on the St. Joe Ranger District."
Outside Shoshone County in the Sandpoint, Priest Lake and Bonners Ferry Ranger districts, there have been 15 confirmed wildfires. The only uncontained fires are the 391-acre Diamond Watch Fire on the Priest Lake Ranger District and the quarter acre Eneas Peak Fire on the Bonners Ferry Ranger District.
"Due to the location, access barriers and terrain of both fires, conditions are too hazardous for direct suppression tactics," Maddox said. "Indirect suppression will be accomplished using a combination of hand crews, heavy equipment, and other resources as they are needed and available."
Recent Headlines
---