Elaine Mae 'Laney' Wilson-Parsons, 87
|
August 17, 2022 3:50 PM
Elaine Mae "Laney" Wilson-Parsons, 87, of Post Falls, Idaho, and a former 48-year resident of Silverton, Idaho, passed away Sunday morning, Aug. 12, 2022, at Hospice of North Idaho Schneidmiller House in Coeur d'Alene.
She was born on Aug. 3, 1935, at Almira, Wash., to Everett and Ellen Eudora (Buckley) Woods. Her mother later remarried and she got her bonus father, Herman Manke.
As a young child the family moved to Hartline and when she was 5 years old, they moved to Wilbur, Wash. She began her schooling in Wilbur and while in the eighth grade they moved to Dalkena, Wash. Laney attended and graduated from both eighth grade and high school from nearby Cusick schools. Following high school, she moved to Newport, Wash., and went to work for Akers Drug Store prior to becoming a telephone operator.
She met Ted Henderson while in Dalkena and they were later married there in 1953. They made their first home together in Sandpoint, Idaho.
In 1967, she moved to Vallejo, Calif., and on March 23, 1968, she was married to Avery George Wilson at Benicia, Calif. They made their home in Vallejo until moving to Newport, Wash., in 1969.
They moved to make their home in Silverton in May 1971. Laney became a self-taught artist and enthusiastically researched many different facets of art. She became a well-known oil painter, who, not only painted on canvas's but saw blades, milk cans and other commissioned items. She taught oil painting in her home and along with her husband, Avery making wooden frames for her paintings, they operated an art gallery and dealership from their home and had many displays in local restaurants. Laney exercised artistry in everything she worked on. She remodeled their home and several travel trailers. She made candles, ceramics, Ming trees, knitted afghans, sewed everything from clothes to blankets, made jewelry and fancy French lamp shades.
Laney's favorite things involved RV camping up and down the Oregon and Northern California Coastlines, as well as the North Idaho woods. She collected agates, driftwood and sea shells that were often incorporated into an art project.
On July 16, 2015, she was preceded in death by her husband, Avery G. "A.G." Wilson. She remained in Silverton and later met and was married to Robert Richard "Bob" Parsons on May 17, 2019, in Coeur d'Alene. They moved to make their home together in Post Falls in the fall of 2019. Bob and Laney always coordinated their dress attire and often wore hats to go along with their outfits. They were known as the "cute" couple. They enjoyed eating dinners out at the dining experience destinations in the greater Coeur d'Alene area. She was the love of his life and Bob so wishes they could have had more time together.
She is survived by her loving husband, Robert R. "Bob" Parsons of Post Falls; son Richard "Rich" Henderson of Newport, Wash.; step-children Diane Berry and her husband, Lorin of West Pasco, Wash., Jeffrey Wilson and his wife, Loretta of East Wenatchee, Wash., Frank Parsons of San Lorenzo, Calif., and Jennifer Parrish of Freemont, Calif.; and numerous grandchildren and great-grandchildren. Laney was preceded in death by her husband; her parents; her daughter, Debra Christine Ziegler, in the fall of 1994 from injuries sustained in a vehicle accident; her brother, Gary Manke; two half-brothers and two half-sisters.
Laney's wishes were to have an intimate family remembrance gathering in her honor. You are invited to share a memory with the family on her tribute page at www.HeritageMemorialChapel.com. Local arrangements are in the care of Yates Funeral Home.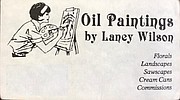 Recent Headlines
---