Silverton family loses home in Sunday morning fire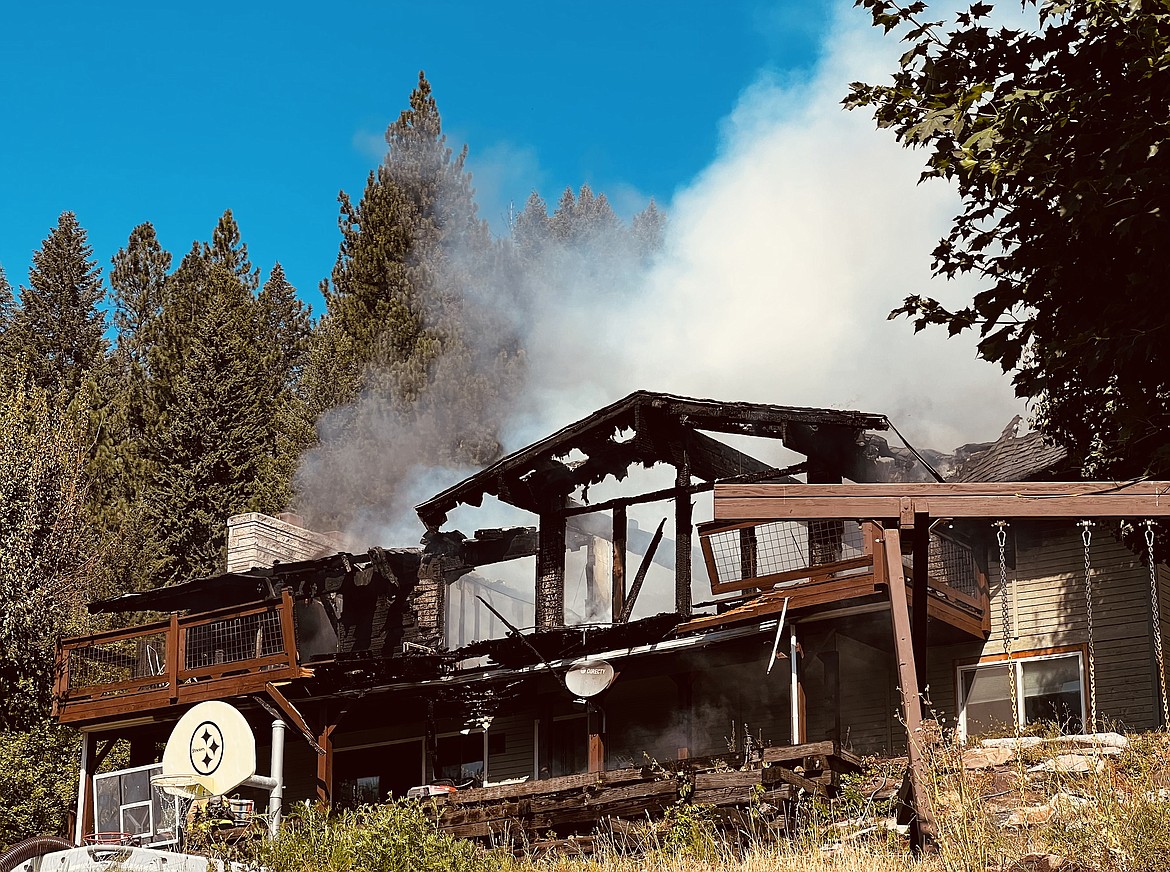 Around 10 a.m. on Sunday, emergency crews responded to a structure fire in the West 8th Street area of the residential community of Silverton. No one was harmed in the fire, including the family dog who was rescued from the burning house by neighbors.
JOSH McDONALD
by
JOSH MCDONALD
Local Editor
|
August 23, 2022 7:31 AM
SILVERTON –– Just before 10 a.m. on Sunday emergency crews were dispatched to a structure fire in the village of Silverton.
Upon arrival, the upper floors of the single family home were engulfed in flames so the responding firefighters used a transitional attack on the structure to get the fire reduced on the outside before they attempted to attack the blaze on the inside.
While the cause of the fire is still under investigation, neighbors from nearby houses reported hearing a loud explosion that shook their homes prior to witnessing the fire.
It was reported that several different propane tanks were located near the rear of the home.
The structure, located on a hill along West 8th Street, is located in a rather uneven location, with a recessed driveway and built into the hillside – which made access another challenge for the firefighters. Most of the streets through Silverton are barely wide enough to accommodate more than a single vehicle at a time, so the Shoshone County Sheriff's Office (SCSO) was forced to close various streets to allow emergency vehicles the freedom to take up entire rights of way.
No one was harmed as the family and owners of the home were away when the fire started, however, a neighbor who saw the fire ran into the home and was able to rescue the family's dog.
As previously reported, the cause of the fire is unknown at this time and the Idaho State Fire Marshal's Office has been called to assist with the investigation.
Shoshone County Fire District No. 1 were the first group of responders to the fire; they were joined by SC Fire District No. 2, Mullan Volunteer Fire Department, and the SCSO – who all played vital roles in keeping the situation contained and getting the fire put out.
SCFD1 Captain John Miller was thankful for the assistance and cooperation that they received as they battled the fire for nearly five hours.
Miller also explained that while the upper floors of the home are likely considered a total loss, due to design of the structure – the basement area experienced some charring and subsequent water damage.
Even with the cause still unknown – which is oftentimes the case in these situations, Miller warned homeowners of some of the unseen dangers that can lead to disasters like this one.
"People tend to forget things like cleaning out their dryer vents, making sure propane tank valves are closed all the way, leaving stove tops and ovens on, and basic things like that," Miller said. "It's usually never sinister, but a lot of times these simple oversights can have tragic consequences – fortunately no one got hurt."
The family that lost their home are well known in the community and are pastors of a local church – if you would like to contribute anything to help them get back on their feet you can contact Shoshone County Fire District No. 2 or Cornerstone Church.
Recent Headlines
---