Bank Street Brown, U&I Wheat place at International Beer Awards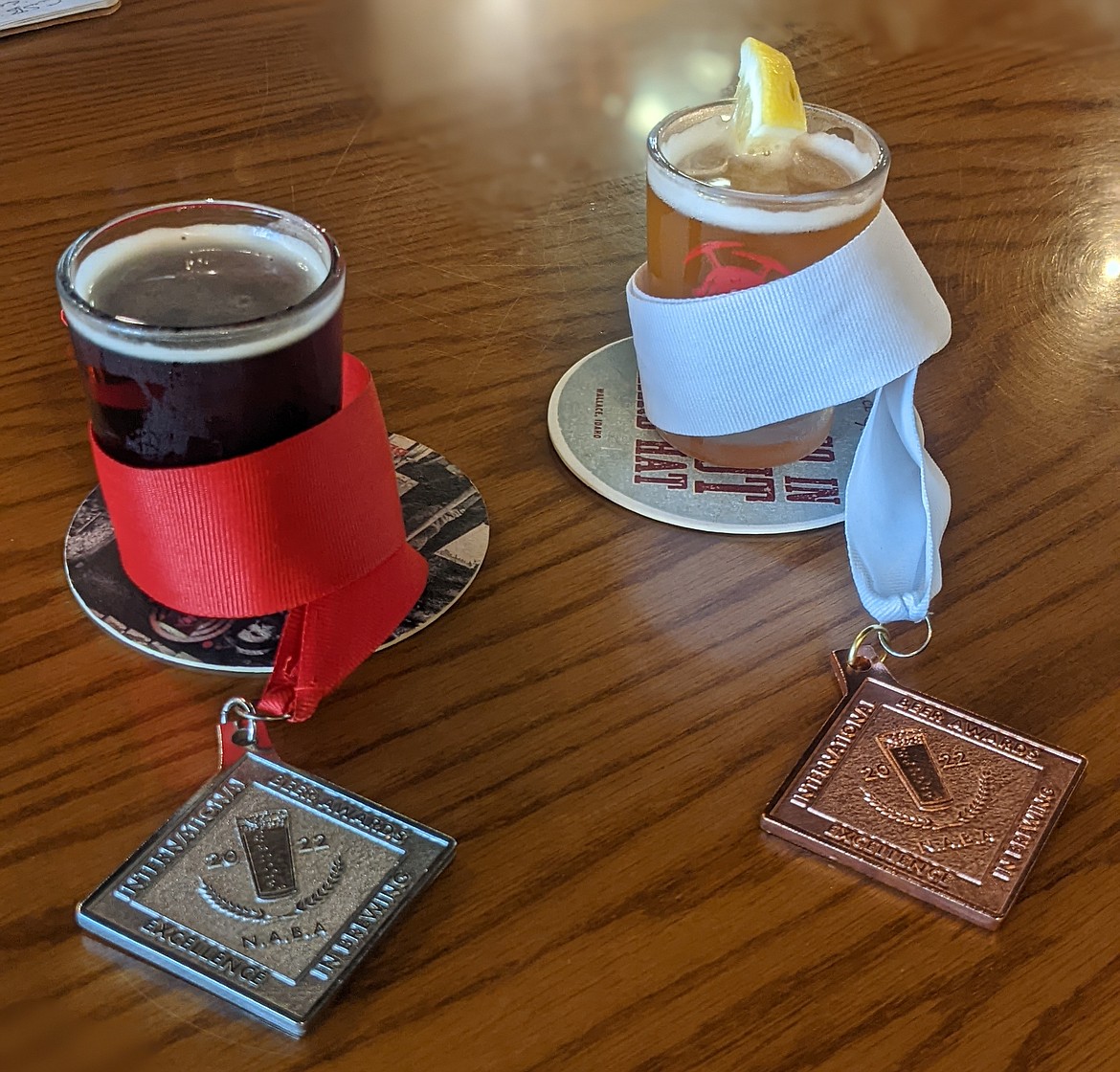 The Bank Street Brown and the U&I Wheat show off their new hardware after taking silver and bronze in their respective categories at the 2022 NABA Mountain Brewers Beer Fest.
Chanse Watson
WALLACE – The wall in the Wallace Brewing taproom that owner Chase Sanborn uses to display the impressive amount of hardware that the brewery has earned over the years might be running out of room very soon.
Following yet another showing at the North American Brewers Association International Beer Awards competition in Idaho Falls, Sanborn and the rest of the Wallace Brewing team were sporting two more medals to add to the collection- albeit this time coming from some surprising new entries.

Held in early June, the 25th iteration of the event saw Wallace Brewing submit every beer in their line-up, including beers that have done well at the competition in the past, such as the 1910 Black Lager, Red Light Red, and the Wallace Strong Ale. What ended up getting them their silver and bronze medals though this year were not the vets in their line-up, but the two newcomers on the block.

Finishing second in the 11C- American-Style Brown Ale category was the Bank Street Brown Ale.
"It's just your classic American-Style Nut Brown Ale," Sanborn explained. "Real malty, has a nice finish, good flavor profile. Just easy to drink."
Taking bronze in the 6A- American-Style Wheat Ale Dark Wheat Ale category was the U&I Rooms Wheat.
"It's a traditional American-Style Wheat beer, its's not a hefeweizen," Sanborn said. "It's light. It has a nice wheat flovor, but it's still light, crisp, and super smooth. We also added a little lemon to it, which adds a little extra tartness to it."
The international competition sees over 2,000 beers submitted from all over the world. These beers are then judged over six sessions to determine winners.
Normally accustomed to hearing Wallace Brewing's name associated with more long-standing beers, Sanborn was pleasantly surprised that these two beers were the ones that took home prizes.
"We were stoked that they won, but mostly I was surprised," he said. "My ears are attuned to the categories that we normally place in. This was the first time that we entered these (beers)."
He added, "big shout out to brewmaster Jack Johnson and the brewing team. The guys in the back all work well together and they're always looking to get it right."
Recent Headlines
---