Silver Valley Sports Recap: Aug. 22-28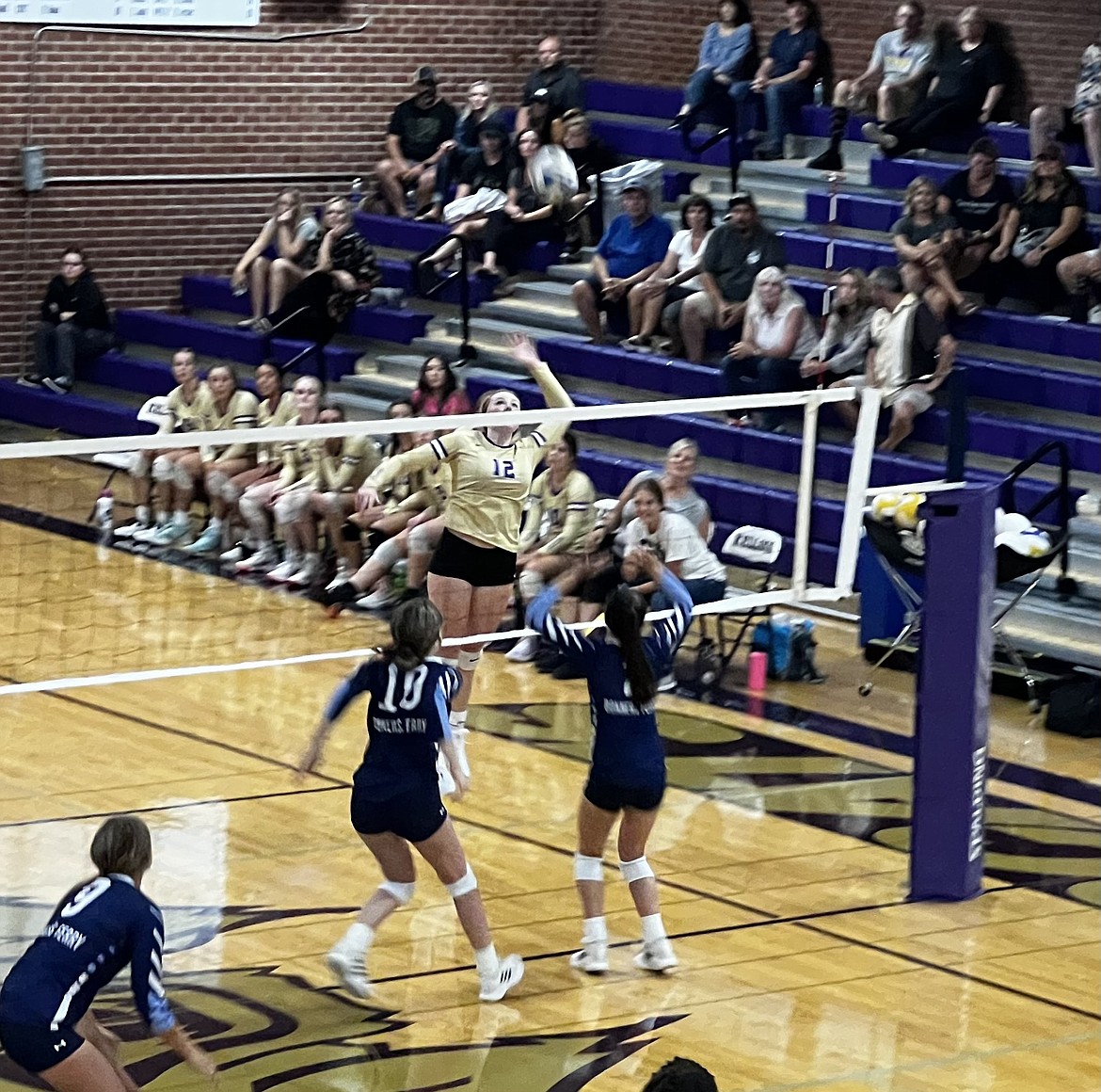 Kellogg's Maddie Cheney goes for the kill as two Bonners Ferry Badgers get ready to block during the Wildcats' season opening match last week. Kellogg would lose to Bonners in four sets.
Photo by JOSH McDONALD
|
August 30, 2022 9:54 AM
KELLOGG FOOTBALL
• Aug. 26
MOSCOW — "They have some dogs."
That was about all 4A Moscow head coach Rob Bafus could say following his team's 50-12 loss on Friday night at the hands of the 2A Kellogg Wildcats.
Two of those "dogs" were twins Riply and Kolby Luna, who — along with their talented cast of teammates — made an immediate statement to the rest of the 2A field.
It took less than three minutes for the Wildcats to get their first defensive stop and subsequent score when Riply found Kolby in the endzone at the 9:20 mark of the first quarter.
And then everything seemed to snowball.
Riply connected with his brother two more times in the first half for touchdowns, and finished with 298 passing yards, 50 rushing yards, and five touchdowns.
Kolby's three scores came with 166 receiving yards.
Senior Varick Meredith also caught two touchdown passes.
Over the past two seasons the Wildcats have engineered an air-raid offense that many high school defenses simply cannot defend — on Friday night, they ran the ball just once before the fourth quarter.
Kellogg's defense swarmed the Bears, clogging up rushing lanes and making life difficult for Moscow's quarterbacks.
Moscow showed some signs of life in the second half, using two different grind-it-out drives to get on the scoreboard, but the game was out of reach at that point.
Midway through the third quarter, junior Ramsey Rainio returned a kickoff 80 yards for a touchdown of his own.
The Wildcats host Newport (Washington), this Friday at Teeters Field.
Kellogg 16 12 16 6 — 50
Moscow 0 0 6 6 — 12
WALLACE FOOTBALL
• Aug. 26
Wallace 60, Kootenai 12
SILVERTON — Julian Davis caught a 55-yard touchdown pass from Landon Streeter on the first play from scrimmage, and the Miners ran past the Warriors in a North Star League game at the Sather Field Athletic Complex.
The game got out of hand quickly, with the Miners taking a 54-6 lead at the intermission — resulting in an abbreviated second half with a running clock and only eight-minute quarters being played.
Streeter threw for two touchdowns and ran for another pair for the Miners.
Due to a shortage of officials, Wallace's road game at Lakeside was moved from Friday to Thursday.
MULLAN FOOTBALL
• Aug. 26
Mullan-St. Regis, 32, Superior, Mont., 50
ST. REGIS — A competitive game took a turn in the second half as Superior ended the game on a 30-6 run to put the Tigers away.
Despite a Herculean effort from senior Caleb Ball, who finished 110 passing yards for two scores, and then adding 220 yards and a score on the ground, the Tigers battled early season injuries, including several starters going down with cramps and other injuries.
"We had a 26-20 lead at halftime and then just never got a fully healthy starting unit back on the field," Tiger head coach Stetson Spooner said.
As the injuries mounted, the Tigers got picked apart — which Spooner will now use in the film room to show where his second and third unit guys need to improve if the season is going to rebound and go the way he anticipates.
Spooner was also complimentary of his opposition — someone he is quite familiar with.
"Hats off to coach Jeff Shultz and Superior," He said. "Lots of class and character and a well coached squad. It's always fun to coach against another former University of Montana Western Bulldog. We started together for two years in college and he was an outstanding tight end."
Senior Floyd Nelson left the game before halftime, but already had three interceptions, one for a touchdown and three tackles.
Mullan-St. Regis will open their Idahome schedule this Friday against Clark Fork at 3:30 p.m.
KELLOGG VOLLEYBALL
• Aug. 24
Bonners Ferry d. Kellogg
KELLOGG — The visiting Badgers got their first win over Kellogg in five years, taking down the Wildcats in four sets to open the season.
Bonners Ferry was the aggressors early on, starting strong in the sets that they won and then essentially playing keep away from the 'Cats the rest of the way.
Kellogg, playing in their first match in four years without Hailey Cheney or Grace Nearing (both of whom are playing at the collegiate level now), showed all the signs of a potentially great team — just with the lack of a go-to finisher.
What head coach Steph Batchelder did see however, is a positive for the Wildcats.
With only one senior, a talented group of juniors, and a lot of underclassmen, Kellogg battled in every single set and made the match competitive.
"Our serves killed us tonight, along with serve receiving," she told the News-Press. "Beating ourselves is a hard way to lose. However, It's a growing year and I saw a lot of moments of greatness. We just need to shift those moments into periods and periods into matches. That's just how we play."
The high spots for Kellogg came from many of the underclassmen as freshmen Abby Neff and Dani Hendrikson made their first appearances as varsity-level contributors. Neff herself, finishing with three aces, and 10 assists.
Sophomore Mya Reynoldson led the team with two blocks.
Recent Headlines
---