A (George) Wild weekend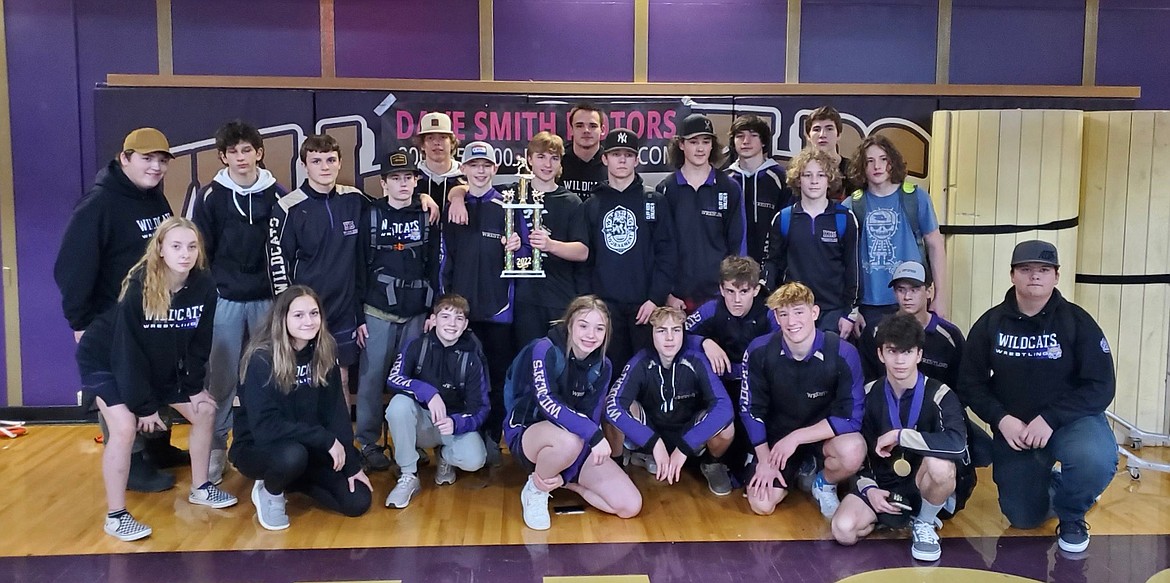 The Kellogg High School Wrestling Team hoists the championship trophy after winning the George Wild Memorial Wrestling Tournament this past weekend at Kellogg High School.
Courtesy photo
by
JOSH McDONALD
Local Editor
|
December 13, 2022 1:00 AM
KELLOGG — It always feels good to win at home, but for the Kellogg Wrestling Team, winning at home this past weekend felt better than normal.
Kellogg High School played host to the annual George Wild Memorial Wrestling Tournament, which featured 18 schools from across the region.
Head coach Scott Miller has been openly optimistic about this year's team and for good reason, to put it frankly — they're quite good.
Not only did the Wildcats finish with four individual champions, but their 12 total placers also were enough to secure the tournament's team championship.
"Having nine in the finals was really exciting and having two at 120 really bodes well for us as the season continues," Miller said. "We had 12 placers overall so that is important because to be successful you have to get those backdoor points in the consolations."
Sophomore Ricky Haralson (120 pounds) beat teammate Treven Bush for his championship, while juniors Kolter Wood (126 pounds) and Jaeger Hall (132 pounds) continued their run of dominance. Female grappler Izzy Davis brought home gold in the women's 132-138-pound division as well.
Miller had plenty to say on all of his champs following the tournament.
"Ricky was on a mission this week and was dominant in his weight class," Miller said. "He felt he let last week get away from him and he was very focused and clean in his wrestling. Kolter's offense is really developing nicely and it adds to the many tools he has in his toolbox. His confidence level is really good right now and it shows in his matches. Jaeger is continuing to really dominate this weight class and he is able to score at will. I thought his bottom wrestling was really strong this weekend. He continues to wrestle really clean matches. Izzy had a really solid weekend and really showed improvements in her neutral offense. She did a really good job controlling the pace of her matches."
Both Izzy and Haralson finished outside their respective championships last weekend in Potlatch.
Winning the men's team race meant a lot to Miller and the team, not just because of what the tournament represents and where it was hosted, but also because it gave the Wildcats a real taste of the success they expect to experience in a few months.
"Our kids showed a lot of resiliency, which you have to have to win a tournament of this size," Miller said. "Eureka and Post Falls gave us a really good battle so we are very pleased to finish above those two programs. It's been a while since we won this tournament and it's always fun to win your tournament so a very good weekend for us."
Kellogg hadn't won George Wild as a team since they did it in back-to-back editions in 2014 and '15.
The coming week is not an easy one for the purple and gold grapplers, who find themselves on the road at Coeur d'Alene High School on Wednesday, then its the best of the best in the region at Tri-State at North Idaho College over the weekend.
"All our wrestlers had really good moments this weekend against really good wrestlers so I definitely feel we took a positive step this weekend," Miller said. "Next week will present new challenges but I think that our kids look forward to it, so we're excited moving forward."
TEAM SCORES:
Men
1) Kellogg 197
2) Eureka 187
3) Post Falls 178
4) Clearwater Valley 150.5
5) St. Maries 130
6) Sandpoint 129
7) Moscow 118
8) Grangeville 105
9) Priest River 101
10) Bonners Ferry 80
11) Lakeland 62
12) Flathead 61
13) Orofino 61
14) Polson 56
15) Lewiston 50
16) Glacier 24
17) Lapwai 4
Women
1) Bonners Ferry 87
2) Clearwater Valley 60
3) Lewiston 56
4) Sandpoint 52
5) Lakeland 48
6) Eureka 42
7) Kellogg 29
8) Post Falls 27
9) Moscow 22
10) Grangeville 18
11) Priest River 18
12) Orofino 14
13) St. Maries 10
KELLOGG PLACERS:
Men
98 Aiden Figueroa — 2nd Place
106 Chase Scribner — 2nd Place
120 Ricky Haralson — 1st Place
120 Treven Bush — 2nd Place
126 Kolter Wood — 1st Place
126 Wyatt Storey — 2nd Place
132 Jaeger Hall — 1st Place
152 Brady Vergobbi — 4th Place
160 Jayce Garcia — 2nd Place
170 Ramsey Ranio — 3rd Place
Women
100-107 Kyrin Huber — 4th Place
132-138 Izzy Davis — 1st Place
Recent Headlines
---