Silver Valley Sports Recap: Jan. 24-30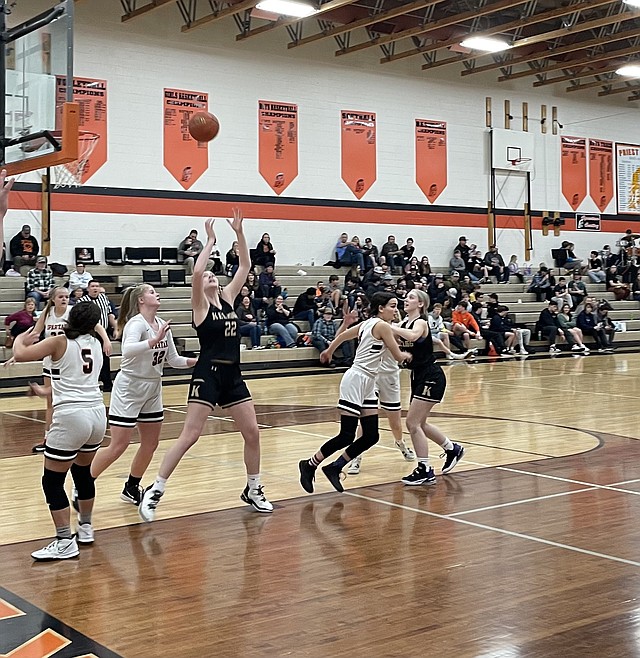 Kellogg's Hailey Cheney grabs a rebound during a recent road game against Priest River.
Photo by JOSH McDONALD
|
February 1, 2022 12:00 PM
KELLOGG GIRLS BASKETBALL
• Jan. 25
KELLOGG — Nine years is a long time to wait for anything, but for the Lady Wildcats of Kellogg it had been nine long years since they had tasted victory over their rivals from Timberlake.
Until Tuesday night at about 9:12 p.m.
It took an extra period, but in the end it was the Wildcats celebrating a 59-53 overtime win over the Tigers.
Anchored by senior Hailey Cheney, who likely secured the Intermountain League MVP award with her 33 point, 15 rebound performance, Kellogg has now — for the time being — put themselves in a position to secure a share of the IML championship.
The defending 3A state champion Tigers had not dropped an IML contest since 2015, and Matt Miller's squad had their chances to potentially steal another win — including jumping out to a 17-4 lead after the first quarter.
But it was all Kellogg from that point on.
The Wildcats rallied off a 16 point run to close the gap to a 24-20 halftime score.
The second half was a war of attrition as both teams leaned into their respective strengths to attempt to pull away from the other.
Timberlake combated the Wildcats' size with speed, which kept the Tigers in the game, but each run they would go on was snuffed out by a Cheney basket.
Wildcat sophomore Emily Coe put on a blue collar performance for Kellogg, logging 12 point and 10 rebounds, including four big free throws late in overtime that sealed the win for head coach Jana Nearing.
"I don't really know what to say," Nearing said. "It's been a long time. I'm so proud of my girls. We had some really big performances tonight, Hailey, Emily, they both played lights out for us. Macie (Jerome), Grace (Nearing) — they handled their pressure like pros. We made a gameplan, we practiced hard and stuck to that gameplan. That was the defending state champs they just beat."
Senior point guard Grace Nearing played all 36 minutes of the game, routinely breaking the Tigers' press and getting the ball into the hands of her scorers.
Timberlake knocked off the Wildcats by 11 in December, due to tiebreaker rules, should Kellogg and Timberlake finish their respective seasons with only the single losses to one another, the Tigers would maintain homecourt advantage throughout the district tournament.
Timberlake 17 7 11 12 6 — 53
Kellogg 4 16 13 14 12 — 59
TIMBERLAKE — Soumas 7, Kronenberg 16, MacArthur 8, Wall 5, Needs 4, Patrick 8, Chase 5.
KELLOGG — Jerome 8, VanHoose 0, Coe 12, Hill 2, Nearing 4, H. Cheney 33, Reed 0, M. Cheney 0, Potts 0.
• Jan. 28
Kellogg 57, Priest River 17
PRIEST RIVER — Hailey Cheney scored 15 points as the visiting Wildcats rolled past the Spartans in Intermountain League play.
Macy Jerome added 13 points, Grace Nearing 11 for Kellogg.
Lilly Frietas scored eight points for Priest River.
"We couldn't handle their pressure at the beginning and we struggled offensively to get any rhythm," Priest River coach Gary Stewart said.
Kellogg 16 14 14 13 — 57
Priest River 3 5 7 2 — 17
KELLOGG — Karst 2, M. Jerome 13, Vanhoose 4, Coe 7, Brainard 0, Hill 0, Nearing 11, H. Cheney 15, A. Karst 3, Reed 0, M. Cheney 0, Potts 2.
PRIEST RIVER — Burgess-Duquette 2, Pound 3, Freitas 8, Thompson 0, Humphrey 2, McCracken 2, Kingery 0, Barton 0.
MULLAN BOYS BASKETBALL
• Jan. 27
Mullan 64, Kootenai 23
MULLAN — Luke Trogden, the Tigers' lone senior, scored 14 points and had seven steals and four assists on senior night as Mullan beat the Warriors in North Star League play. "It's always nice to send off your senior on a good note," Mullan coach Paul Elston said. "It was a good team effort; they were really trying to share the ball tonight."
Alex Trogden also scored 14 points for Mullan and also had eight rebounds. Floyd Nelson had seven points and seven steals.
Kootenai 3 6 8 6 — 23
Mullan 23 17 16 7 — 64
KOOTENAI — Defoort 3, Duford 6, Lupo 0, Hysell 2, Addington 1, Moore 4, Coppa 2, Hodges 0, McGann 0, Tiller 2, Anderson 3, Zavala 0, Chaffey 0.
MULLAN — L. Trogden 14, A. Trogden 14, Nelson 7, A. Zingler 13, S. Petit 4, Rupp Connors 7, T. Zingler 4, L. Petit 0, Appiah 0.
WALLACE GIRLS BASKETBALL
• Jan. 27
Wallace 63, Lakeside 52
WALLACE — Jaden House hit five 3-pointers and tallied 24 points as the host Miners beat the Knights in Scenic Idaho Conference play at Kirby Krulitz Court.
Grace Hunter added 14 points, Brittany Phillips 13 for Wallace, which moved into sole possession of first place in the conference.
"It was a fun game and a great team win," Wallace coach Nichole Farkas said. "Lakeside is always a tough team. We started off a little shaky but got our groove in the second quarter."
Jolissa Holt hit five 3s and led Lakeside with 23 points. Arianna Havier-Gorr added 15 for the Knights.
Lakeside 13 8 14 17 — 52
Wallace 11 17 19 16 — 63
LAKESIDE — A. Holt 5, J. Holt 23, Wienclaw 2, Rivera 0, Allen 1, Matt 3, Havier-Gorr 15, Tsawklai 0, Erickson 3.
WALLACE — Specht 2, Lewis 0, House 24, Phillips 13, Welch 5, Hedrick 2, Hunter 14, Taylor 3.
KELLOGG BOYS BASKETBALL
• Jan. 28
Kellogg 60, Priest River 50
PRIEST RIVER — Kolby Luna hit a pair of 3-pointers as the visiting Wildcats jumped out to a 20-12 lead after one quarter and never looked back in beating the Spartans in Intermountain League play.
Luna finished with 21 points for Kellogg.
"We got off to a good start; we were aggressive and got to the rim," Kellogg coach Mike Martin said. "Defensively, outside of the third quarter, we were pretty good. We controlled the boards for the most part, and took care of the basketball."
Tanner Groves added 15 points and nine rebounds for Kellogg, which hit 18 of 20 free throws and committed just 10 turnovers.
Trentyn Kreager scored 10 of his 25 points in the first quarter for Priest River.
Kellogg 20 8 17 15 — 60
Priest River 12 11 17 10 — 50
KELLOGG — Miller 0, Whatcott 3, R. Luna 10, K. Luna 21, McLean 2, Groves 15, Frohlich 9, Walker 0.
PRIEST RIVER — Mathews 9, Butler 7, Kreager 25, Marinello 0, Barrett 3, Z. Engelson 0, Thompson 1, Yount 6.
KELLOGG WRESTLING
• Jan. 28-29
COEUR d'ALENE — Wyatt Hei cemented his status as one of the top 113-pound wrestlers in the state following his championship run at the North Idaho Rumble at Coeur d'Alene High School.
Hei's 6-5 decision over Mason Aiken of American Falls capped off a terrific tournament run, while teammate Kolter Wood (120-pound) came up just short in his quest for gold, falling to Lewiston's Hoyt Hvass.
"Wyatt wrestled a great tournament and beat some really good kids to solidify his standing as one of the top 113 pounders in the state," Kellogg head coach Scott Miller said. "Kolter had another excellent week and wrestled an outstanding tournament. We're really pleased with his weekly development."
It was not an easy week for the Wildcats, who had to cancel a quad with American Falls on Thursday due to team illness.
"We battled some sickness all week which cost us matches on Thursday and only allowed us to take nine kids to the North Idaho Rumble, but I'm really pleased how our kids wrestled and fought through the week," Miller said. "By the end of the week our kids were getting healthier and we're looking forward to moving into February healthy. We continue to show good development and I was pleased how some of our younger kids really stepped up this week."
TEAM RESULTS:
1) Coeur d'Alene 274.5
2) Post Falls 247.5
3) Caldwell 1990
4) American Falls 171.5
5) Buhl 132
6) Lewiston 118.5
7) Lakeland 115
8) Bonners Ferry 96
9) Lake City 93.5
10) Priest River 91.5
11) KELLOGG 89
12) Mountain Home 81
13) Gooding 74
14) Potlatch 68
15) Timberlake 67
16) St. Maries 56
17) Sandpoint 43
18) Moscow 38
KELLOGG PLACERS
1st — Wyatt Hei (113)
2nd — Kolter Wood (120)
5th — Austin Miller (182)
6th — Chase Morden (106)
Recent Headlines
---