Silver Valley Sports Recap: Feb. 7-13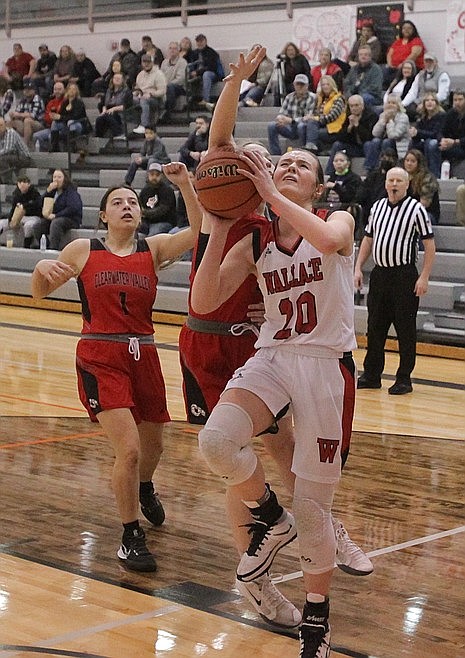 Jaden House (20) of Wallace drives the basket against Clearwater Valley in the first half of a state 1A Division I girls basketball play-in game Saturday at Post Falls High School.
MARK NELKE/Hagadone News Network
|
February 14, 2022 12:08 PM
KELLOGG BOYS BASKETBALL
• Feb. 7
Kellogg 64, Wallace 39
KELLOGG — KJ Walker, one of four seniors honored on senior night, scored 13 points as the Wildcats beat the Miners at Andrews Gymnasium.
Walker was dealing with an injury from football season at the start of the basketball season for Kellogg.
"It took him a bit to get comfortable," Kellogg coach Mike Martin said. "We were expecting this from him before the season, so it's good to see that it's started to come to fruition. He's being a little more aggressive with the ball in his hands; it's great to see him turn the corner."
Junior Kolby Luna added 13 points for Kellogg.
Junior Luke Miller had nine points, and "he just brings such a spark defensively," Martin said.
Sophomore Brad Tesky led all scorers with 18 points for Wallace.
Wallace 4 12 13 10 — 39
Kellogg 19 21 16 8 — 64
WALLACE — Goldade 1, Davis 0, Tesky 18, Streeter 0, T. Morin 0, Allison 0, Jaramillo 2, Schmidt 0, R. Morin 11, Hull 7.
KELLOGG — Miller 9, Whatcott 3, R. Luna 7, K. Luna 13, McLean 2, Groves 7, Maciosek 1, Frohlich 9, Walker 13, Hendrix 0, Bristow 0.
• Feb. 11
Kellogg 67, Timberlake 50
SPIRIT LAKE — Junior Kolby Luna hit five 3-pointers and scored 30 points, shooting 9 of 10 from the field, and had four steals for the Wildcats in a win over the Tigers to clinch the Intermountain League championship.
"Kolby had a super efficient night tonight," second-year Kellogg coach Mike Martin said. "Defensively, he's usually matched up against the other team's best player. So for him to contribute on the offensive side was huge tonight." Kellogg won its second IML title in three seasons, and sixth in eight years. "It was a hard fought game," said Timberlake coach Mike LaFountaine, whose team trailed 18-4 after the first quarter. We dug a hole early on, and you can't do that against a good Kellogg team. Hats off to Kolby, we needed to get a hand up on him, and he nailed some shots."
Junior Hunter Higgins scored 16 points, junior Raj Olivieri 15 for Timberlake.
"We came out and didn't play with the intensity we needed to," LaFountaine said. "We started playing better offensively and defensively. We're learning and need to play with some intensity from the start."
Junior Riply Luna had 12 points and seven rebounds for Kellogg.
Kellogg 18 13 19 17 — 67
Timberlake 4 14 14 18 — 50
KELLOGG — Miller 6, Whatcott 1, R. Luna 12, K. Luna 30, Groves 10, Frohlich 4, Walker 2, Hendrix 2.
TIMBERLAKE — Olivieri 15, Paslay 6, Yetter 4, Millsap 4, Borges 1, Bangs 0, Higgins 16, Tan. Menti 0, MacArthur 4.
MULLAN BOYS BASKETBALL
• Feb. 7
Mullan 69, Post Falls 'C' 60
MULLAN — Luke Trogden scored 26 points and the host Tigers overcame 14 3-pointers from the Trojan "C" team at the Mullan Pavilion.
Austin Zingler added 14 points for Mullan, and Floyd Nelson and Alex Trogden added 12 points each. "We ratcheted up the defense in the second half a lot better; I know that sounds crazy when you give up 14 3-pointers," Mullan coach Paul Elston said. "I was proud of Floyd and Luke; they are our leaders and they stepped up when they needed to. And we got good games out of Alex and Austin as well."
Riley Sullivan hit eight 3s and led all scorers with 30 points for the Post Falls "C" team. Caleb Heath hit five 3s and added 17 points for the Trojans.
Post Falls 'C' 13 21 13 13 — 60
Mullan 17 13 22 17 — 69
POST FALLS 'C' — Sullivan 30, Heath 17, Coppinger 1, Hudson 10, Guzman 2, Haakinson 0, Cansino 0, Skewis 0, Reynolds 0, Taus 0, Brooks 0.
MULLAN — L. Trogden 26, Nelson 12, A. Trogden 12, A. Zingler 14, S. Petit 2, Rupp Connors 1, T. Zingler 2, L. Petit 0.
• Feb. 9
Timberline 43, Mullan 37
WEIPPE — Luke Trogden and Stephen Petit scored 13 points each for the Tigers, who fell to the Spartans in a nonleague game. Austin Zingler scored six points for Mullan.
"We played fairly well for large stretches tonight," Mullan coach Paul Elston said. "Timberline is a good program. Hopefully we can use this as a learning experience."
Parker Brown scored 22 points for Timberline.
Mullan 12 11 12 2 — 37
Timberline 2 13 12 16 — 43
MULLAN — L. Trogden 13, A. Trogden 3, Nelson 0, A. Zingler 6, S. Petit 13, T. Zingler 2, Rupp-Connors 0, L. Petit 0.
TIMBERLINE — Brown 22, West 6, M. Nelson 2, Short 0, J. Nelson 0, Hunter 5, G. Christopherson 0, J. Christopherson 8.
KELLOGG GIRLS BASKETBALL
• Feb. 8
SPIRIT LAKE — Coming into the high school girls basketball season, the Kellogg Wildcats knew it would be a tall task to dethrone the Timberlake Tigers, who have ruled the Intermountain League for much of the last decade.
But Kellogg had the "tall" part. A victory over Timberlake during the regular season gave the Wildcats some confidence.
And on Tuesday night, Kellogg finished the job, beating Timberlake 50-39 on its home court in the 3A District 1 championship game to qualify for state for the first time since 2010, and capture their first district title since 2008.
Led by Hailey Cheney who totaled 20 points and 22 rebounds for the Wildcats, Kellogg enjoyed a size advantage (and a rebounding advantage) over the scrappy Tigers, whose tallest player is 5-8.
Sophomore Macy Jerome added 10 points for Kellogg, and Maddie Cheney, a 5-10 sophomore, had four points and nine boards. Grace Nearing had five assists to go with her six points, and sophomore Emily Coe had six points and seven rebounds.
"It's just a wonderful feeling, to do it on a championship win," fifth-year Kellogg coach Jana Nearing said. "They brought it today; every single one of them worked really hard to make sure we could get this win. I'm just proud of their grit … this is a big deal."
"We didn't make shots," Timberlake coach Matt Miller said. "I don't know how many layins we missed. We had a few perimeter shots that were halfway down and out. … I thought we played a little scared; on our heels a little more than usual, but it's easy to lose some confidence when you miss that many easy shots."
"They have an amazing dribble-drive offense," Jana Nearing said. "We knew we had the advantage inside, and if we could just stop their dribble-drive, or slow it down to prevent some of those 3s, that we could take advantage of our inside game, and we did it. I thought we executed beautifully. The win (over Timberlake) earlier this season was exactly what we needed in order to make this happen."
Senior McKennah Kronenberg led Timberlake with eight points, but was saddled with foul trouble most of the physical game. Sophomore Jenna Chase had six points and eight rebounds off the bench, and Ciara Soumas had four steals.
"They're a big team, and we're not," Miller said. "I thought we did the best we could with it. We fouled too much, drove the tempo of the game down too much. Hopefully they are able to turn around and put this one behind them. If they want to pout about it for more than a couple hours, we can't let it lead into tomorrow."
Kellogg jumped out to an 11-4 lead after four minutes. Parker Wall scored on the drive to put Timberlake up 20-19 with 6:38 left in the half, but Kellogg went on an 11-0 run, and Timberlake didn't score again until two free throws with .5 seconds left in the half.
Timberlake pulled to within 34-28 on a driving layin by Marissa Needs late in the third quarter, but 6-of-31 shooting in the second half stunted any hopes of a Tiger comeback.
Kellogg 15 15 6 14 — 50
Timberlake 14 8 6 11 — 39
KELLOGG — S. Karst 0, Jerome 10, Vanhoose 4, Coe 6, Nearing 6, H. Cheney 20, M. Cheney 4, Potts 0.
TIMBERLAKE — Soumas 6, Dickinson 0, Webberley 0, Kronenberg 8, MacArthur 5, Wall 3, Needs 7, Patrick 4, Chase 6.
WALLACE GIRLS BASKETBALL
• Feb. 8
Wallace 62, Genesis Prep 35
COEUR d'ALENE — The No. 2 seed Miners beat the No. 3 Jaguars in a loser-out semifinal in the 1A Division I District 1 tournament at North Idaho College.
Genesis Prep finished its season 7-9.
• Feb. 10
COEUR d'ALENE — The Wallace High girls basketball team won its first district championship since 2013 on Thursday night.
But the Miners know their road to state is not completed yet. Senior Elli Welch led four players into double figures with 13 points, and Wallace beat Lakeside 51-47 in the 1A Division I District 1 title game at North Idaho College.
"This is huge for the girls," fifth-year Wallace coach Nichole Farkas said. "They've been working at this for a long time; I've got a group of five seniors, and Lakeside and us are always kinda back and forth, so we're excited to get to that next-level game."
Brittany Phillips added 12 points, Jaden House 11 and Grace Hunter 10 for Wallace, which broke a 35-all tie after three quarters with a couple baskets early in the fourth, and protected that margin down the stretch with clutch free throw shooting from McKelvy Specht, Welch and Phillips.
"Both teams played really well, and both teams were scrappy," Farkas said. "I don't know what put us over the edge. We made some clutch free throws at the end; that was a big help."
Senior Jolissa Holt hit three 3-pointers and poured in 32 points for Lakeside, which went to state the last two years.
"I was proud of everyone on the team; they left it out there. I couldn't ask for much more," Lakeside coach Chris Dohrman said. "Defensively, we had some lapses, and we missed some shots we should have had. Offensively, we struggled a little bit, which we usually don't. You've got to give credit to Wallace and their defense. They were switching quite a bit between 2-3 zone and 1-3-1, and our ball movement wasn't quite what we needed it to be today. But I'm proud of the girls; great season. That's how it goes."
The teams tied for the Scenic Idaho Conference title after splitting their two meetings in league play, Wallace winning 63-52 at home on Jan. 27, Lakeside winning 39-38 in Plummer on Feb. 5.
Wallace 13 9 13 16 — 51
Lakeside 12 11 12 12 — 47
WALLACE — Specht 2, House 11, Br. Phillips 12, Welch 13, Hedrick 3, Hemphill 0, Hunter 10.
LAKESIDE — A. Holt 3, J. Holt 32, Wienclaw 0, Rivera 5, Allen 0, Matt 5, Havier-Gorr 2, Tsawklai 0, Erickson 0.
• Feb. 12
Wallace 45, Clearwater Valley 38
POST FALLS — For the first time since even before the current class of seniors was even in school, the Miners are headed to state. Senior Jaden House scored 16 points and the Miners held off the Rams from Kooskia in a state 1A Division I play-in game at Post Falls High School.
"It's just crazy," House said. "I've put a lot of time in the gym, my teammates have put a lot of time in the gym, some of us have been together since the third grade, so it means a lot to me to be able to go with these girls and have this experience after this many years."
Wallace built a 29-16 halftime lead, only to see Clearwater Valley get hot from behind the arc, and get it down to six late in the third quarter. But the Rams cooled off, and though they pulled within four points late, the Miners were able to hold on.
"It's kind of a shock," fifth-year Wallace coach Nichole Farkas said. "It's not a shock that they did it, but it's just a shock to our systems, I think. We knew (Clearwater Valley) had some good girls that could drive really hard, and could shoot the 3-ball. So we decided to try to stay in our zone to prevent the drive, and worked really hard on good fundamental defense so we wouldn't get into foul trouble."
Senior Kadance Schilling scored 10 points for Clearwater Valley (15-9), the third-place team from District 2.
Sophomore Britany Phillips added 10 points for Wallace, which beat Lakeside on Thursday to win its first district title since 2013. House hit two 3s, Phillips one in a second-quarter flurry that hiked the Miners' lead to 24-9.
"We knew we would be able to keep up with their tempo this year," House said. "In past years we haven't been able to play as fast as we can this year."
Clearwater Valley 5 11 15 7 — 38
Wallace 8 21 11 5 — 45
CLEARWATER VALLEY — Pfefferkorn 5, Simmons 3, Morrow 2, E. Landgren 0, Schilling 10, T. Yocum 5, Tr. Yocum 2, Edwards 4.
WALLACE — Specht 3, House 16, Br. Phillips 10, Welch 6, Hendrick 4, Hemphill 0, Hunter 4, Taylor 2.
WALLACE BOYS BASKETBALL
• Feb. 11
PLUMMER — Junior guard Vander Brown scored 50 points — 30 in the first half — for Lakeside in a 106-52 Scenic Idaho Conference win over the Miners at Ron Miller Court on Friday.
"Vander really made it personal tonight," Lakeside coach James Twoteeth said. "He was really aggressive and played with a lot of intensity."
Brutis SiJohn had 21 points, 10 rebounds and 10 steals for Lakeside, which won its second straight conference title.
Luke Hull scored 14 points for Wallace.
Wallace 12 19 10 11 — 52
Lakeside 36 34 25 11 — 106
WALLACE — Tesky 11, Streeter 0, Morden 0, Allison 6, Schmidt 9, Morin 12, Hull 14.
LAKESIDE — V. Brown 50, SiJohn 21, Vassar 7, Rivera 2, Hall 17, Nomee 6, Kee 3.
KELLOGG WRESTLING
• Feb. 10
KELLOGG — The Wildcats honored their senior wrestlers and then proceeded to give them a dominant send off.
Kellogg ran through Timberlake scoring eight wins by pinfall; they also handled Kootenai in a handful of matches.
Going 14-3 on the evening kept things light for the celebration and head coach Scott Miller was thrilled with how his guys did on such an important evening.
"We had a great sendoff for our seniors with a nice win over Timberlake," Miller said. "I was really proud of how we came out and kept building our momentum as the night went on. Getting eight pins against a team of Timberlake's caliber is a compliment to our team, but just as impressive were the big wins we got from Kolter Wood and Austin Miller in the toss-up matches. It was just great performances from everyone."
Now, the varsity members of the team will set their sights on getting ready for 3A and 2A District Tournaments at the end of this week.
"We're very excited about going to Districts on Thursday in Bonners Ferry," Miller said. "We really feel good about the 16 kids that will be representing Kellogg and expect to be right in the hunt for the championship but more importantly, getting qualifiers for the state tournament. We also expect Chase Morden (representing Wallace) to do well for us at the 2A District Tournament at Clearwater Valley on Saturday. Chase is the defending champion and we expect that he will defend and qualify for State."
Team Scores
KELLOGG 60, Timberlake 15
KELLOGG 15, Kootenai 3
Kellogg winners vs. Timberlake
98 — Chase Morden WBF
106 — Ricky Haralson WBP
113 — Wyatt Hei WBP
120 — Kolter Wood WBD 8-6
126 — Jaeger Hall WBP
132 — Tanner Williams WBP
138 — Ethan Guy WBP
145 — Ray Heely WBP
152 — Brady Vergobbi WBP
182 — Austin Miller WBD 8-2
220 — Kyle VanVleet WBP
Kellogg winners vs. Kootenai
126 — Wyatt Storey WBD 8-3
152 — Brady Vergobbi WBP
182 — Austin Miller WBD
• Feb. 12
COEUR d'ALENE — The underclassmen were on showcase at the Lake City JV Tournament at Lake City High.
Ricky Haralson and Kolby Lemmon brought home championships during the event, which featured JV teams from the surrounding region, including several of the larger schools.
"We were able to get some good matches for our younger kids as we prepare for Districts and State so it was good for us," coach Scott Miller said. "I was very pleased with Kolby Lemmon winning because he attended Lake City last year and winning there meant a lot to him. Ricky Haralson wrestled great all week (going 4-0 for the week), he really stepped up this week."
KELLOGG PLACERS
1st — Ricky Haralson 106
1st — Kolby Lemmon 120
2nd — Chase Morden 106
2nd — Brady Vergobbi 152
3rd — Jace Garcia 145
UPCOMING SCHEDULE
Feb. 17 @ 3A District I-II Championships (Bonners Ferry, ID)
Feb. 19 @ 2A District I-II Championships (Kooskia, ID)
Recent Headlines
---