Silver Valley Sports Recap: Feb. 21-27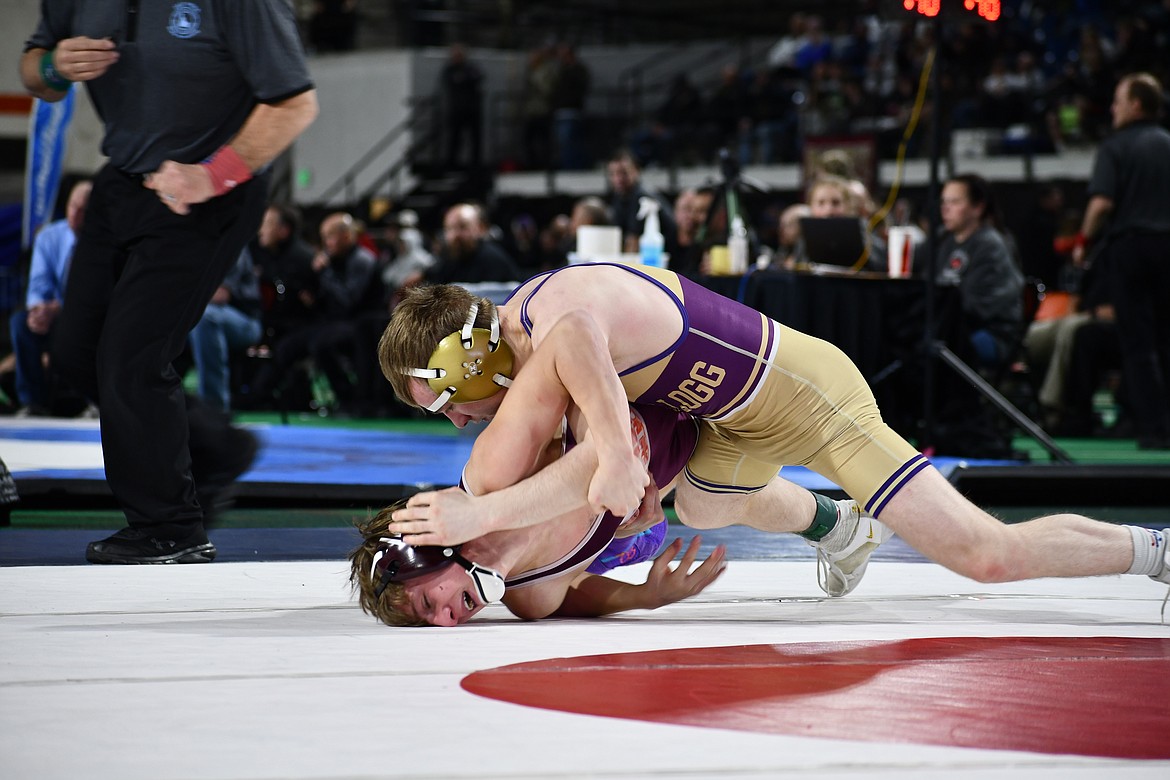 Kellogg's Wyatt Hei drives his opponent's head into the mat during the 3A state championships at Holt Arena.
Photo by TERI EIXENBERGER
|
February 28, 2022 1:19 PM
KELLOGG WRESTLING
3A State Championships
• Feb. 25-26
POCATELLO — The 3A District I champs from Kellogg High School gave it their best efforts at the Idaho State Championships this past weekend at Holt Arena.
Senior Wyatt Hei put on a wrestling clinic, but ultimately fell just short of his bid to be the 113-pound state champ.
"Wyatt wrestled an outstanding tournament on the way to his medal," head coach Scott Miller said. "He was dominant throughout the tournament, beat an All-American in the semifinals and narrowly lost in the finals to the top seed. He was an excellent leader for our team and we're just so proud of his season and career."
Joining Hei in the medal hunt were Ricky Haralson (4th place, 106-lb), Ethan Guy (4th place, 138-lb), Kolter Wood (5th place, 120-lb), Kolby Lemmon (6th place, 120-lb), and Austin Miller (6th place, 182-lb).
Miller spoke highly of all of his medalists, but specifically concerning Haralson and Guy, he discussed how the tournament ebbed and flowed for them and how their performances really demonstrated their character.
"Ricky really came on in the latter half of the season and wrestled a great tournament," Miller said. "He pulled off a big win in the quarterfinals on Friday night and then put himself in the consolation finals after a tough defeat in the semifinals. Ricky has really set himself up for the rest of his career. Ethan fought injuries and illness all season, not really what you want for your senior year, but kept hanging in there and gave himself a chance for the postseason. He stayed within himself, wrestled his match and came away with a nice spot on the podium. I'm really proud of how he hung in there and how he kept persevering."
The Wildcats finished 10th overall in the team scoring, as Miller continues to steadily build his program.
With the impending drop to the ranks of the 2As next year, Kellogg should come in as one of the favorites to win team hardware.
"I'm really pleased with how the team wrestled this weekend," Miller said. "We found ways to win, dealt with the setbacks about as well as you can and kept moving forward. We were pleased we went over 100 points and got help from everyone to make this happen. We have great fans, parents and relatives that follow us, support us and are just plain loud. I just want to thank all of them for everything they do. Kellogg travels well and I really appreciate that."
FINALS 3A TEAM SCORES
1) South Fremont 250
2) Marsh Valley 178.5
3) Snake River 166.5
4) Buhl 130.5
5) American Falls 126.5
6) Sugar Salem 121.0
7-T. Bonners Ferry, Fruitland, Teton 108
1) KELLOGG 102.5
2) Gooding 96
3) Weiser 94
4) McCall-Donnelly 82.5
5) Timberlake 61.5
6) Priest River 48
7) Kimberly 41
8) Homedale 34
9) Payette 32.5
10) Filer 31
11) Parma 21
KELLOGG BASKETBALL
• Feb. 22
Bonners Ferry 58, Kellogg 53
KELLOGG — Junior guard Ridge Williams scored 17 points for the second-seeded Badgers, who beat the top-seeded Wildcats in the 3A District 1 championship game at Andrews Gymnasium.
"Hats off to Bonners Ferry, they were prepared and took stuff away to the rim and took a lot of charges tonight," Kellogg coach Mike Martin said. "We got down by 16 (40-24) in the third quarter, but it was good to see our guys come back. We just didn't have enough in the tank to get over the hump."
It was the Badgers' first district title since 2007.
Kolby Luna scored 20 points for Kellogg.
Bonners Ferry 12 13 17 16 — 58
Kellogg 8 9 12 24 — 53
BONNERS FERRY — R. Williams 17, Henslee 2, Petesch 1, A. Williams 6, Th. Bateman 7, Hubbard 4, Tr. Bateman 8, Mai 0, Blackmore 13.
KELLOGG — Miller 3, R. Luna 3, K. Luna 20, McLean 0, Groves 17, Frohlich 8, Walker 2.
• Feb. 23
KELLOGG — Senior Tanner Groves scored 18 points to send the top seeded Kellogg Wildcats past the third-seeded Timberlake Tigers 64-51 in the 3A District 1 second-place game on Wednesday at Andrews Gymnasium.
Junior Riply Luna scored 15 points, making 7 of 7 from the free throw line for Kellogg.
Timberlake led 29-27 at halftime.
"We came out a little lackluster and disconnected," Kellogg coach Mike Martin said. "We got a little more locked in and didn't allow so many good looks at the basket."
Senior Zach Yetter scored 10 straight to start the game for Timberlake, which finished.
Timberlake 16 13 7 15 — 51
Kellogg 14 13 19 18 — 64
TIMBERLAKE — Olivieri 6, Paslay 5, Yetter 18, Millsap 2, Borges 0, Higgins 20, Tay. Menti 0, MacArthur 0.
KELLOGG — Miller 0, Whatcott 0, R. Luna 15, K. Luna 9, McLean 0, Groves 18, Maciosek 0, Frohlich 10, Walker 12, Hendrix 0, Bristow 0.
• Feb. 26
Fruitland 56, Kellogg 36
GRANGEVILLE — The Wildcats shot 24 percent from the field and committed 22 turnovers in the loss to the Grizzlies in a state 3A play-in game at Grangeville High.
Kellogg (15-9) shot 12 of 51 from the field, including 3 of 20 from 3-point range. "We had some opportunities early, and didn't take advantage," Kellogg coach Mike Martin said. "In the second half Fruitland just blew it open; they hit some shots and we didn't."
Kolby Luna scored 12 points, Tanner Groves 11 for Kellogg.
"A lot of our turnovers were in the half-court," Martin said. "They did a good job of pressuring the ball, but a lot of our turnovers were unforced."
Nolan Bower, a 6-foot-8 senior center, scored 17 points for Fruitland, which advances to state at Meridian High. The fourth-seeded Grizzlies open vs. No. 5 Kimberly (16-6) on Thursday at 1 p.m. PST.
Kellogg won the Intermountain League, but was upended at home by Bonners Ferry for the district title, before eliminating Timberlake to advance to the state play-in.
"That's how it goes, the ebbs and flows of the season," Martin said. "I don't think this past week we were playing our best basketball. It's a bummer because I'm proud of this group of (four) seniors."
Kellogg 8 7 11 10 — 36
Fruitland 10 10 17 19 — 56
KELLOGG — Miller 0, Whatcott 0, R. Luna 4, K. Luna 12, McLean 4, Groves 11, Maciosek 1, Frohlich 2, Walker 2, Hendrix 0, Bristow 0.
FRUITLAND — Rodriguez 6, Watson 0, Jackson 2, Bidwell 1, Barunaga 7, Daws 2, Hamann 9, Capps 12, Bower 17, Snyder 0.
MULLAN BASKETBALL
• Feb. 22
Mullan 64, Kootenai 37
COEUR d'ALENE — Luke Trogden scored 21 points for the Tigers in a win over the Warriors in the semifinals of the 1A Division II District 1 tournament at North Idaho College.
"We played solid tonight," Mullan coach Paul Elston said. "Kootenai plays hard and will battle. I think Kootenai coach Jake Pfeiffer has done a great job there. I thought we were good in many ways tonight. We had good team play."
Floyd Nelson scored 10 points for second-seeded Mullan.
Freshman Christopher Moore scored 16 points, hitting four 3-points for Kootenai, which finished 0-14.
Kootenai 9 7 8 13 — 37
Mullan 28 8 15 13 — 64
KOOTENAI — Moore 16, Tiller 2, H.Defoort 8, Anderson 0, Lupo 0, Orford 5, McGann 5, Hodges 0, Copp 0, Hysell 2, Chaffey 0, Addington 0.
MULLAN — L. Trogden 21, A. Trogden 6, Nelson 10, A. Zingler 8, S. Petit 7, Rupp-Connors 0, T. Zingler 7, L. Petit 0, Appiah 5, Knoll 0.
• Feb. 24
Clark Fork 61, Mullan 46
COEUR d'ALENE — Sam Barnett scored 30 points, hitting five 3-pointers for the Wampus Cats against the Tigers in the 1A Division II District 1 championship game at North Idaho College.
Clark Fork won its second straight district title, advances to a state 1A Division II play-in game at Lake City High to face Timberline of Weippe at 2 p.m.
Floyd Nelson scored 12 points, all on 3-pointers, for Mullan.
"Both teams competed very hard tonight," Mullan coach Paul Elston said. "I thought Sam Barnett was excellent for Clark Fork tonight. We played hard and well tonight. Clark Fork was just a little better. I'm really proud of my guys for how they played tonight and our play at the end of the season."
Mullan 12 11 11 14 — 46
Clark Fork 10 18 12 21 — 61
MULLAN — L. Trogden 10, A. Trogden 8, Nelson 12, A. Zingler 6, S. Petit 2, T. Zingler 0, L. Petit 8, Appiah 0, Knoll 0.
CLARK FORK — Ca. Sanroman 6, Barnett 30, Shelton 5, Ch. Sanroman 7, Howard 4, Mayorga 0, Co. Sanroman 9, Reuter 0.
WALLACE BASKETBALL
• Feb. 22
Junior Ayson McLuskie scored 17 points for the second-seeded Genesis Prep Jaguars in 47-23 a win over the third-seeded Wallace Miners in a 1A Division I District 1 tournament semifinal at North Idaho College on Tuesday.
"I really liked our defensive intensity," Genesis Prep coach Lon Morast said. "We made it hard for them to score and didn't give up too many easy baskets."
Robbie Morin scored eight points for Wallace, which finished 3-14.
Wallace 3 7 4 9 — 23
Genesis Prep 8 15 9 13 — 47
WALLACE — Tesky 3, Streeter 4, Jaramillo 2, Schmidt 2, Morin 8, Hull 4, Goldade 0, Morden 0, Murdock 0, Allison 0, Wilkinson 0.
GENESIS PREP — Schroeder 3, Daniels 7, McLuskie 17, Rubert 2, Specht 9, Snowder 4, Martin 1, Lewis 0, Young 0, Earley 0, Bateman 0.
---