Amelia "Patty" Helen Patricia Davis, 79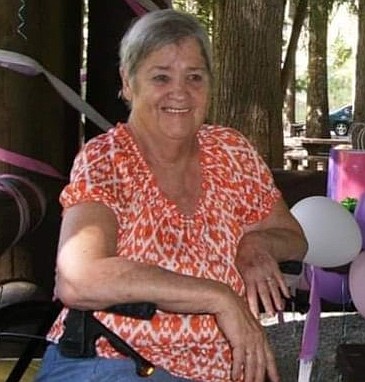 |
January 14, 2022 4:50 PM
Amelia "Patty" Helen Patricia Davis, born June 21, 1942 to Bert and Sadie Braley in Burnham, Maine passed away peacefully at home with her grandson Micheal and family by her side on December 16, 2021 in Missoula, MT.
Amelia grew up in Burnham, ME and relocated to North Idaho in 1967. She married Lawrence "Sweet pea" Davis on September 10th, 1974 and raised their family in Mullan, Idaho – the place she fell in love with and truly called home.
Amelia was strong in her faith and a family-first, devoted homemaker who always had enough love to share with her 30 grandchildren and 42 great grandchildren. She loved the outdoors and, in her youth, was an avid horse rider, including champion barrel racing her horse, Dolly. Amelia had a huge heart for animals – particularly her birds and dogs. She loved music and had a special talent for singing and playing guitar. No one ever left Amelia home hungry. She was an amazing cook food "made with love: for all her family, friends and loved ones.
Amelia is preceded in death by her husband Larry Davis; parents Sadie Braley and Frederick Sayward Sr.; siblings: Frederick Sayward Jr., Mary Dunkle, Susan Schwartz, Micheal Braley and Lucile Braley; grandchildren Megan Walsh and Alan Walsh.
Amelia is survived by her children Harold Patterson Jr, (Bangor, ME); Laurieann Walsh Cossey of Lynnwood, WA, Alfred (Stacy) Walsh Jr. of Carnation, WA, Micheal (Rusan) Walsh of Rydon, NV, Frederick (Tashea) Walsh of Myrtle Creek, OR, William Walsh of Coeur d'Alene, ID, and honorary daughter Twila Winkler of Salem,OR.
Grandchildren: Joseph Cossey, Andrew McAphee, Samuel McAphee; Joshua (Catessa) Hills, Ashley (Jacob) Kilburn, Jacob (Cami) Walsh, Matthew (Destiny) Walsh; Micheal (Jessica)Walsh, Cassie (Dillon) Clayburg, Larry Walsh, Sean Walsh, Elizabeth Walsh, April Walsh, Ashley (Rex) Auger, Kayla Hockings; Debrianna Broadwater, Miceala (Robbie) Bennet ; Britany (Jim) Byers, Aimee Walsh, Christian Walsh, Hannah Walsh, Emelia Walsh.
Great Grandchildren: Nic Smith, Megan Cossey; Zane Hills, Emily James, Ashton James, Kira Jame, Lilian Kilburn, Luna Kilburn Scarlett Kilburn, Jessias Kilburn, Silvara Kilburn; Deaken Walsh, Jorryn Walsh, Sawyer Walsh; Ayden Walsh, Bailey Walsh, Chaylin Walsh, Drayke Walsh, Emberley Walsh, Finnley Walsh; Trinity Walsh, Kale Stevens, Teegan Stevens; Draven Clayburg, Alistair Clayburg, Solaris Clayburg, Tristan Walsh, Greycen Walsh, Jaryd Walsh, Hayden Auger, Harper Auger, Taylor Wilburn; Ron Broadwater, Ruth Bennett; Evelyn Byers, Bennett Byers.
Amelia also had many beloved nieces and nephews and beloved friends.
Amelia's memorial service will be held at New Life Baptist Church 1008 S Division St, Pinehurst, ID 83850 on January 22, 2022 at 2:00 pm.
A Celebration of Life will later be held at Shoshone Park in Mullan Idaho on June 25th 2022 2:00 pm.
Recent Headlines
---