Silver Valley Sports Recap: Jan. 10-16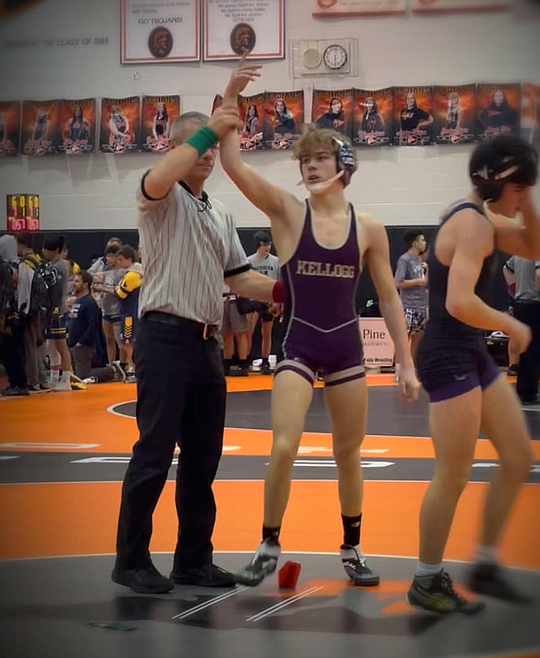 Kellogg's Kolter Wood has his hand raised in victory following a match at the River City Duals.
Courtesy photo
|
January 17, 2022 10:42 AM
KELLOGG WRESTLING
1/14-15
POST FALLS –– The Wildcat grapplers made their way to Post Falls High School for the annual River City Duals.
As per the usual, Kellogg didn't have an easy road through the event, facing off against Nampa and Rocky Mountain in their pod grouping.
The Wildcats knocked off Rocky, but struggled against Nampa, which landed them in the Silver Bracket for day two.
Wrestlers Wyatt Hei (113), Kolter Wood (120), Jaeger Hall (126) and Raymond Heely (145) all did their part going 4-1 over the weekend for Kellogg, but struggled overall as they lost to Rocky Mountain, Pasco (Wash.), and Eureka — the last two in devastating fashion.
"We went 42-36 for the weekend against some very good competition," head coach Scott Miller said. "Nampa finished second in the Gold Bracket and beat Post Falls, Rocky Mountain finished third in the Silver Bracket so we had our hands full all weekend, but the kids competed hard and we gave ourselves chances to win duals, which is encouraging."
POD B - Friday
Nampa 79, KELLOGG 6
KELLOGG 54, Rocky Mountain 29
SILVER BRACKET - Saturday
Quarterfinal: Rocky Mountain 49, KELLOGG 28
Consolation: Pasco 34, KELLOGG 33
7th Place: Eureka 36, KELLOGG 30
KELLOGG BOYS BASKETBALL
1/11
KELLOGG — The Moscow Bears made six 3-pointers and forced 11 Kellogg turnovers in the first quarter, and went on to defeat the Wildcats 66-44 in nonleague play Tuesday night at Andrews Gymnasium.
"They blitzed us early," said Kellogg coach Mike Martin, whose squad fell behind 32-5 after one quarter.
"They threw a press on us, and it was pretty aggressive, trapping the ball right away. It's a press we have run before, we just didn't execute, we were sloppy and didn't make them pay for it." Senior Sam Kees hit four 3s, three in the first quarter, and finished with 16 points for Moscow. Barrett Abendroth added 15 for the Bears, who ended up with eight 3s in the game. Riply Luna scored 16 points for Kellogg, who suffered their fourth straight loss.
"It was good to see our kids respond (after the first quarter)," Martin said. "They (the Bears) did a good job anytime we were able to go on a little run."
Moscow 32 11 15 8 — 66
Kellogg 5 131115— 44
MOSCOW — Kees 16, Simpson 2, Rehder 0, Isakson 8, Abendroth 15, Brown 8, Strong 2, C. Skinner 6, Hillman 7, Z. Skinner 2.
KELLOGG — Miller 1, Whatcott 3, R. Luna 16, K. Luna 4, McLean 2, Groves 6, Maciosek 0, Frohlich 9, Walker 3, Hendrix 0, Bristow 0.
MULLAN BOYS BASKETBALL
1/11
Wallace 62 Mullan 43
MULLAN — Junior Robbie Morin powered inside for 26 points as the Miners defeated the Tigers in nonleague play at the Mullan Pavilion.
Brad Tesky added 10 points for Wallace.
"Wallace used their height inside," Mullan coach Paul Elston said.
"I thought we rebounded decently, but we're giving up a lot of weight and height inside. They did a good job using the advantages that they had. I thought our guys showed a lot of fight out there tonight."
Luke Trogden scored 16 points, Floyd Nelson 15 for Mullan.
Wallace 12 14 22 12 — 62
Mullan 111310 9 — 43
WALLACE — Goldade 2, Davis 2, Tesky 10, Allison 6, Hasz 2, Schmidt 4, R. Morin 26, Hull 6.
MULLAN — L. Trogden 16, Nelson 15, A. Zingler 5, A. Trogden 2, S. Petit 4, T. Zingler 3, L. Petit 0, Rupp Connors 0.
1/13
Kellogg JV 54
Mullan 43
MULLAN — Tom O'Neill had 16 points and eight rebounds for the Wildcats JV in a win over the Tigers at the Mullan Pavilion. Luke Trogden had 13 points, seven rebounds, five steals and one block for Mullan.
"We really kind of controlled the glass tonight," Kellogg JV coach Josh McDonald said. "Trogden's a load and I'm throwing freshmen at him, but our guys did a good job to limit him to 13 points. (Mullan coach) Paul (Elston) does a good job with those guys and has them ready to play each night."
Alex Trogden had seven points, seven rebounds and three steals for Mullan (1-6).
Blake Coburn had 12 points and three assists for the Kellogg JV.
KelloggJV 15 10 17 12 — 54
Mullan 4 18 10 11 — 43
KELLOGG JV — Robinson 13, Bush 3, Coburn 12, Towne 0, Blalack 4, O'Neill 16, Knight 5, Baker 1.
MULLAN — L. Trogden 13, L. Petit 0, S. Petit 1, Zingler 12 (Austin), Nelson 9, Rupp-Connors 0, T. Zingler 1, A. Trogden 7.
WALLACE GIRLS BASKETBALL
1/14
Timberlake 49
Wallace 36
WALLACE — Emma Patrick scored 14 points for the Tigers in a nonleague win over the Miners at Kirby Krulitz Court.
Ciara Soumas scored 10 points for Timberlake.
Jaden House and Brittany Phillips scored 10 points each for Wallace.
Timberlake 6 17 17 9 — 49
Wallace 10 10 8 8 — 36
TIMBERLAKE — Soumas 10, Dickinson 0, Kronenberg 4, MacArthur 7, Wall 6, Needs 9, Patrick 14, Chase 0.
WALLACE — Specht 2, House 10, Phillips 10, Welch 2, Burmeister 2, Hendrick 2, Hemphill 0, Hunter 8, Taylor 0.
WALLACE BOYS BASKETBALL
1/14
Timberlake 64 Wallace 45
WALLACE — The visiting Tigers improved to 5-3 on the season with a nonleague win over the Miners at Kirby Krulitz Court.
The Miners trailed 31-20 at halftime, but couldn't get stops in the second half when they got their offense going.
Wallace's Landon Streeter finished with 12 points while Robbie Morin kicked in 10 of his own.
Recent Headlines
---