Lady Wildcats beat Tigers in OT thriller
by
JOSH MCDONALD
Staff Reporter
|
January 25, 2022 10:20 PM
KELLOGG –– Nine years is a long time to wait for anything, but for the Lady Wildcats of Kellogg it had been nine long years since they had tasted victory over their rivals from Timberlake.
Until Tuesday night at about 9:15.
It took an extra period, but in the end it was the Wildcats celebrating a 59-53 overtime win over the Tigers.
Anchored by senior Hailey Cheney, who likely secured the Intermountain League MVP award with her 33 point, 15 rebound performance, Kellogg has now – for the time being – put themselves in a position to secure a share of the IML championship.
The defending 3A state champion Tigers had not dropped an IML contest since 2015, and Matt Miller's squad had their chances to potentially steal another win – including jumping out to a 17-4 lead after the first quarter.
But it was all Kellogg from that point on.
The Wildcats rallied off a 16 point run to close the gap to a 24-20 halftime score.
The second half was a war of attrition as both teams leaned into their respective strengths to attempt to pull away from the other.
Timberlake combated the Wildcats' size with speed, which kept the Tigers in the game, but each run they would go on was snuffed out by a Cheney basket.
Wildcat sophomore Emily Coe put on a blue collar performance for Kellogg, logging 12 point and 10 rebounds, including four big free throws late in overtime that sealed the win for head coach Jana Nearing.
"I don't really know what to say," Nearing said. "It's been a long time. I'm so proud of my girls. We had some really big performances tonight, Hailey, Emily, they both played lights out for us. Macie (Jerome), Grace (Nearing) – they handled their pressure like pros. We made a gameplan, we practiced hard and stuck to that gameplan. That was the defending state champs they just beat."
Senior point guard Grace Nearing played all 36 minutes of the game, routinely breaking the Tigers' press and getting the ball into the hands of her scorers.
Timberlake knocked off the Wildcats by 11 in December, due to tiebreaker rules, should Kellogg and Timberlake finish their respective seasons with only the single losses to one another, the Tigers would maintain homecourt advantage throughout the district tournament.
Kellogg (9-4, 2-1 IML) will be on the road on Friday to take on Priest River in another IML tilt.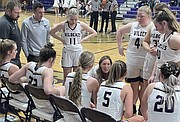 Recent Headlines
---