Geraldine Karen (Ronning) Erickson, 93
Geraldine Karen (Ronning) Erickson passed away peacefully March 29, 2022, at the age of 93. She was born March 17, 1929, to Hans and Mabel (Swanberg) Ronning of Troy, Idaho.
She grew up in Mullan and worked for Jack Clarke Drugstore and Ramsier's Pharmacy in Wallace. She married Glenn E. Erickson of Mullan, and lived in Wallace, and later Spokane raising their two sons. GG worked in pharmaceuticals and as a caregiver. She later joined SCOPE, and put her gumshoe skills to work.
She leaves a legacy of life lived deeply and fiercely for 93 years.
She loved playing cards, games and dancing. Her humor was sharp; her mind and memory were sharper.
Her love of music, roses and Rummikub is passed down to her grandkids, as well as her love to travel, thrifting and puzzle solving.
Her children and grandchildren were her pride and joy.
She is survived by her sons, Lee Erickson (Karen) of Bellevue and Allen (Vickie) of Liberty Lake. Also three grandchildren, Jay Lazanis (Megan), Jennifer Samsell (Seth), Chad Erickson (Sade); and four great-grandchildren, Kohl, Clara, Cal and Juniper; and many relatives and friends.
Geraldine was cherished and will be forever missed.
Memorial is pending.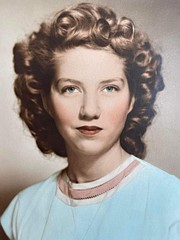 Recent Headlines
---