Steven W. Deinhardt, 72
Steven W. Deinhardt, who made an impression on everyone he met, died July 11, 2022 in Pendleton. He was 72.
Born in Walla Walla, Wash., he was the first child of Walt and Emma (Elia) Deinhardt. When he was a young boy, his family moved to northern Idaho, where he was raised. He graduated from Priest River High School in 1968, where his outgoing and likable personality kept him out of trouble. He could smooth-talk his way out of almost anything.
He graduated from North Idaho Junior College in May of 1970, which is where he met Teresa (Terri) Engebretson, and their first daughter, Cori Anne, was born. Shortly thereafter, the family moved to Boise, where Steve attended Boise State College, graduating in 1972. During his time in Boise, Terri and Steve had their second daughter, Angie. The family remained in Boise for a few years before moving to Mullan, Idaho, where he became manager of the Elks Lodge in Wallace and welcomed his third daughter, Laura Jean.
In 1981, Steve purchased the Lucky Horseshoe Bar. He poured his life into his business and became a fixture in the Wallace entertainment scene with his accordion and one-liners. "Brillo," as he was known, was generous with his drinks and was rumored to have hosted a poker game or two. He loved running the bar and worked hard to make it successful. Another passion of Steve's was his GTO. His girls remember fondly of traveling at high speeds over the back roads of the Silver Valley with the top down and giggling all the way.
In the 1990s, Steve left Wallace. He moved to Baker City and then Milton-Freewater, where he began dealing cards and refining his poker skills. He loved playing poker — the craft involved, the personalities of the players, the luck of the draw. He was a serious student of the game and honed his skills at the Wildhorse Casino, where he was a regular at the poker tables. He usually came out ahead, at least that was the story he told. In March 1998, Steve won 1st place at the Spring Poker Tournament at Cactus Pete's. And then, in 2006, "Angus Jack," another beloved nickname, won The Summer Poker Rodeo Tournament.
Steve was a lover of classics. From vintage cars, Little Golden Books, western art and bronze statues, he appreciated the simplicity of a time when men were men and John Wayne and Dean Martin were heroes.
Steve also loved music, especially country western and the old tunes by people like Hank Williams and Patsy Cline. He was a skilled and gifted accordion player, having taken up the instrument at age 9. He enjoyed nothing more than to pull it out and play for people at his bar or social gatherings.
One of Steve's greatest qualities was his personality. He could talk to anyone and make them laugh with his stories and witty and frequent off-color one-liners. He never forgot a name or a face, and he could make you feel like he was your best friend. He was wicked smart, always had a plan and had a memory that held onto everything. He, in turn, was an unforgettable character. In the later years, Steve's family meant the most to him, constantly telling us how proud he was of each one of us and how much he loved us. We lost him way too soon.
He is survived by his daughters, Cori Neser, Angela Bloom and her husband Chris, and Laura Ertz, along with his grandchildren, Nick and Marissa Neser and Emma and Alex Bloom. He is also survived by his sister, Kathy and her husband Bob Hill, his brother, Mark and his wife Pam, a much-loved nephew, Ryan Deinhardt and a niece, Cara Dement. He was preceded in death by his parents.
The family would like to thank Steve's friends, Laura Smith and Todd Tennant, whose help during the last month of his life were invaluable. And we cannot forget his devoted sister, Kathy. Without her, Steve would not have been a survivor of sh*t creek.
At Steve's request, there will be no service. Instead, raise a glass in his memory and tell a good story. He would appreciate that. Rest in peace Big Daddy.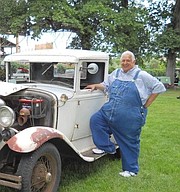 Recent Headlines
---