Wallace celebrates first Silver Valley Pride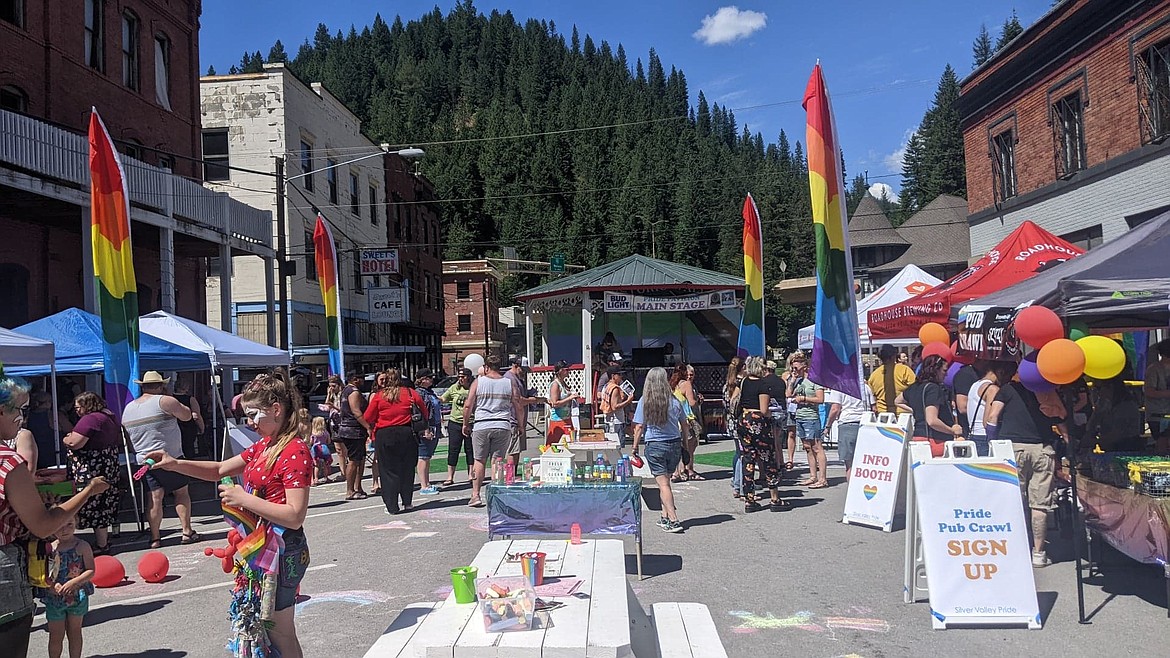 The inaugural Silver Valley Pride took place in Wallace this year filling the streets with every color of the rainbow.
Photo by MOLLY ROBERTS
by
MOLLY ROBERTS
Staff Reporter
|
July 26, 2022 5:05 AM
WALLACE — The Center of the Universe was filled with every color of the rainbow during the first Silver Valley Pride event this past Saturday.
"Holding Pride in the Silver Valley was long overdue," said Ali Koski, the creator of the event and owner of Oliver's Mercantile in Wallace. "There are so many people in our community that haven't had a chance to experience a sense of belonging here and it's time that we give representation and visibility to the LGBTQIA+ members and allies of Shoshone County."
The inaugural event began with a Family Festival with free family activities like face painting, balloon art, kids karaoke, bubbles, yard games and cartoon family portraits by Ara Gotham Art.
"It was amazing from start to finish. Businesses in Wallace were proud and welcoming, the city of Wallace supported us and we had a wonderful turnout of families and people from all parts of the Valley. It was a beautiful and historic day," Koski said.
The second part of the day held a pub crawl, with numerous Wallace businesses showing support as the crawlers made their way to different businesses around the town satiating their thirst with alcoholic or non-alcoholic drink choices.
Erin Nansel, a Silver Valley native who participated in both the family day and pub crawl can't wait for next year's event.
"I am so proud that I was able to attend the first annual Silver Valley Pride," Nansel said. It was beautiful and so well organized. I was thoroughly impressed with all the swag that they gave away. It made me so proud of our community."
Two trophies were voted on by the Pub Crawlers including 'best Pride drink special' and 'bar with the most Pride' — Silver Corner Bar took home the best drink with their Prideberry slushie (which admittedly, was delicious and refreshing), while their neighbors at 6th & Cedar won the most Pride award.
A massive amount of planning went into this event by Koski, to ensure that the first year was a safe and inclusive family event for Wallace. Koski has worked with Coeur d'Alene's North Idaho Pride Alliance for their Pride festival and understood while planning that keeping everyone safe was the top priority.
In the wake of last month's Pride celebration in Coeur d'Alene — which included the arrest of 31 members of the white supremacist group Patriot Front, who had allegedly come to North Idaho in an effort to disrupt the event — security became an intense focal point.
Koski secured the Shoshone County Sheriff's Department, who extended their full support and supplied a deputy for the duration of the event, while also using mutual aid from the Idaho State Patrol and Kootenai County Sheriff's Department, as well as a private security firm.
"If anything should be escalated to a certain level, we have support — and because my focus and business's focus will be on the event, and making sure it goes smoothly, I thought it was important to have an actual security team in place," Koski said.
Overall, the event went incredibly smoothly, and Koski was thrilled with the reception from Wallace community saying, "I am so grateful for the support we were shown to organize this event. Shoshone County stepped today and showed that we are a strong, welcoming and supportive community for all."
Silver Valley Pride is looking for volunteers and organizers for future Pride events. Please contact silvervalleypride@gmail.com to get involved.
Recent Headlines
---