Hoopers share SilverHoops memories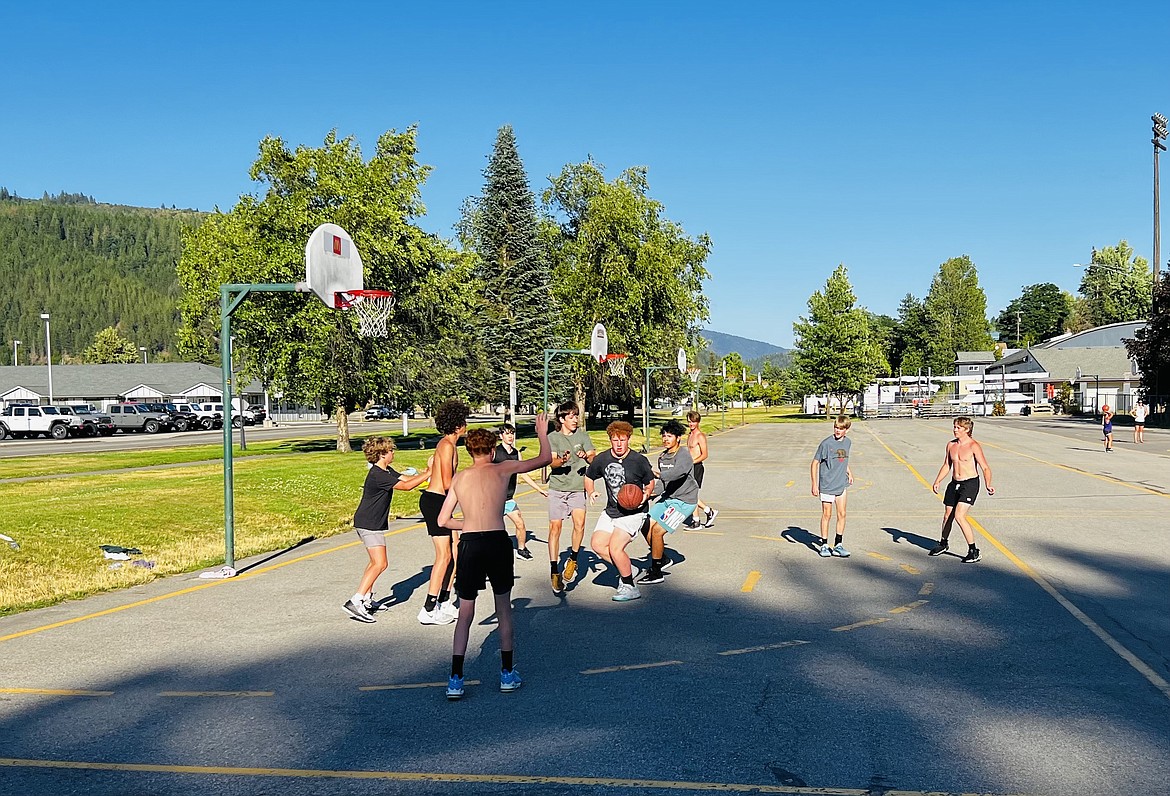 Members of the Kellogg High School Basketball Program decided to take their Tuesday night open gym outside to the courts at Teeters Field to get some blacktop practice in for this weekend's upcoming SilverHoops 3-on-3 Basketball Tournament.
Photo by JOSH McDONALD
by
JOSH MCDONALD
Local Editor
|
July 29, 2022 11:55 AM
KELLOGG — North Idaho's largest 3-on-3 basketball tournament, SilverHoops, is this weekend and players of all ages have been using the past few weeks preparing to battle it out on the hallowed blacktop at Teeters Field.
Over the years, SilverHoops has been the site of many memories and some of the tournament's regular hoopers took a few moments to reminisce.
Lisa Reed (formerly Carver) was a Wallace High School standout on the court and she brought that same level of intensity to SilverHoops whenever she played.
"Silver Hoops is an event that is very near and dear to my heart," Carver said. "It is unique in a sense that a whole community gathers to support loved ones and friends in a friendly and competitive environment. Basketball is one of my oldest loves, and I absolutely love that we have a community event that is centered around it. It is enjoyable for all ages, whether you're 5 years old or 50."
Tim Mitchell has been playing in SilverHoops for two decades and each year he, along with his family and tight-knit crew of teammates, make their way to Kellogg from Post Falls to share in the game they love.
"The community that has embraced me, my family and friends every year for the past 20-plus years of participating, in what has become the one tournament that we look forward to year after year," Mitchell said. "And a special thanks to the Trail Motel for dealing with us for all these years."
One of the things SilverHoops has grown notorious for is the level of competition, particularly in their men's divisions.
Matt Horne grew up in Rathdrum, but a chance encounter with multiple members of one family in other tournaments got him to SilverHoops — something he tries to do every year.
"I love how competitive and fun it is," Horne told the News-Press. "For being a smaller tournament, the competition is amazing because of that. I love Hoopfest, don't get me wrong, but SilverHoops gets crazy competitive. Plus I get to see the McDonald brothers which is always nice."
Ryan McDonald, one of the aforementioned McDonald brothers, has been around the tournament for his entire life and discussed how SilverHoops is ingrained in who he is.
"I can't remember a time when I didn't participate in SilverHoops as either a player, court monitor, or as a member of the committee," McDonald said. "It's in my blood to be a part of this event. Plus, it's probably one of the most competitive tourneys in the area. SilverHoops has always been a solid tourney and it brings the North Idaho and Eastern Washington basketball communities together for something pretty special."
Much like McDonald, Reed discussed how SilverHoops brings people, friends, families, old teammates, old rivals, back together for a weekend that allows for a healthy amount of laughs and competition.
"I love getting to see people that I haven't seen in months or even a few years," Reed said. "This year, SilverHoops has given my dear friends and old high school teammates a reason for us to get together again to play the sport we love. Life with children and families gets busy, and to be able to have a reason to play basketball together again is priceless. I would have to say the best part of SilverHoops for me is getting to watch our younger generations play in the same tournament we did at their age, knowing they are making the most wonderful and irreplaceable memories. Most importantly, SilverHoops is fun. From the vendors and volunteers, to the spectators and participants everyone has a smile on their face for this special weekend. In my opinion, it is one of the best events in the Silver Valley."
SilverHoops kicks off Saturday morning and runs through Sunday afternoon.
See ya' on the Courts!
Recent Headlines
---