Steven Joseph Bilte, 94
Steven Joseph Bilte passed away on Memorial Day, May 30, 2022. He was 94 years young at heart and seemingly forever invincible. He was endearing to everyone that met him. He was an amazing husband, dad, Papa, brother, uncle and friend!
Steve was born Stephen Joseph Krtinich on Feb. 27, 1928, in Spokane, Wash. Steve lived in Spokane, Kellogg, Duthie (the Jack Waite Mine), Wallace, Osburn and Coeur d'Alene. His young formative years during the Depression were spent at the Jack Waite Mine, where he lived from the age of 5 to 15. He skied to school during the winter and had the same teacher, Ellen McCoy, for all eight years. She was his very favorite of all! As a child, he read many books since there was no TV, skied and rode sleighs during the winter. He fished and picked huckleberries during the summer. Steve loved helping his dad. His first job at age 14 was working at a sawmill, making $1 per hour. He later worked for the North Idaho Forest Service.
His mother (Frances Stephanich) moved to Seattle. His stepdad (Henry Bilte), whom he called "Dad," and sisters moved to Wallace for high school. There he played football, was an All-Star team player and captain of the WHS football team. He was also president of the "W" Club. He graduated in 1947. He received a football scholarship to Eastern Washington State College (now University), played one year and quit because the other players were too big for his 165-pound physique. He loved watching the SF 49ers and the Seattle Seahawks play during football season. He also followed the Gonzaga University Basketball team.
Steve first met Mary Lou when he carried her off the ski hill after she had injured her ankle. He won over her heart at a school dance, when he asked if he could walk her home. She thought he was cute. They married on Nov. 11, 1951, in Wallace, Idaho. Steve was totally devoted to Mary Lou to the very end. He loved her banana cream and lemon pies, cakes, turkey and sausage. They sat at the breakfast table every morning of their marriage for an hour and a half planning their day. Lengthy dinners were spent chatting about the people they had seen and the day's activities.
Skiing to school as a child fostered Steve's lifelong love of the sport. He began skiing at Lookout Pass in 1943 during high school when it was still a rope-tow lift system. He joined the National Ski Patrol in 1954. He was an active member for 58 years, making him one of the most senior ski patrollers in the country. His nickname on the mountain was "Mad Dog." He has an alumni NSP membership and last skied at Lookout on his 90th birthday!
Steve worked as an Exxon owner/distributor in Shoshone County from 1952 to 1991. He distributed heating oil to homes year-round, sometimes making calls at 1 a.m. in the morning in the winter's freezing temperatures. He also owned the Exxon gas station in Wallace before the I-90 overpass was built. Jumping on and off the oil trucks daily was Steve's form of exercise. He was always in terrific shape and proudly divulged his age as people (especially his doctors) told him that he looked 20 years younger!
Steve and Mary Lou moved to Coeur d'Alene in 1998. By buying in a new housing development, they were surrounded by many young families, which they loved. Steve roller-skated with the young kids in the neighborhood. He helped neighbors with many outdoor projects, mowed their lawns for exercise, winterized their sprinkler systems, gave them countless homegrown raspberries and tomatoes, watched their houses while on vacation, and always offered friendly conversation. Steve loved people. This type of warmth and helpfulness made Steve and Mary Lou the respected elders of the neighborhood and the winners of the 2000 Idaho Spokesman-Review Good Neighbor Contest.
His favorite vacation spot was the Oregon Coast. He loved golfing with his friends, playing pool with his kids, fishing with his grandkids and picking huckleberries with Mary Lou. Steve and Mary Lou looked forward to their annual summer and Christmas trips to California to visit family. He adored his great-grandchildren and all his extended family members. He was a big marshmallow inside. We all felt his deep love and devotion.
He was baptized, made his first communion and regularly attended mass in the Roman Catholic Church. Steve said his prayers nightly. His favorite Bible verse was "The Lord is My Shepherd." He repeatedly asked for "Danny Boy" to be played at his funeral service. It will happily be played in his honor.
Steve will always be in the hearts of the family he left on Earth. His wife of 71 years, Mary Lou; his sons, Steve (Sue) and Greg (Lauri); his seven grandchildren: Dustan Bilte, Rhonda (Eric) Andersen, Derek (Nicole) Bilte, Alysse (Cody) Allen, Chelsae (Jon) Richardson, Stephanie (Brandon) Sheard and Scott (Brittany) Bilte; seven great-grandchildren: Ryan Andersen, Pierce and Wells Allen, Colton and Hayden Bilte, McKinley Bilte, and Beckham Richardson, just 3 months old. He also was adored by many cousins, nieces and nephews, as well as countless friends. His parents of Yugoslavian descent and two sisters, Pat (Bob) Diddens and Lois Carlson preceded him in death.
Donations can be made to Shriners Children's Hospital.
The celebration of life graveside service for Steve will be at 10 a.m. Saturday, June 18, 2022, at Coeur d'Alene Memorial Gardens, 7315 N. Government Way, Coeur d'Alene, Idaho. There will be a reception following at the Hayden Lake Country Club from 10:30 a.m. to 12:30 p.m. Please RSVP to Lauri Bilte, his daughter-in-law, at 925-984-3350.
Yates Funeral Home is entrusted with final arrangements. Please visit Steve's online memorial and sign his guest book at www.yatesfuneralhomes.com.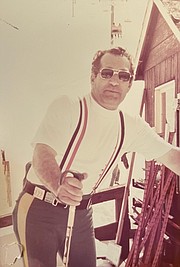 Recent Headlines
---