PES Principal Groves retires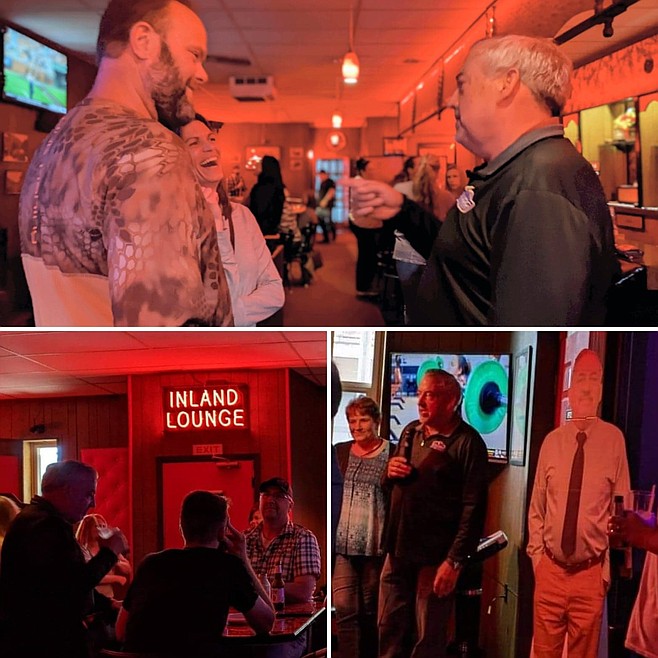 TOP: Mike Groves jokingly chastises Jennifer Yasen, even in retirement. BOTTOM LEFT: Mike Groves celebrates his educational and administrative career with friends and family. BOTTOM RIGHT: Groves, along with his wife and cardboard cut-out give their thanks to the crowd.
Photo by MOLLY ROBERTS
by
JOSH McDONALD & MOLLY ROBERTS
Local Editor
|
June 17, 2022 5:10 AM
PINEHURST — When the bell rang on Wednesday afternoon at Pinehurst Elementary School (PES), a lot more than just the school year ended.
An annual tradition, PES utilizes its final day of the year as a special field day where P.E. Teacher Callie Hegbloom organizes different stations for kids to play at.
Principal Mike Groves likes to make sure that he joins in on some of the fun throughout the day, but this one might have been a little more special for him being that it was his last.
After a 21-year career in education, Groves decided that he was going to retire.
A decorated veteran and retired Major with the United States Marine Corps, Groves spent the bulk of his years as the Senior Marine Instructor for the Kellogg High School USMC JROTC program.
Groves became the principal of PES in 2012, but then he also took on the responsibility of being the principal at Sunnyside Elementary School as well before the two schools merged in 2016.
Since that time he has led PES, including being a prominent supporter of adding after school and science programs, writing several grants for different technology — all of which has been used for student enrichment.
"It's bittersweet," Groves said of retiring. "There's a lot of the job that I liked and there's some that I did not like."
Groves has always had the ability to connect with kids at any level (myself included), and those interactions — whether they concerned something positive or negative — almost always resulted in a learning experience and usually left a lasting impression on the students.
That student engagement, along with a few other perks made his last few years in education invaluable.
"I'm going to miss the interactions with the kids, working with amazing people and meeting my grandkids in the parking lot and walking into school," Groves said. "Doing that each morning has made for some good memories."
The theme of connecting with students continued later that week, as teachers, family and friends of Groves gathered for an evening of laughter, stories and tears to celebrate storied career.
Eli Bourgard, a fourth-grade teacher at PES chuckled as he first had reservations about Groves as an elementary school principal,
"We were joking earlier on, that when Mike came on as principal, I wasn't the most thrilled. I didn't know Mike that well, but I had heard stories, and I was a bit worried," said Bourgard with a grin. "Mike, it's been an absolute pleasure, and you have done an excellent job. The school is in a much better position than it was 10 years ago. He really has the biggest heart, and bends over backward for the students."
Nate Whatcott, director of Curriculum for Kellogg School District valued the time he spent with Groves as a fellow educator and working in the administration field.
"When I came back to work for the Kellogg School District, I was incredibly honored to come back. Groves is kind of the military, brash guy and yet he is the guy that has made a point of making me feel better about myself and my job. I'm going to be a bit lost without him."
This is a thread that continues throughout the evening and the theme continues with his family.
Groves's daughter Jennifer Groves-Reeves spoke of the decision her father made to wait out his retirement to support his grandson,
"There is a reason we are all here. My husband, children and I lived in North Dakota, and our son Jaelyn was at preschool there. They treated him horribly at his preschool, using restraining holds and leaving him in the sensory room all for hours," Groves-Reeves said, as she began to get choked up. "The final straw was they took videos of him crying and having a meltdown in front of the entire class. I called my dad and asked what I should do, and he immediately said 'Pack your shit, my school starts in six days. I have a special education team here that will do amazing for him.'
When we showed up here, my son barely spoke. And now, my son is ready to test out of his IEP."
Applause burst out from the crowd, as Groves-Reeves continued,
"My dad said, 'I'm about to retire but I will stay one more year to make sure he gets on the right path, and will make it. And four years later my dad is finally retiring."
The appreciation that Groves has for his staff who worked for him is immeasurable, as he spoke to those who worked for him, confided in him,
"I've tried to thank each one of you today as you have come in, you guys made me look good.
The folks in the valley will hopefully recognize what I see each day. You made me look good, which was the most important thing, but you also helped a lot of kids along the way. You don't get the appropriate thanks from the parents of those kids that you give a hug, that you make sure to get a lunch every day, buy them new tennis shoes because their shoes have holes in them, buy them winter coats because they come without coats. They don't see any of that. I see it, and I have appreciated it for the 10 years I have worked with you all."
Recent Headlines
---