Gyro Ball makes its 80th splash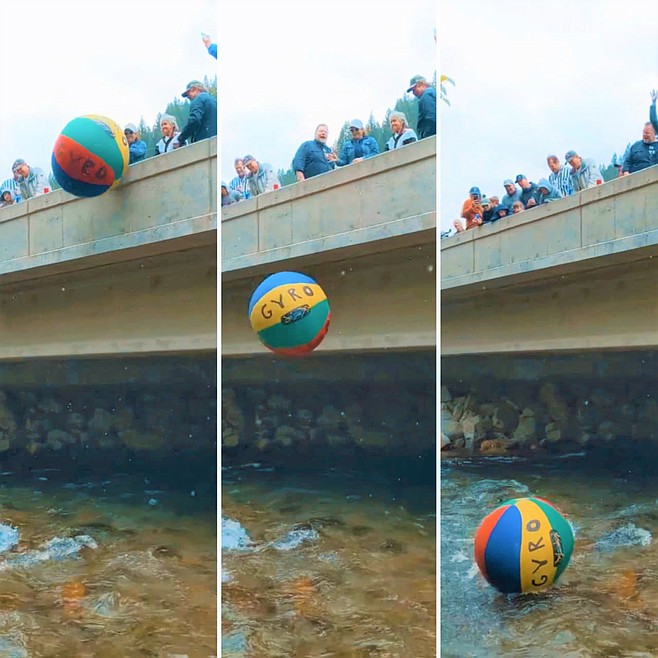 The Gyro Ball dropped by the family of Dave Rounds
Chanse Watson
by
MOLLY ROBERTS
Staff Reporter
|
June 21, 2022 5:05 AM
WALLACE— Rain fell hard on Saturday morning, but that didn't stop the large multicolored Gyro Ball from being tossed into Lead Creek as the crowd counted down for the eightieth year.
The ball made its epic quest from the Last Chance Bridge in Mullan, where participants gathered with bicycles, strollers, and more to follow the ball down the waters of the South Fork of the Coeur d'Alene River. This year, the honor of dropping the ball in at noon was awarded to the family of Dave Rounds, a long-time coach at Wallace High School, and chairman of the Wallace School District who tragically passed last October – as well as a respected member of the Wallace Gyro Club.
"It was very well attended this year! The weather certainly was nasty when we dropped the ball into Lead Creek, but the weather improved as we followed the ball down," said Wallace Gyro member Mike Dexter.
The ball reached the finish line at the Sixth Street Bridge at exactly 4 hours, 32 minutes, and 52 seconds, a substantial amount of time. The longest recorded time took place in 2015 and was 5 hours, 36 minutes, and 54 seconds.
With the water being higher than usual this time of year the ball had a difficult time as it was trapped by debris, and branches as it made its trek to Wallace.
"When the water gets up like it was, it brings a lot of that blockage up, that normally wouldn't be there," explained Dexter, "It was going quite fast, but because it got hung up on debris, it took awhile."
The Lead Creek Derby is only one component of the three-day Gyro Days weekend. From Wednesday afternoon through Saturday evening, as carnival rides and games peppered the streets of Historic Wallace for locals young and old to partake in.
Winners are chosen by the final time corresponding with whoever holds the ticket at the closest time. The tickets purchased through the Gyros, each has a precise finishing time associated with them that is chosen randomly by a computer program. The sale of tickets funds Gyro scholarships and various other youth activities every year, as well as provides financial support for the carnival.
This year's winners are as follows:
Marianne Fitzgerald - 50 Real Silver Dollars
Jeff Nearing - Kingston - $100
Mike Warner - Spokane - $100
Troy Hojem – Kellogg - $100
Tom Bauman – Sandpoint - $100
Skippy Striker – Wallace - $100
John Bekkerus – Minnestoa - $50
Kevin Decker – Osburn - $50
Conner Hammons – Cd'A - $50
John Posnick – Osburn - $50
Scott Johnson - Utah - $50
Billy Kopp - CdA - $25
Joe Lavigne – Wallace - $25
Jeremy Edwards - Gem - $25
Recent Headlines
---