KSD celebrates Teacher and Employee of the year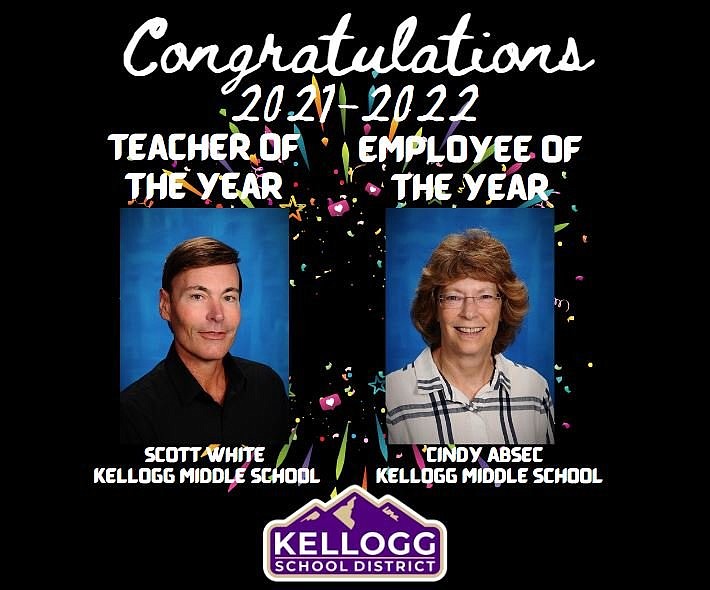 Kellogg School District Employee of the Year and Teacher of the Year
Courtesy Photo
by
MOLLY ROBERTS
Staff Reporter
|
June 21, 2022 5:05 AM
KELLOGG— Working in education can often feel like a thankless job, and it's important to show appreciation for those who work so closely with the community's youth. The Kellogg School District recently showed appreciation to two members of its staff who won Kellogg School District's Teacher of the Year and Employee of the Year.
The winners are nominated by fellow staff members, who vote each year around the end of the school year. After the staff is nominated, a letter is written by the building's Principal to the Kellogg School District to specifically explain why this member should be selected.
The Employee of the Year was awarded to Cindy Absec, who retired this year after twenty-nine years of working for Kellogg School District. Absec first started out as a paraeducator or teacher's assistant, and then eventually moved into the position of administrative assistant for Kellogg Middle School tirelessly keeping the building under control.
"Cindy Absec is a legend in our building," stated the letter submitted by KMS Principal Dan Davidian, "She was overwhelmingly nominated by the KMS Staff. Her value to this building can't be explained in words, or it would be a book."
Absec will be incredibly missed next year, and whoever takes the position next certainly has big shoes to fill. Davidian went on to explain, "Cindy is a staple here at KMS and she simply does everything and puts in the time before school, and after school to prepare for each day. She is also able to do all that she does, and still smiles. She is a true professional, kids and staff love and respects her, and we all wish we had 10% of her knowledge on how to operate KMS everyday."
Scott White, winner of Teacher of the Year has worked for the Kellogg School District since the year 1990. White also started as a paraeducator, or teachers' assistant then worked for Sunnyside Elementary School as a fifth-grade teacher before transitioning to Kellogg Middle School English.
"Scott White was nominated for his amazing ability to reach kids, and his value to the staff," explained the letter submitted, "He is mentoring three teachers this year and doing an outstanding job. White is also recognized for his experience as it shows in his classes, his professionalism, and he is a true leader. His dedication to this profession is second to none."
Besides the recognition for their efforts, Absec and White will also get a gorgeous plaque, and their name added to the traveling district plaque that will live at Kellogg Middle School until next year.
Recent Headlines
---