Arrest made in Smelterville murder case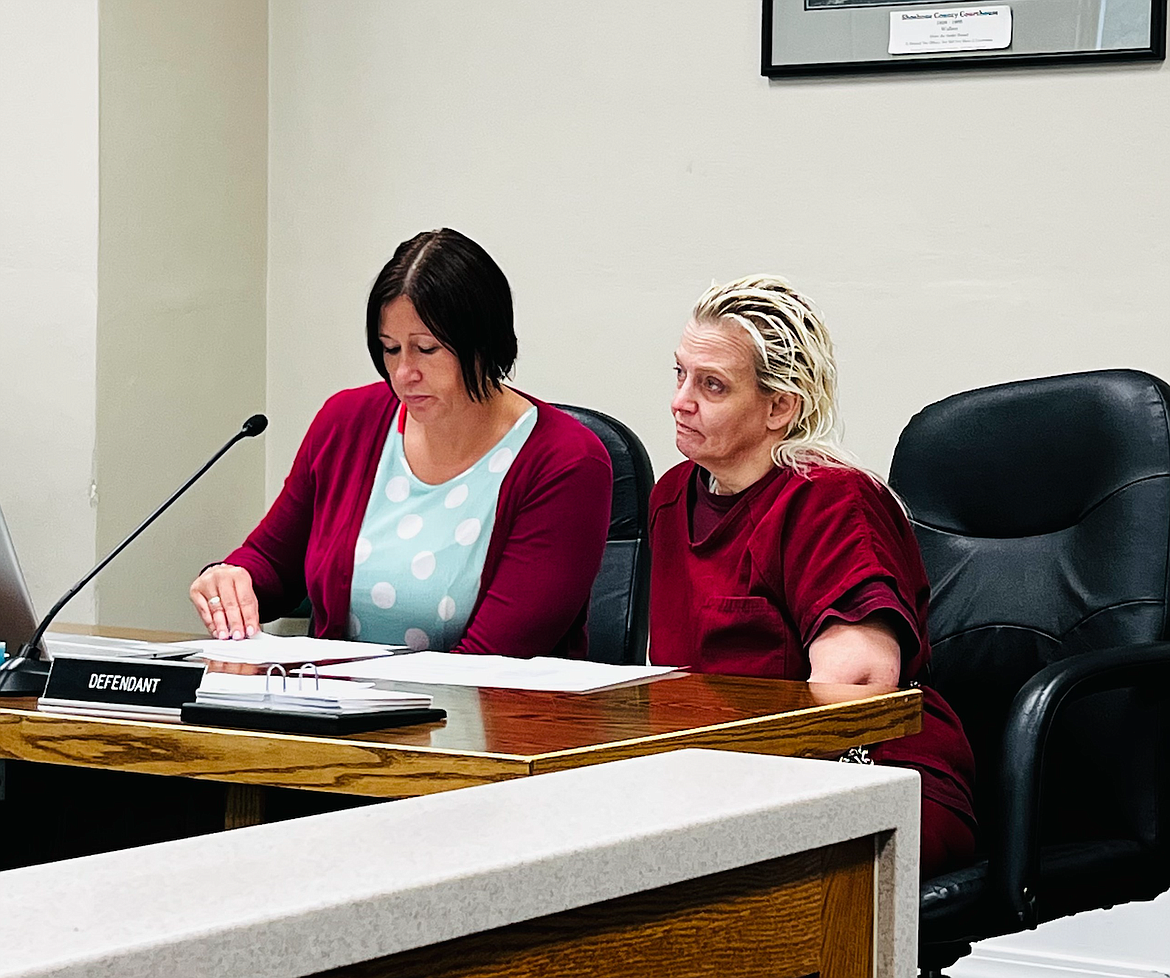 Public Defender Lisa Chesebro and Stephanie Paris listen to Magistrate Judge Keisha Oxendine during Paris' first court appearance earlier this year.
Photo by JOSH McDONALD
by
CHANSE WATSON
Hagadone News Network
|
June 30, 2022 4:46 PM
SMELTERVILLE – A Smelterville woman has been charged with murdering her boyfriend after a Shoshone County Sheriff's deputy conducted a welfare check at her home Wednesday morning and discovered the boyfriend's body.
Stephanie Paris, 47, had her first appearance in court Thursday afternoon before Magistrate Judge Keisha Oxendine, where her bail amount was set at $500,000.
According to the probable cause affidavit in the case, on June 29 at approximately 8:02 a.m., Shoshone County Sheriff's Office Sgt. Jared Bilaski was on duty when he was notified by dispatch to conduct a welfare check on an Aaron Peterson at his residence at 105 N. St. James Ave., Space No. 4 in Smelterville. The person who requested the check said Peterson had not called or showed up for his last three shifts at the Bunker Hill Mine and that this was uncommon for him. The caller also mentioned that Peterson was in a "violent domestic relationship" with his girlfriend, Stephanie Paris.
Bilaski responded to the residence and was initially unable to contact anyone, but eventually was able to start a dialogue with Paris, who was still inside the home with the door closed. After informing her that he was there to check on Peterson and that he needed to see him, Paris stated that he was in the shower and would be headed to work. At that time, the initial reporting party called back to dispatch and reported that an unknown number had texted them, claiming to be Peterson, and that he was on his way to work.
Paris then began to get upset, according to Bilaski.

"Stephanie made multiple statements with vulgarities, some of which I was unable to understand since she was speaking through the door and walls of the trailer," Bilaski wrote.
By 11:34 a.m., Bilaski had left and returned with backup from both SCSO and the Kellogg Police Department.
After informing Paris that he would be applying for a search warrant for the home, Paris allegedly replied by saying, "If you kick that door open, you're going to be dead. I'll shoot you."
While he was applying for the warrant, Paris reportedly exited the residence with a 4-month-old infant and was verbally detained by KPD Sgt. Paul Twidt.
Once the search warrant was granted by Judge Oxendine, both Bilaski and Twidt searched the house and located Peterson deceased with multiple gunshot entry wounds on his back.
Bilaski then applied for and obtained another search warrant for collection of evidence. This search warrant was executed that afternoon and the scene was processed.

According to statements Paris reportedly gave to law enforcement following her arrest, her relationship with Peterson had been rough for quite some time.
"Stephanie described Aaron as having slept with (five) girls prior to meeting her (10 years ago) and since meeting her he has now slept with 2,028 women," Bilaski wrote in the affidavit. "Stephanie describes these women as not leaving her alone and taunting her for sleeping with Aaron."
Paris allegedly explained that on the morning of Tuesday, June 28, she started to experience what she believed to be these women taunting her and the feelings taking over her body. She reportedly said she then retrieved a handgun from her night stand and pointed it at Peterson, who was partially awake in bed facing away from her.
Initially not being able to "pull the trigger," she allegedly proceeded into the bathroom, where she "started to be taunted by these women once again."
It was then when she reportedly came out of the bathroom, went to her side of the bed, and shot him in the back.
Paris was booked into the Shoshone County Sheriff's Office jail on the charges of First Degree Murder, Failure to Report a Dead Body, and Resisting and/or Obstructing an Officer. This is the first murder charge that the Shoshone County Prosecuting Attorney's Office has filed since 2014.
Oxendine explained to Paris during her Thursday hearing that the first degree murder charge alone comes with a potential maximum penalty of death, life in prison, $5,000 civil penalty, $50,000 fine, and a minimum of 10 years in prison. The prosecutor's office has filed a notice with the court that they will not be seeking the death penalty.
The case is still under investigation at this time and next of kin has been notified.

"The Shoshone County Sheriff's Office would like to thank the Kellogg Police Department, District No. 2 Fire and EMS, the Shoshone County Coroner's Office, Shoshone County Prosecutor's Office, and the Department of Health and Welfare for their assistance in this case.," SCSO Cpt. Jeff Lee said in a news release.
Recent Headlines
---