Marguerite "Margo" Maple, 80
Marguerite "Margo" Maple, 80 of Pinecreek, Pinehurst, Idaho slipped peacefully into the arms of Jesus on May 3, 2022. Margo was born on November 17, 1941 at the Providence Hospital in Wallace,Idaho to Joseph Lemich and Mary McHeffey Lemich. Margo was raised and schooled in Kellogg and remained in the Silver Valley her entire life. On October 17, 1959 she was married to David L. Maple. They welcomed a son Bill in 1960 and a daughter Cynthia in 1961. Margo & Dave moved to Pinecreek in 1960 where they raised their children, making many wonderful and happy memories there. Margo was a dedicated homemaker making sure her family was well cared for. As the kids got older, Margo went to work at the Kellogg School District as a cook/server for the Kellogg Middle School Cafeteria. After retirement Margo had more time to enjoy many things including ATV rides with family and friends, spending lots of time with the grandkids and great grandkids, cooking and baking for her family, the monthly sewing club girls get togethers, attending church and volunteering at the food bank and soup kitchen. Margo had a very special talent for baking and decorating cakes. She never forgot a birthday and blessed family members with beautiful cakes, putting so much time and love into the decorating. Margo was caring and kind, she always had an ear to listen and gave very wise advice. She had a great sense of humor and would come up with some pretty witty sayings. She made us laugh all the time.
She loved her Lord Jesus very much and kept her faith in God even when the illness made her life very difficult. Although we will miss her fellowship here on the earth, we as a family take comfort in knowing that she is now pain free and in her eternal heavenly home. We love you forever Mom!
Margo is survived by her husband David L. Maple, Pinecreek; two children Bill (Tambra) Maple, Post Falls, Idaho and Cynthia (Jim) Best, Kellogg, Idaho; four grandchildren Ashlee (Tony) Jensen, Kari (Michael) Carola, Talia (Mark) Nielsen, Natalie (Travis) Hughes; eight + one on the way great grandchildren Gabbie, Chase, Aspen, TyAnne, Riggin, Jake, Cody, Wyatt and Baby Carola due in August;
2 sisters Mary Gayle (Ron) Hagman, Coeur d'Alene, Idaho and Sibyl Lemich, Lebanon, Oregon. She is also survived by several nieces, nephews and cousins.
Margo was proceeded in death by her parents, in-laws Bill and Frances Maple, sister Joanne Warinner, a very special great aunt Margaret Lemich, niece Rona Jo Hammond and several aunts and uncles
The family of Margo would like to thank Dr Lakko, Heather, Amber, Sue & Rose at SMC wound care for your compassion and concern for Margo during the last couple of years, she really loved you all; Good Samaritan Silverton staff and nurses for the the kindness and care she received during her stay there and the Schneidmiller Hospice House for lovingly caring for her in her final days.
A celebration of life will be held at Worship Center in Smelterville on May 21, 2022 at 11 am with Pastor Bill Howard officiating.
The family suggests that memorials be made to a charity of the donor's choice.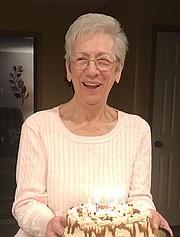 ---