Radio Brewing rolls out boxcar derby for fifth anniversary
by
MOLLY ROBERTS
Staff Reporter
|
May 12, 2022 1:12 PM
KELLOGG — The rules for the Radio Brewing's Box Car Derby were simple: Sign a waiver, wear a helmet, working breaks, the car must be gravity powered, and most importantly, no frowns. The event was hosted by Radio Brewing Company in Kellogg this past Saturday for their fifth anniversary, which combined a soapbox derby and block party all on the main street of Kellogg.
Those enjoying watching the derby could satiate their thirst with a miniature brew festival, including drinks from Grand Teton, Odell, Selkirk Abbey and Yaya Brewing. Radio and Grand Teton Brewing worked on a collaboration beer unveiled at the event called It Takes 2 to Tango, a New England Hazy IPA. ProspectFitness provided transportation to and from Silver Mountain with the Kellogg Trolley, allowing event-goers to sit, relax, and experience Kellogg and Wardner after the races.
Those competing in the derby could win Best in Show, First Place and Dead Ass Last engraved trophies to display proudly. Best in Show was chosen by crowd response and was awarded to Ginger Rodgers, wearing an inflatable Tyrannosaurus Rex costume, lugging around her car with a paper-mache volcano sported on the back.
The racers then began at the top of the main street and competed two by two, some flying down Main Street, while others went at a slower pace but all ending in a stack of hay bales.
Some of the homemade vehicles proved more stable than others as some racers experienced crashes, tires falling off, and at one point during the race, the crowd was able to get involved by pushing the racers away from them and back onto the track.
After about an hour and a half of racing, the final two racers, Clif Neuman and Nick Fabbiano raced to see who would come out first, with Fabbiano taking the award. Coming in Dead Ass Last was Jackie Salquet and the Craft Canning Crew, who seemed to be cheating when they won the first race against myself (Molly Roberts), and my father, Paul Roberts.
After the races concluded, many funneled into the recently acquired Radio Fire Hall to listen to The Wow Wows, a rock band from North Idaho. Radio Brewing Company has plans to continue this tradition next year, with many racers already planning their next car.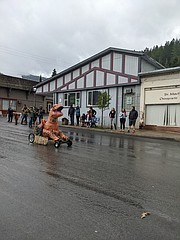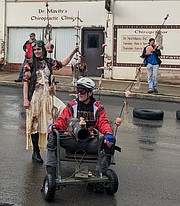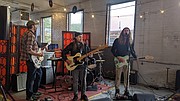 ---