Rain doesn't dampen Depot Day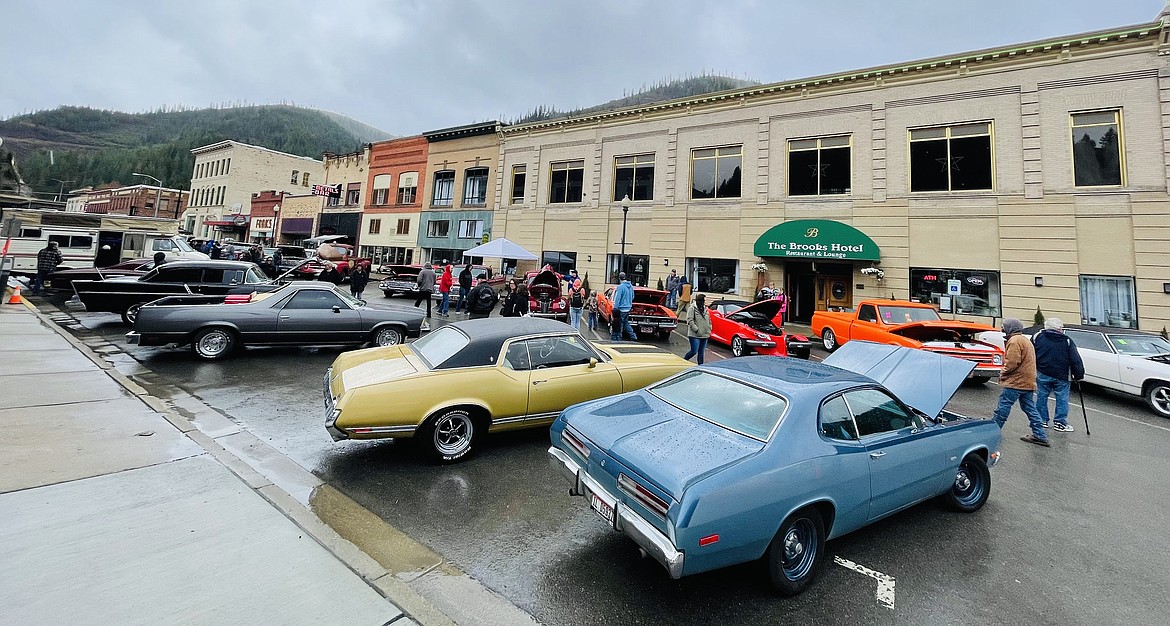 Wallace's Cedar Street begins to fill up during the Depot Day car show. More than 100 cars were on display in the cold, wet weather, but the event still drew a quality crowd despite the rough conditions.
Photo by JOSH McDONALD
by
JOSH MCDONALD
Staff Reporter
|
May 12, 2022 10:17 AM
WALLACE — Hundreds of automotive enthusiasts braved the cold wet weather last weekend as the Northern Pacific Railroad Depot Museum presented Depot Day.
After back-to-back years of digital car shows, the wildly popular event made its in-person re-debut and with just about everything working against it — it was still quite the success.
More than 100 different cars, trucks, motorcycles and even a retro RV parked themselves along Cedar and Sixth streets in the Silver Valley's Center of the Universe, with locals and participants alike meandering through the displays.
Depot Day has long been the kick off for the Wallace tourism season and if last weekend was any indication, 2022 is going to be a good one.
"Folks seemed happy to be at a live event despite the weather," said Cindy Lien, one of the event's organizers. "The vendors and local businesses did well and there were lots of smiles in the crowd. We were all just very happy to have our traditional Depot Day event again."
The Depot Day raffle winners were Ron and Robin Polley (first place; framed eagle print along with Sunshine Silver rounds), and Axel Carlson (second place; $100 Idaho Silver Shop gift certificate).
Fifty-six trophies were handed out throughout the car show, including first and second place in the following categories:
Modern Muscle — 1st, Todd Marley; 2nd, Brett Mitchell
Antique — 1st, Ryder Gauteraux; 2nd, Jeff Zimmerman
Unrestored Original — 1st, Jerry Flowers
Restored to Original — 1st, Colleen Flowers; 2nd, Randy Kindya
Convertible — 1st, Keri St. John; 2nd, Glenn Ethridge
Muscle Car — 1st, Jim Johnson
Street Rod — 1st, Nancy McDowell; 2nd, Zack and JoAnn Ayers
Modified/Custom — 1st, Joe Ulrich; 2nd, Glenn Davis
Pickup/SUV — 1st, Brad Cox; 2nd, Ray Hoppe
Modified/Custom Pickup — 1st, Robert Cushman
Special Interest — 1st, Cliff Arthur; 2nd, Mike Dancer
In Progress/Unfinished — 1st, Sonia and Jim Herbert; 2nd, Ed and Karen Thompson
Corvette — 1st, Gerald Farley; 2nd, Darla Jefferson
Motorcycle — 1st, Donald Byrd; 2nd, Sarah Murphy
Rat Rod — 1st, Rat Rod Chuck; 2nd, Todd Morgan
Several other participants were awarded Outstanding Artist awards following the show.
---