Wildcat boys grit their way to district championship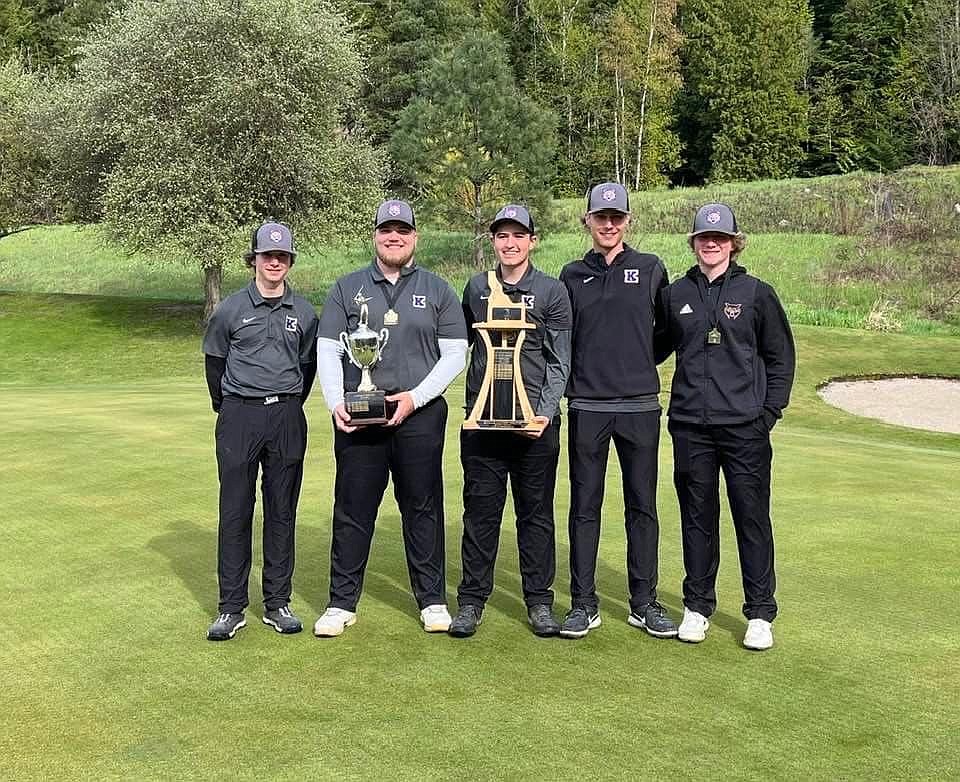 The Kellogg High School Men's Golf Team won the 3A District I championship on Monday afternoon, beating Priest River in a sudden death playoff to secure the title outright. The Spartans and Wildcats shared the Intermountain League regular season championship. Pictured from left are Brodie Robinson, Griffey Doerschel, Archie Rauenhorst, Taner Groves and Blake Coburn.
Courtesy photo
by
JOSH McDONALD
Local Editor
|
May 12, 2022 10:14 AM
BONNERS FERRY — The Kellogg High School Men's Golf Team is used to playing at the high stakes table…
They've done it with consistency for nearly the past 20 years.
And they were ready for it on Monday afternoon at the District I Championship match when it was announced that after 18 grueling holes, the defending 3A State Champions were tied with their Intermountain League rivals from Priest River.
It was time for a sudden death, single-hole playoff.
The last time the Wildcats found themselves in this spot was the 2005 state match — which ended with the Wildcats hoisting the championship trophy.
Kellogg head coach Simon Miller wasn't really prepared for how to approach that in 2005, but he definitely was ready on Monday. He can now officially say he's 2-0 in sudden death playoffs.
"I was kind of ahead of everyone inputting the scores," Miller said. "I saw my guys sitting there waiting for the scores to be tallied and I saw a few of the Priest River guys milling around the clubhouse and I knew that they were going to take a few minutes to get the official count done, but I had a pretty good idea that we had tied, so I told the guys to go outside and hit some balls on the practice green and stay ready."
Kellogg hadn't played the best round on Monday, in fact they finished 19 strokes worse than their first outing at Mirror Lake — their IML opener on April 11, which was played in near-freezing temperatures. The Inclimate weather didn't necessarily help matters, but the intrepid Wildcats steeled themselves for one more hole nonetheless.
"It can be so hard to maintain a 'win it' mentality and not a 'don't lose it' mentality in these situations," Miller said. "It's that mindset that you wrestle with."
Priest River's guys aren't slouches either, in fact they handed the Wildcats two different IML losses this season — for perspective, the Wildcats hadn't lost an IML match since 2009 — so while Miller sat there waiting for the official announcement of the 370 stroke tie, he contemplated all of the potential options.
Perhaps his count was wrong and there wouldn't be a tie, maybe Kellogg had finished second — and would that be such a big deal? They would still advance to the 3A State Championship match, their 19th straight appearance.
But those thoughts didn't last long.
"As soon as they posted it, I was like, 'let's go," Miller said. "Priest River was still figuring out what they needed to do and I was talking to my guys, telling them that this was how we won state in 2005 and you could see them getting excited for it."
The sudden death round would be played on Mirror Lake Golf Course's No. 9 Hole (a fairly challenging par four), but Wildcats Tanner Groves (senior) and freshman Brodie Robinson played the hole really well to get things started, shooting a par and 1-over respectively.
Sophomore Blake Coburn and senior Griffey Doerschel were up next for Kellogg, cracking near perfect shots out onto the fairway, Coburn however, incurred a 2-stroke penalty due to the position of his tee in the tee box and had to re-hit his ball — which Miller said landed in nearly the same spot.
"That Coburn kid," Miller said. "With ice in veins he almost landed his ball right on top of the first one. I told him to finish out the hole strong, and play his best because we still may need his score." Coburn shot a 2-over, while Doerschel notched a 1-over for the Wildcats.
Kellogg's top guy, Archie Rauenhorst, who had finished as the match's runner-up for overall medalist got to square off with Priest River's Luke Butler, the IML individual champion.
Rauenhorst has been one of the IML's best golfers for the last four years and while he missed out on the 2022 District medalist honor, he got to demonstrate how four years of high stakes golf mentally prepares you for moments exactly like these.
Four strokes later, Rauenhorst sank his putt for par while Butler missed his — securing the Wildcats the 3A District I Championship.
Kellogg won the sudden death round 18-20.
The Wildcats will now head to Wilder's River Bend Golf Course for the 3A State Championship match beginning Monday — Miller's squad isn't the favorite, that distinction belongs to the Kimberly Bulldogs — but with three of the past four state banners in their possession, no one is overlooking Kellogg.
Kellogg's women's team played as well during the District I match, finishing second to the defending state champions from Bonners Ferry.
They will also be competing next week at the State Championship match.
TEAM SCORES
At Mirror Lake Golf Course
Par 72 5,274 yards
BOYS TEAM SCORES (Top two to state) — 1, Kellogg 370. 2, Priest River 370. 3, Timberlake 422. 4, Bonners Ferry 468.
INDIVIDUAL STATE QUALIFIERS (Top four) — 1, Luke Butler, Priest River, 84. 2, Archie Rauenhorst, Kellogg, 85. 3, Griffey Doerschel, Kellogg, 89. 4 (tie), Kameron Salesky, Priest River, Bowen Fegert, Priest River, Blake Coburn, Kellogg, 95.
KELLOGG — Archie Rauenhorst 85, Griffey Doerschel 89, Blake Coburn 95, Brodie Robinson 101, Tanner Groves 106.
PRIEST RIVER — Luke Butler 84, Kameron Salesky 95, Bowen Fegert 95, Jayce Yount 96, Hayden Stockton 101.
TIMBERLAKE — Colton Mendenhall 96, Dawson Hunt 105, Payden Devore 109, Taylor Menti 112, Reese Kozlowski 121.
BONNERS FERRY — Eli Blackmore 105, Tyson Tadlock 102, Thomas Hoggan 145, Riser Hanson 124, Chago Jimenez 137.
GIRLS Par 72 5,274 yards
TEAM SCORES (Top two to state) — 1, Bonners Ferry 374. 2, Kellogg 459. 3, Timberlake 519. 4, Priest River 643.
INDIVIDUAL STATE QUALIFIERS (Top four) — 1, Avery Bayer, Bonners Ferry, 83. 2, Braylyn Bayer, Bonners Ferry, 87. 3, Cali Iacolucci, Bonners Ferry, 97. 4, Mia Blackmore, Bonners Ferry, 107.
BONNERS FERRY — Braylyn Bayer 87, Avery Bayer 83, Cali Iacolucci 97, Mia Blackmore 107, Holly Alexander 148.
KELLOGG — Alyssa Milliron 108, Jezzy Hall 116, Gracie Miller 123, Izzy Groves 133, Elliott Hei 112.
TIMBERLAKE — Emma Torr 113, Avery VanGundy 127, Kirstyn Edelblute 129, Emma Jenson 150, Tommi Olphie 161.
PRIEST RIVER — Brooklyn Best 143, Alexis Hunter 163, Samanta Pound 163, Emile Johnson DNF, Marley Burgess-Duquette 174.
Recent Headlines
---